Novel Pairings from the IPCPR 2017, Day 2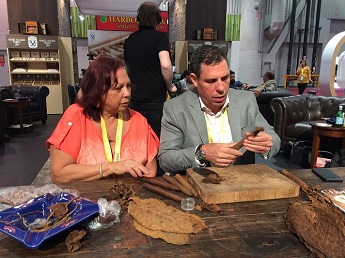 July 12th, 2017
1. El Chapo and Sausage. Jeremy Jack Cigars went out on a limb with some unique looks. Their El Chapo is in a three-count box, and is on the lam. The Salchichas, or 'sausages', is a good link.
2. Oscar and Island Jim. Yes, Island Jim really looks like his cigar band, and he even has a BBQ pineapple snack sausage with a cigar-like package.
3. Sakasquatch and 'Everyday'. Steve Saka introduced Todos Los Dias, and apologizes for his poor Spanish translation, but promises happy smokers if they try the stick. He also has a new mascot – the cigar-smoking big-foot Sakasquatch.