Cigarticles
Smoking in the City of Lights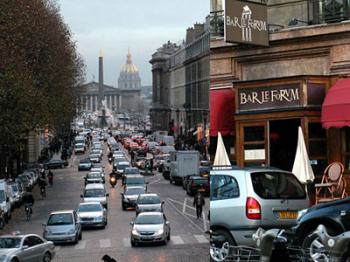 January 7, 2008 -
As a smoking ban finally settles over the country of France, Cigar Weekly member Ken "Stalebread" Coleman (Osnat45) shares a personal perspective on places to smoke and buy cigars in Paris.
I should perhaps clarify my 'Parisian' qualifications. First, I am not French. Second, even though I've lived in Paris for a little over three years, I don't speak French other than for a few words and phrases I've picked up, such as, "Vous avez un Bolivar Royal Corona?" and "Je voudrais le Havana Club quinze, s"il vous plait." Third, I rarely buy cigars in Paris shops anymore, except for an occasional single. Finally, I acknowledge that when it comes to writing about Paris, there are others more qualified than I.
That said, let me explain how this article came about, and why I did take the plunge. Someone who was coming to Paris resurrected an old thread on the Cigar Weekly forums titled, appropriately enough, 'Paris'. He was looking for recommendations on places to buy cigars and to smoke. I responded to the thread back in early November, mentioning some of the usual shops as well as a selection of my favorite places to smoke. I had also decided around this time that since the French smoking ban was going live on January 1st, 2008, I would spend the remaining few weeks before implementation of the ban smoking what I hoped would be my most interesting cigars in my favorite places.
When TommyBB, Cigar Weekly's Editor-in-Chief, saw the thread, he contacted me and suggested the possibility of expanding my post into a full-fledged article. "Maybe, somehow, there IS an article there," I thought to myself. And so it came to be. What follows is a loose account of the bars and cafés of Paris I've visited (or not) over the past few weeks, plus a few random observations about living and smoking in the 'The City of Lights'.
Coincidentally, the European Cigar Cult Journal ran an article in their Winter 2008 issue titled 'City Portrait: Maya Selva's Paris'. My Paris is not the same as Ms. Selva's - distinct orbits and all that. But if you want a different take from mine, I recommend you read that article. I like Ms. Selva's Flor de Selva line, and the ECCJ article recounts how she worked with a well-known Parisian chef/cigar smoker to create an addition to that line called the Decimo. I went into three cigar shops in Paris, and none of them had it.
One place I've been frequenting lately is Le Forum, which can be found at 4 bd Malesherbes. I love walking into Le Forum, if only to take in the fragrance of fine cigars (even when no one there is smoking!), old wood and leather. I usually smoke there in the afternoon, and often have the place pretty much to myself at that time. On one visit in mid-November, however, six cigar smokers and two cigarette smokers were sharing in the ambience. To their credit, the cigarette smokers were drinking Champagne. That's something I've had to get used to here. In the US, I had always figured that Champagne was for special events only. In France, it's a drink the same as any cocktail or apéritif. Even though I didn't drink Champagne, I remember this particular afternoon as I smoked a very good Ramon Allones Belicosos.
Le Forum is nicely located. It's close to the Place de la Madeleine. There's a great view from the steps of the church toward Place de la Concorde, with the dome of Invalides in the background.
From here, it's a short distance to Le Lotus cigar shop at 4, rue de L'Arcade. Le Lotus has a small, well stocked, walk-in humidor. About the only other cigar store that I check out anymore is the one in the lower level of the Publicis Drugstore. Publicis is at the top of the Champs Elysees, close to the Arc de Triomphe.
Another place that has become one of my frequent haunts is Cubana Café, at 47 rue Vavin in the Montparnasse area. In the afternoon, there might be a few other cigar smokers here, but I can still settle into one of the comfortable leather chairs, order a pot of tea (Cubana Café boasts the best price in town for a pot of tea) and spend a very enjoyable time smoking, sipping and reading the paper. During my one evening visit, the place was packed with people, the cigar smoke was thick and the conversations were lively.
One significant difference between Cubana Café and Le Forum is that Cubana Café has enclosed part of its interior for a Salon Fumer. In accordance with the French smoking ban, this space possesses its own exhaust system and does not provide service. So you go to the bar, get what you want and then retreat behind the glass doors of the Salon for a cigar. Le Forum, according to a conversation I had with one of the wait staff, may only provide a heated terrace while exploring other options; he could not say what those other options might be.
There are other places that I go to, but not so frequently. One is the bar at the Hôtel de Louvre. But it's so dark in there, I have trouble reading the paper - not to mention that the price here for a pot of tea is probably the highest in town. Another locale is Duke's Bar at the Westminster Hotel. This is more of a place for an evening drink and cigar, though. Then there is Harry's Bar (an English pub), although I personally prefer the Auld Alliance Pub (a Scottish pub) in the Marais district. I was introduced to 'AA' by a group of my Parisian cigar smoking friends who are into single malts in a big way. Auld Alliance has a vast selection of them.
For many, Paris summons up an image of charm, elegance and savoir-faire. For me, Duke's Bar represents the essence of that Old World European charm and elegance. On the other hand, neither Harry's nor Auld Alliance exemplify what I would call elegance, but both have their own distinct kind of personality - charm even.
Once the weather warms up a little, there are other smoking spots to enjoy. Smoking will be permitted on terraces, or sidewalk cafes after the ban comes into effect. And as far as I know, it will also be allowed in parks.
When the cold temperatures pass, I like the terrace at Ba Ta Clan Café for a mid-morning smoke. It's close by on the Boulevard Voltaire and makes a good people-watching venue. Ba Ta Clan Café also bakes its own croissants in the morning, so if my timing is good, it's tea, a warm croissant and then a cigar.
Sitting beside the Canal St. Martin is another good-weather option, and I find it to be a really relaxing setting. When the leaves are on the trees, there are places along the canal that are covered by green canopies. Within a 15-minute walk, I can be in an environment that feels like it is not a part of the city. It's great to sit on a bench overlooking the canal, smoke, listen to the water run over the top of the locks and watch the occasional canal boat full of tourists slip by.
As I was thinking about this article, I realized that there are places I used to like going to but now, for no good reason, don't. Au Baroudeur, at the Place Abbesse in the Montmartre area, is one of these. Au Baroudeur means 'with the fighter' or 'the adventurer' - I was never quite sure of the translation. It had an African theme, including a large map of the continent outlined in yellow neon... on the ceiling. And perhaps because of its location close to Place Pigalle, it seemed to attract a very quaint clientele - like the little old guy in a white suit trying to sell lighters to the patrons, or that interesting group of women, whom I am sure were performers at the Moulin Rouge. But I digress...
Smoking ban or not, Paris is a beautiful city, and remains a great one in which to enjoy cigars. The French seem to be pretty good at coming up with 'work arounds', so it will be interesting to see what transpires over the next few months. Even as I was writing this piece, I learned that a march was set to take place in Paris on December 5 or 6 protesting the smoking law.
Vive la Paris. Vive le cigare.
Ken "Stalebread" Coleman (Osnat45) has lived in Paris for the last three years. Before moving to Paris he has been, at various times, a metalsmith/jeweler, management development professional and teacher - among other pursuits. Currently, he cultivates the art of doing nothing.