Cigarticles
The Smokers Strike Back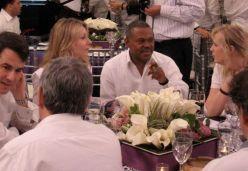 February 14-19 marked the third annual Pro Cigar Festival in the Dominican Republic. The first two days were spent in La Romana –home of the world's largest cigar factory, Casa de Garcia, home of Altadis USA's brands. Alas this year I did not make the trip over to see the factory and play the Teeth of the Hound golf course because it would have meant leaving on Valentine's Day which is not a good thing for relationships (no matter how much the wife says it doesn't matter…it does).
So instead this year I went directly to Santiago, DR for the festival. When a group of us arrived on Monday night, we checked into our hotel, the Gran Almirante that also serves as headquarters for the festival. I had just been at the Almirante in September and was not expecting any changes…But Litto Gomez, my seatmate on the flight in from Miami, warned me the hotel had changed. It was now non-smoking! Horror upon horror, the bars, the lobby and even the casino were smoke free. We were told if we wanted to smoke, we could go outside or down to the parking garage. The pool also allows smoking, but at 10pm it was locked up tight. Some nice talk to the manager, did allow them to open the pool for a few of us so we could enjoy a nice smoke before bed.
Tuesday, I spent the day at MATASA trying to wheedle out information about the company's new Quesada cigar. Manuel kept deferring to the young ones, as he calls them—the 5th generation of Quesadas in tobacco and cigars. Patricia, Raquel, Hostos, Blondie, Esther and TJ all stonewalled me saying I would have to wait until Friday to find out about the newest creation. At least at the factory, we were able to smoke as much as we wished just not the new stuff.
Pro Cigar is the chance to sit down with the top cigar makers in the Dominican, but this year there was something a little different. In Santiago were some of Nicaragua's finest as well. Pepin, Jaime and Janny Garcia came in. Pepin and Jaime were in town to buy tobacco, Janny came for the event. Pete Johnson also was at the Gran Almirante since he had some meetings on new packaging. (Pete, Jaime and Pepin left around Thursday to get back to work. Another surprise was Jonathan Drew, Steve Saka and Jessi Flores from Drew Estate. They appreciated the support the Santiago crowd showed for their first festival in December and wanted to return the favor and see how Pro Cigar did it.
Tuesday night was spent at Guillermo Léon's house for a party in the backyard. The yard was lovely, but rain kept interrupting the evening and tables were moved into the house then back out. Finally the rain was done for the evening and the party went on as scheduled outside. Being Fat Tuesday, Guillermo had carnival dancers at the party for entertainment.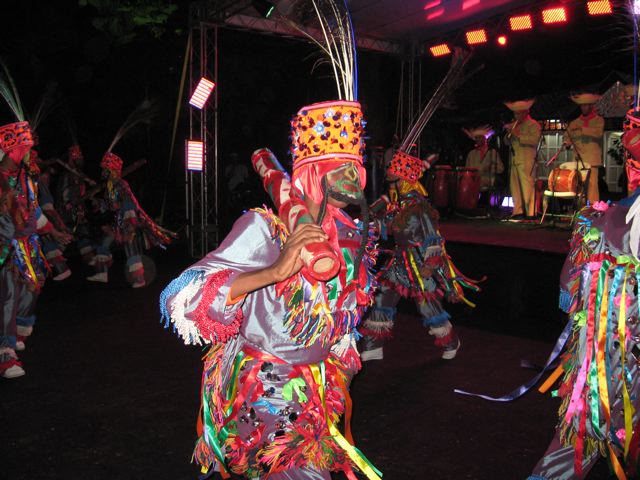 A Carnival celebrant
Wednesday was the official start of Pro Cigar in Santiago. While there were lots of options again for each day including another golf tournament. I decided to go visit General Cigar's factory. Here we were hosted by Jhonys Diaz, the VP of General Cigar Dominicana, and by General's Chief Operating Officer Dan Carr. Having visited the General factory last September I was not expecting much of a change. I was wrong. The first stop was to see the tobacco processing. Last year it had been in General's main factory, building 1. Now it is in its own building. According to Dan Carr, the company is trying to streamline operations, adding "General has come together through a bunch of acquisitions and we tried to evaluate where we are today." An example of this was the El Credito factory (building #9 in the free trade zone.) All the La Glorias and El Credito brands were made in the building. With Yuri Guillen running the production for General, his time was split between the two buildings and it was very inefficient.
Starting in November, Edmundo Garcia –the tobacco operations manager—took over an empty building in the free trade zone and designed it totally to be the main tobacco operation for General. He moved to the new building in January, consolidating all the sorting and stripping. The El Credito group uses different processes on their tobacco and that will stay separate just under a new roof.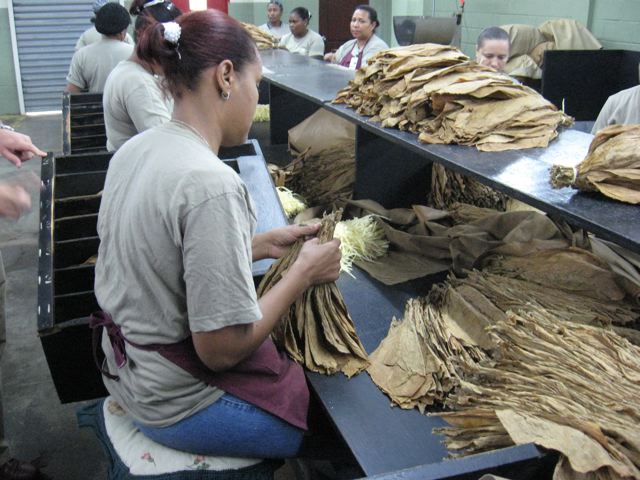 Sorting tobacco at General Cigar Dominicana's factory
Francisco Rodriguez, the General Manager of manufacturing, gave us a tour of the rolling operations.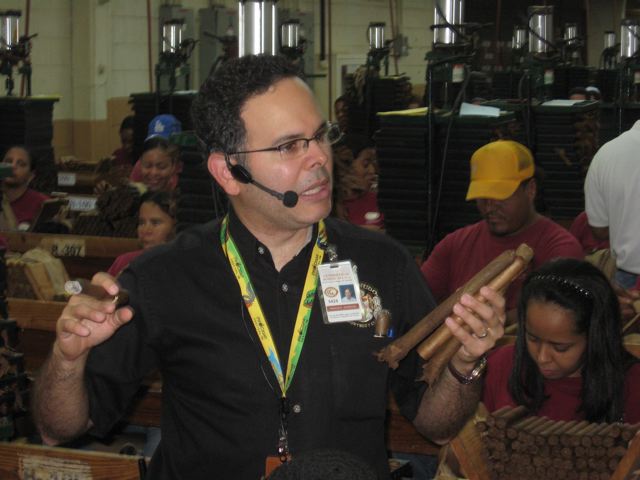 Francisco Rodriguez
But in going through the tour, there was a lot of free space, which will be for the El Credito rollers to move over very shortly.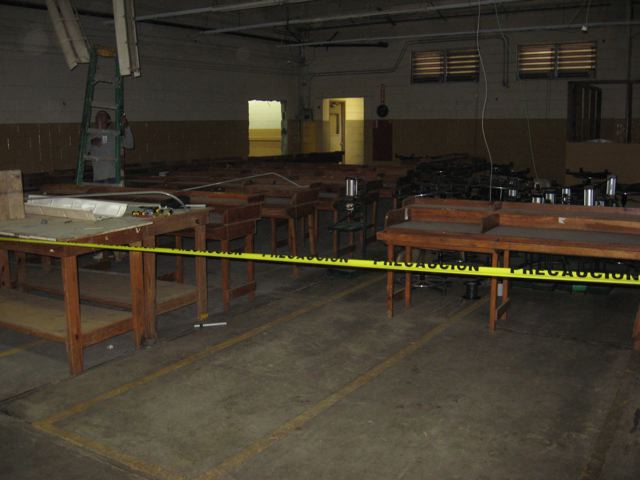 The El Credito rollers will work here
In the afternoon, we were treated to a blending seminar with a special twist. We were given 3 cigars and a form. We had to smoke the cigars and identify them by name (it was multiple choice at least.) Those who got it right were entered in a drawing and the winner got a free return to Pro Cigar 2011. I didn't win, but I blame it on a bad cigar. When I looked at the three, I guessed right away number 3 was the Benji Menendez Partagas Master Selection. The problem was when I tasted the cigar, it was not right. (I have smoked a bunch of the Benjis and I could have sworn this was NOT one of them…maybe it was sick or my palate already was blown.)
Wednesday night, was our first party and this year it was on the lawn of the late Don Fernando Léon house. (Don Fernando ran La Aurora and today his son Guillermo is in charge. Don Fernando died shortly after last year's Pro Cigar.) The party had fabulous food.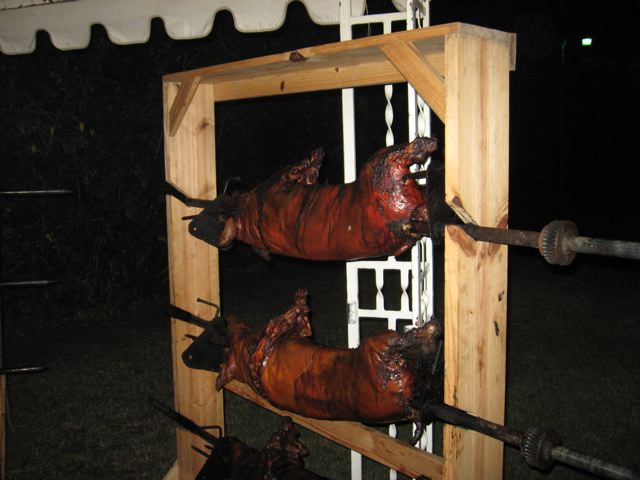 Whole hogs roasting on rotisseries
There was music, a dance contest and lots of good smokes and time to kick back and talk to people like Benji Menendez, Hendrik Kelner and Manuel Quesada.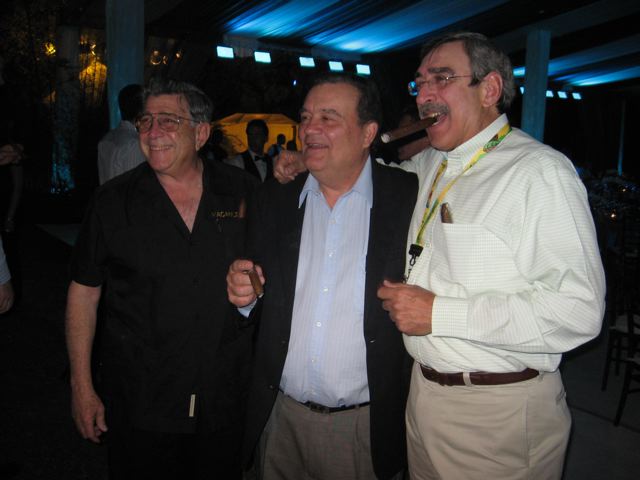 Benji Menendez, Hendrik Kelner and Manuel Quesada
Thursday was off to La Aurora for Jose Blanco's now infamous blending seminar. Jose can be evil. He really likes to mess with people's minds as he teaches you about tobacco. The seminar is not just for the beginner… Seated in our seminar were Steve Saka and Jonathan Drew—two people who really know about tobacco. But Jose knew they were going to be a part of it and was NOT going to make it easy on them.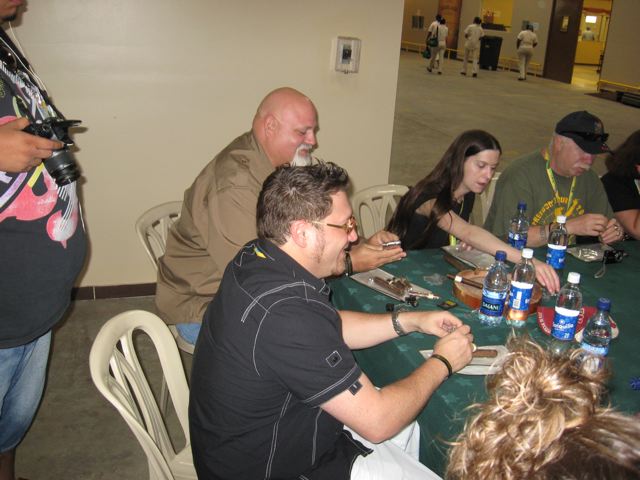 The blending seminar
While people always learn a lot at Jose's seminars but they also have fun. Jose works the room better than most comedians, throwing out one liners and jokes as he puts the participants through their paces. First, he explains the main components of blending a cigar—flavor, strength, aroma and then balance and complexity. We were given 4 small puro cigars. Our job, was to talk about the tobacco we smoked…how it tasted and our impressions and THEN decide what was its country of origin.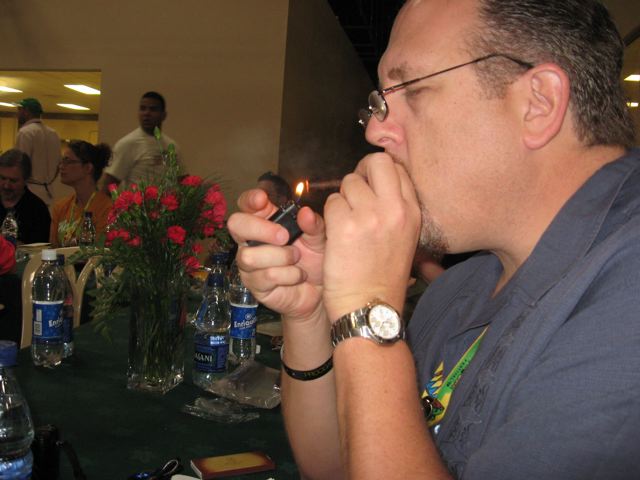 Taste-testing tobacco
It is fun to hear everybody's answers to how the tobacco tastes to them. Some will say it is strong, others mild while some say bitter, still more earthy or salty. The answers are all over the map and everyone is smoking exactly the same single tobacco. The seminar demonstrated how people's perceptions vary widely. Even Saka and Drew were stumped by the tobaccos we smoked. Though Steve said he knew precisely what the last one was…tobacco from the third priming from a small farm in upper Croatia. (It was actually Dominican corojo ligero.) He cracked Jose up, but he kept going answering questions and asking them as well.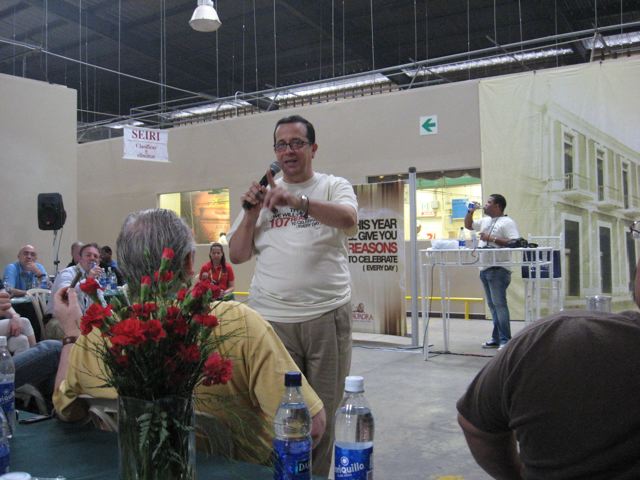 Jose Blanco
After the seminar Jose led us on a tour of the factory and then off to a great lunch. Thursday night was the now traditional white dinner at the downtown Monument.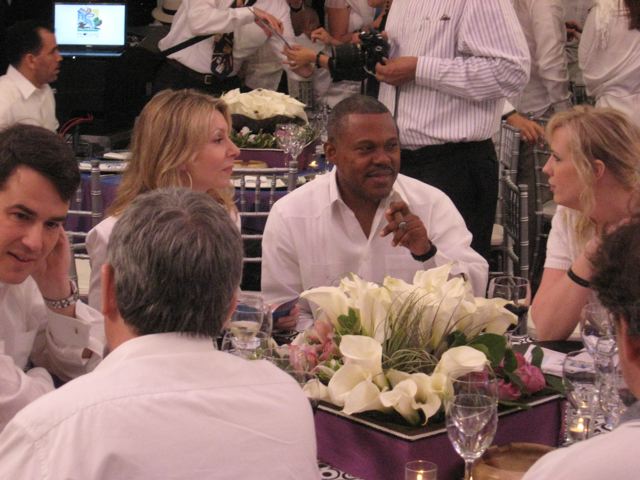 White dinner at the downtown Monument
As with every night there was great entertainment, plenty of food and alcohol and, of course, cigars! This year the festival made a very special edition Pro Cigar cigar using old tobaccos from all the members. What a nice treat.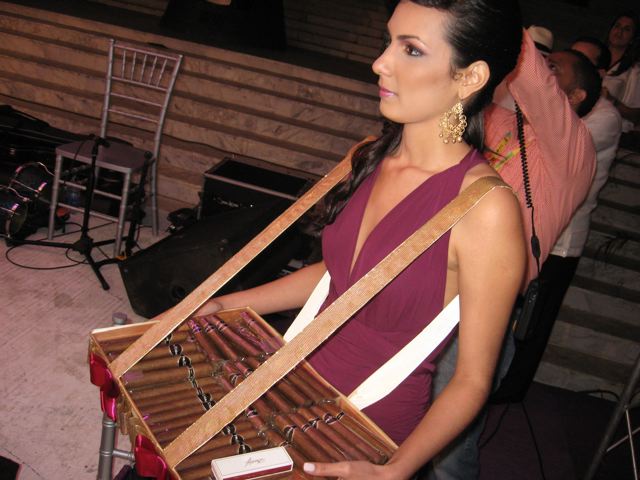 The scenery was nice and the cigars plentiful
And after the party at the monument we went to one of the hottest clubs in Santiago Moma, which allowed us to smoke inside…as well as dance.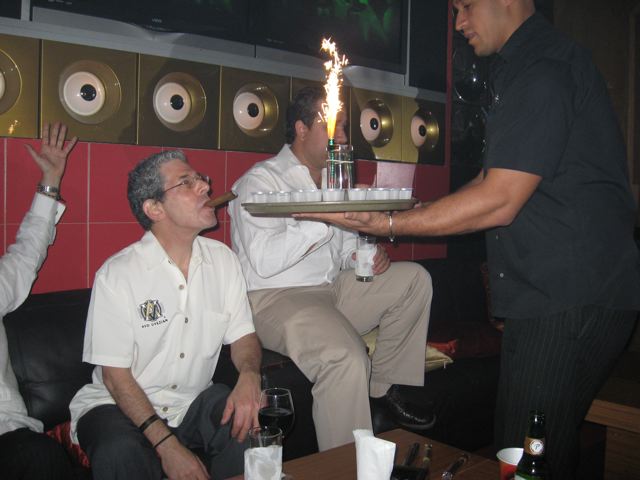 Drinks are served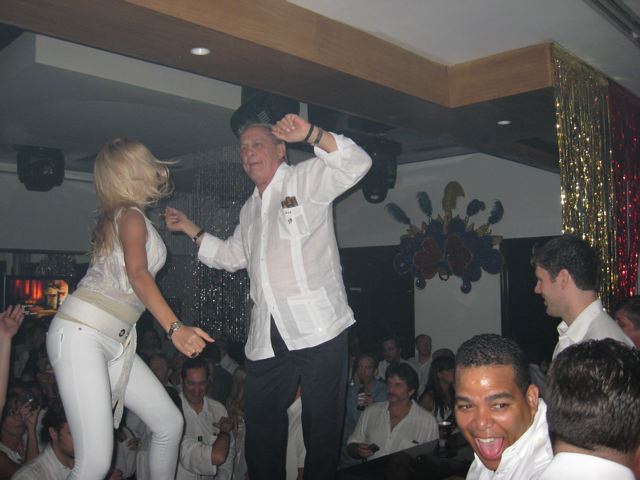 Dancing was committed
After a late night, my last tour of the festival was at MATASA. The Quesadas had said they would debut their new cigar on Friday, but we didn't know how emotional it would be. About 50 of us were seated inside the factory with the workers surrounding us. The day was very emotional and personal for the Quesadas. The new cigar, called the Tributo, was to honor 4 loved ones who made their mark on the lives of the family—a size for each to be remembered. Manolin, Manuel's father, passed on his passion for tobacco and cigars not only to his son, but also to the 5th generation. Manolin worked in the factory until his death in 1998. Alvaro, Manuel's brother, Alvarito, Alvaro's son, and Julio Fajardo, Manuel's right hand man and best friend, all died tragically in a 2002 plane crash. That crash has weighed heavily on the Quesada family. Through tears, Patricia Quesada detailed the cigars and talked about each family member. Then the family unveiled portraits of all four. These portraits were made about 8 years ago, but had been locked away because of the pain of loss they brought. But on this day, the Quesadas were able to get some closure with the celebration of Manolin, Alvaro, Alvarito and Julio's lives, while still mourning their loss.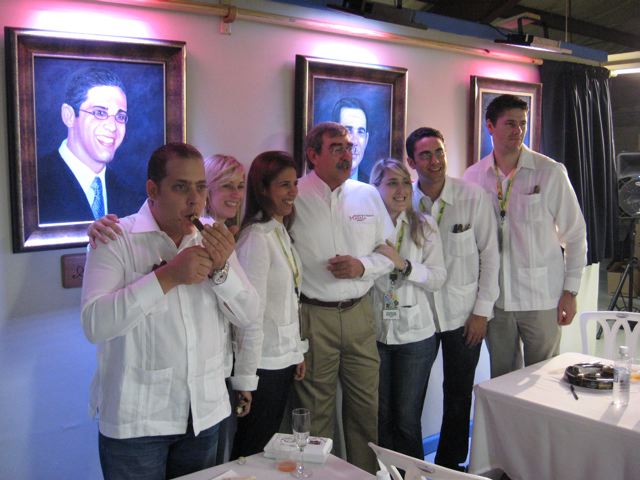 The Quesadas introducing the Tributo cigars
The new Tributo, which will debut in May, is probably the strongest cigar to come out of MATASA and sports a new hybrid wrapper that is part Habanos 2000, part Corojo, part Havana seed and part Ecuadoran Sumatra. The price will be between 5-8 dollars.
Friday night was the final gala banquet with wine, song, food and still more cigars. All in all it was a blast.