Cigarticles
Travelogue: Havana - From the City to the Farm and Back (Part 3 of 3)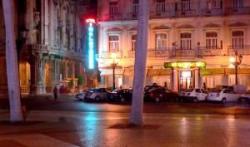 April 9, 2007
By Lawrence Leung (the nub)
Friday, we make a trip out to Miramar. It is the wealthier seaside district, west of the city. It is the home to diplomats and dignitaries. Where a room in a casa particular in Old Havana might rent for 25 CUC a night, here in Miramar a room would go for 40-60 CUC. The homes here are truly mansions with manicured gardens, marble columned entries and in-ground swimming pools. To serve the wealthy, two of the best cigar stores in Havana are here. Club Havana is our first stop. The selection here is good with nearly every brand and vitola represented. Rarely found older boxes of Vegas Robaina's are here. Le Hoyo series from 1999. Last year I found RA 898's, but they now are gone. I find a box of LGC Medaille D'Or No. 2 from 2002 and hold them tightly in my hand as I walk back and forth, scanning for old warranty seals. They are easy to spot, lacking the red serial numbers. I find a box of 1999 Boli Coronas Extra but the cigars are rock hard and the feet show too much tobacco. I open a few other boxes and they are covered with thick fuzzy mold. I stop my search here and ask for a custom rolled salamones. I am already over my limit so I only buy one to smoke while in Havana.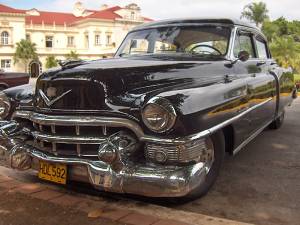 A shiny black Cadillac sits outside Club Havana (Photo courtesy of Sinbad)
What turns out to be the best store this trip is the LCDH at 5 and 16 in Miramar. The walk-in humidor is oddly shaped and only deep enough for two people to pass. What it lacks in space though, it makes up in selection. Boli Petite Coronas and Corona Juniors from 1998. Punch Petite del Punch from 1999. Double coronas from 2002. Sinbad and Scottie2Hottie hand pick the cigars to make up boxes of Bolis. Vansterdam goes away with two boxes and JayArr leaves with one. Everyone is happy and we rush to our next destination.
It's past 5:00 and we're late for a cocktail reception at Partagas. It's a private party for our group plus a few important cigar people and their families. In total there are about 25 people. 'Armand' is walking around with a silver tray full of custom rolled robusto extras. They are from his own personal humidor. We each take one and light up. It is smooth and silky, not overly complex, and medium in strength. It pairs well with the Ron Anejo I pour for myself.
The room is alive now. Drink orders are being called out, guys are in the humidor checking out boxes, La China is all dressed up. The smoke is so thick it overpowers the ventilation system and a permanent white cloud hovers above our chairs. Trays of roast pork and bread are served. So many drinks are served that they run out of glasses. 'Armand' announces there will be a raffle with the proceeds going to a children's aid organization. We each rush to get tickets for a 1 in 50 chance to win. More drinks and cigars. The winning tickets are drawn and Chaosgeek wins 3 prize of a three pack of Cohiba Esplendidos. Tc gets 2 prize of banded cigars that are double corona extra in size. They have factory bands but are not regular production, measuring 7 1/2" X 52. LusiHo gets the big prize though. A Partagas humidor with a few Cohiba Exquisitos, Cohiba Robustos and ten robustos from the XI Anniversary Partagas dinner. This is a rare score to say the least as the Anniversary cigars are not available for sale and are from a special dinner four years past.
PJ and Falcon close out the cocktail reception by picking up five boxes from the humidor. We are energized by the afternoon's event and decide on dinner at nearby Bar Monserrate. The food here is good and cheap and the music from the live band reverberates out onto the streets. After dinner, we walk into the night. Trying to navigate the pockmarked sidewalk is an adventure onto itself. Gaping holes in the pavement are everywhere. Barely lit street lamps add to the confusion. I find myself looking both ways, several times before stepping off the curb. Traffic from blocks away echo off the stone walls and even though there are few people out tonight, the city seems to be abuzz. A few minutes away, The Prado, the main pedestrian boulevard that runs north to the Malecon, is quiet. We stroll along it's smooth terrazzo surface, awash in amber light and end our night in the city here.
It's Saturday and I'm sitting in a huge wicker armchair and feel a tap on my shoulder. I do a double-take and realize it's Hamlet. He's dressed casually in black with a black ballcap. It's quite a departure from how we normally see him dressed. He introduces himself to some of the group who has not met him before. Hamlet pulls out a Punch Churchill tubo that was gifted by a friend and lights it up. He smokes his own cigars all day long, so today he wants something different.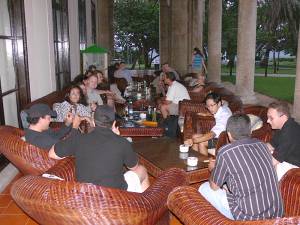 The gang overtakes the veranda at Hotel Nacional for the Big Smoke in Havana (Photo courtesy of Cyclone)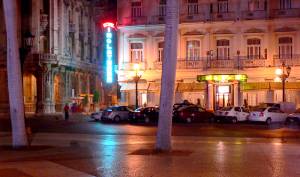 The neon sign of Hotel Inglaterra shines brightly in the night - Photo by Lawrence Leung (the nub)
For the next three hours or so, he entertains us with stories about the daily happenings at RyJ and shares details of his personal life. We tell him about our trip to Robaina's farm the day before. He has great respect for the man. "He is responsible for 50% of what I am today."
I ask him to elaborate.
This is the story. Five years ago at the grand opening of the Romeo y Julieta factory tienda, he was rolling cigars. Robaina came in and asked who this young roller was. At the time, Hamlet was in his mid-twenties. Robaina asked to try one of his cigars. "Take as many as you want." Robaina took only one. The next day, he came back with his grandson and asked for some more. Hamlet went to the back room and handed them a bundle. At the time, the Partagas Anniversary dinner was being held and Robaina took these cigars with him. He smoked one at the dinner and others around him wanted to know what he was smoking. So, he gave a cigar to each of these people. Of course, they all said how great these cigars were and that he, Robaina grew the best tobacco, blah, blah, blah. They were all sucking up to this legend of Cuba. They all wanted to know if they could get more of these cigars from him. Robaina said, "These are not my cigars. If you want more of these, you have to go to Romeo y Julieta. There's a kid over there that rolls them. His name is Hamlet." The next day there was a flood of cigar executives at RyJ.
Today, Hamlet has customers from around the world who come to see him. Most are from Asia, some are from Europe. Despite his popularity, he understands that his blends may not be for everyone. He is unique to the entire Cuban cigar industry in my opinion. He doesn't care if we buy cigars from him or not. He has no pretense, or at least any that I can detect, and it shows in the way he interacts with us.
It has been a rewarding week filled with great cigars and comraderie. However, the Coup de Grace is yet to come. The plan is to meet in the afternoon for the Big Smoke at Hotel Nacional. Vansterdam, JayArr and myself are the last to arrive. As we make our way to the doors to the veranda, we run into to Limoric and his wife Trina, who have taken a day trip from Varadero. Outside, the rest of the group is assembled. Fisher36065 and wife Susan have just arrived from Victoria, BC. The total crew is now at eighteen, Sweetness and PunchFan departing earlier in the day.
We arrange the seating and we're now occupying almost the entire side of the veranda. Vansterdam orders some mojitos and we settle in. For the next three hours we smoke and drink, engulfed by cool breezes flowing from the north and marvel at our surroundings. The Gulf of Mexico fills the horizon and El Morro glows like a beacon. The nightly quartet belts out traditonal Cuban song off in the distance as we exchange stories and recount our time in Havana.
Later we walk the Malecon in single file, braving the crashing waves, like ants marching one by one to the last 'hurrah!' It is a perfect ending to a fantastic evening and the close of our once in a lifetime trip. Half the group will leave tomorrow and by Monday evening, we will all be back home thinking about the next trip. It will be nearly impossible to top this one, but I'm sure we'll try.
---
Lawrence Leung (the nub) is a self-employed commercial interior designer who devotes much of his spare time wondering what to smoke next. His days are often spent dreaming about the next trip to Cuba or planning an early retirement.