Cigarticles
Review: Adorini Sorrente Deluxe Humidor, Part One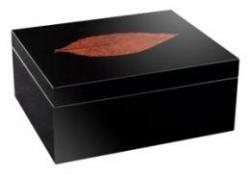 June 15, 2010
I was recently contacted by Cigar Weekly and asked to put an Adorini humidor through its paces. Evidently , Adorini Humidors is endeavoring to develop a reputation as a maker of quality humidors by having one of the Internet's premier cigar websites do an evaluation.
Why me? During the last dozen years or so, I've fabricated quite a few humidors from scratch, not to mention also having refurbished, restored and/or modernized a couple dozen vintage and antique humidors. I don't know if that qualifies me as a humidor expert. But I have done some studying over the years, and remain very interested in how humidors are made as well as in the practical aspects of their use. I should also add that I'm not getting paid for this review, and do not get to keep the humidor, which will be passed on to another reviewer.
The first thing I did after being asked to carry out the evaluation was take a look at the company website, www.adorini.com. The homepage has a nice layout. To the left is a ten point list describing what the company believes sets its humidors apart from others. Not the least of these criteria is a Lifetime Warranty. Evidently, someone really put a lot of thought into this product.
UPS delivered the humidor. It was shipped in a box within a box buffered by plenty of packing material, and arrived in good order. The model I received was the Sorrente-Deluxe.
Capacity is listed at 75 cigars. Will the humidor actually hold 75? I guess so. I've seen much discussion on the topic of capacity. The bottom line is that it depends on what you put in there. To my eyes, the humidor does seem capable of that capacity.
A small humidor brochure and a rather comprehensive Humidor Guide are included in the package. The guide represents a pretty good primer for the humidor novice. Yes, some of the information may be debatable. That said, it's essentially solid. The guide explains how the humidor is constructed, and why those techniques are used. It also informs the reader as to why specific humidifiers and hygrometers are used.
"How do I season my humidor?" That's a question we've all seen on cigar forums. Adorini has included step by step instructions specific to the equipment they provide. I'll be using them, or at least reading and commenting on them later in the review.
Outwardly, the humidor appears black, shiny and pretty. The website says the finish is achieved through multiple coats of high quality lacquer. An artful tobacco leaf design, done in reddish brown, adorns the lid. I have no idea how this finish is applied other than to say it must be sprayed. It is completely seamless, and appears to be deep and thick. Most new cars don't have finishes of this quality. This should take a lot of little scratches in stride and, with a coat of wax, still look good. The finish is thick enough that I'll bet it could even be polished years from now and look like new. Another nice touch is the felt on the bottom (to prevent your furniture from being scratched by the humidor).
The next step in my assessment involved checking the lid to body seal. It's tricky to get this just right. If the seal is too tight, the wood swells you can't open the dang thing. Too loose and the lid just clunks down without sealing. This one is right on. You can feel the friction opening and closing, but there's no real resistance. So far so good!
At this point, I want to outline the construction techniques employed. Adorini is right up front with how they do it. The core of the body is medium density fiberboard, or MDF. Theory has it that MDF provides better overall stability (being less likely to warp) than solid wood. I'm guessing that's a valid assertion, as I've seen more than a few old humidors showing separation at the seams. The only problem I've heard about in relation to MDF has to do with material manufactured in China some years back. The glue binder emitted some fumes that smelled bad and damaged some cigars. I'm guessing Adorini is using a reputable manufacturer, as they offer a lifetime warranty. It's nice to have a company stand behind their products. The lid and body edges look to be Spanish cedar veneer. There is also a thin metal plate in the interior lid covered by Spanish cedar veneer - cool idea! With complementing thin magnets on the humidifier and hygrometer, you can place them wherever you want. And you can move them if needed without leaving any glue or tape residue. Nice!
The liner is ¼" Spanish cedar, grooved to promote air and humidity circulation amongst the cigars. All the cuts are very precise. The liner is crafted out of narrower sections of wood than I'd use, but that's a personal preference. Some people say the smaller sections are better because they are less likely to warp or split. Bottom line... As long as all the pieces are as well fitted as they are here, I'm not inclined to argue the point. It's good quality Spanish cedar, and it looks great.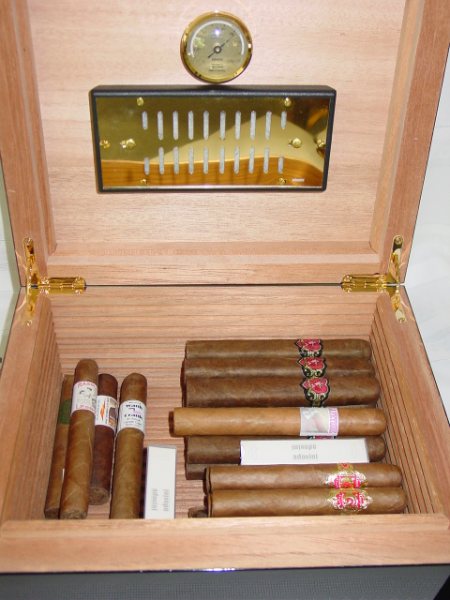 From this point, I wanted to get the humidor functional. I've seasoned a lot of humidors, and this process can be effectively accomplished in several different ways. For the purpose of the review, I decided to follow the enclosed instructions. Well, I mostly followed the instructions.
Adorini first recommends wetting a cloth with distilled water and gently wiping down the interior of the humidor. Much discussion has taken place on the Cigar Weekly Forums over the years regarding this point. I don't believe it's really necessary. But if you are going to do it, I must stress, as the instructions here do, to do it GENTLY. Don't soak the wood. You just want to give the cedar a little head start in bringing up the ambient humidity. If you use tap water, you may end up with hard water stains on your liner. Any grocery store stocks distilled water, and it is cheap.
Included in the package is an Adorini analog hygrometer. A good quality analog is okay with me. Unlike most digital hygrometers, this type can usually be adjusted and function just fine. Adorini offers a couple common methods for hygrometer calibration - the salt test and the wet towel calibration method. Both will work okay. I have one particular digital hygrometer in use I know is within a percentage point or two of accurate. I put the Adorini hygrometer into the same humidor with my most accurate one and, after a full day, both registered within one point of each other. That's as close as can be reasonably expected. Adorini touts the accuracy of their synthetic hair hygrometer as being better than the usual spring analog type. From the description, it certainly seems like it would be more sensitive. The company says their hygrometer is pre-calibrated at the factory, but warns that the shipping process may alter that. I didn't have to make any adjustment.
The humidifier provided is an Adorini Deluxe Premium Humidifier. The literature says the humidifying element is an acrylic polymer crystal fleece. Say that five times fast! The important features of the humidifying device are its self-regulating humidity control and its anti-bacterial material. It looks like the target here is 70% RH. Estimated life span of the humidifier is about 2 years. The material seems very similar to that used in the Paradigm humidifiers I was using some years back. The guide recommends soaking the humidifier in distilled water for 5 minutes. You then shake out the excess, wipe it off, and it's ready for use. Again, the procedure is basically the same as with a Paradigm model. Adorini was nice enough to supply a squeeze bottle of distilled water with a thin nozzle to fit in the humidifier slots, so I used that. Soaking will probably give you longer periods of use between refilling. What I don't like about this type of humidifier material is that when it begins to wear out, it can leak. Unfortunately, that's how you know the device is wearing out! The humidifier possesses a high quality and an attractive look. One feature I really like is that the front plate is screwed on. So if the element wears out, or you prefer 65%RH, you can take the polymer element out and fill the body with humi-beads.
Following the instructions, I affixed the humidifier to the inside lid and added a small container of distilled water. The ambient humidity where I live has been fairly high lately, so by the next morning, the humidor was at 70%RH. I then took out the container of water.
Once the RH was stable, I added approximately 25 cigars of various sizes. At this stage, the humidor looked to be around a third to a half full. Small cedar dividers with label holders are provided, and these are cut to fit the liner grooves along either the length or width. They function more to separate the cigars rather than hold them in place. I think that might be the intent. It's a nice touch. As well, the plated quadrant hinges are of the better quality type.
A day after adding my cigars, I had a RH reading of 74% with the humidifier louvers wide open. Wet cigars you say? No. These had been stored at 65% RH for a good long while. I shut the louvers. For about 3 weeks before wrapping it up to send on to the next reviewer, I had a reading of about 71% RH. That's the target area for this humidifier. Conclusion: Everything appears to work as advertised.
What's the bottom line? The Adorini Sorrente Deluxe lists at www.humidordiscount.com for $276. You can buy an Asian market humidor of similar size and design for half that or less. And it will probably work okay. But the finish on one of those won't be anywhere near the quality of the Adorini Sorrente Deluxe. The quality of materials used in those other humidors can sometimes be questionable. And the workmanship is simply not as good.
It is my opinion that if you buy an Adorini humidor, you will be pleased with what you get for the money you spent. The workmanship is on a level with the big name expensive humidors. Lay out a few more dollars, and you can get some nice veneer with fancy inlay. Based on the humidor I've handled, I'd expect it to be good. And you get a lifetime warranty on any defects in materials and workmanship.
The Adorini Sorrente Deluxe is a good humidor. I wouldn't say so if it wasn't.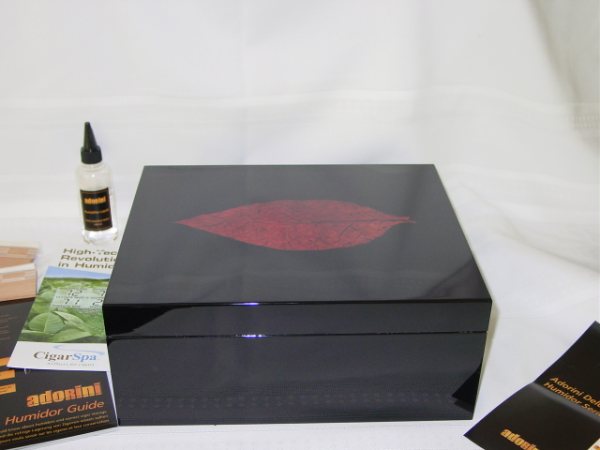 | | |
| --- | --- |
| | Tim Hartmann (xrundog) is retired from the U.S. Navy and currently lives in Iowa. He became interested in humidors when he first began smoking cigars more than a dozen years ago. Dissatisfied with the market offerings at that time, he and a friend built their own cigar humidors. Several more followed. Later, after discovering eBay, he became interested in vintage and antique humidor and ashtray stand refurbishing and restoration perfecting his own special techniques. He has sold or traded many examples of both. In the last few years Tim has also become interested in buying and restoring antique and vintage tobacco pipes. He has bought, sold and traded hundreds of them. |