CWNews
RTDA MEETS FOR 75th Time Part 1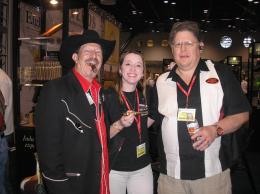 Houston, Texas.
A number of members from the forums here at Cigar Weekly were privileged to have the opportunity to attend the annual Retail Tobacco Dealers Association's 75th annual trade show at the George R. Brown Convention Center. Some were not able to arrive at the show itself until Monday morning, but were still able to gain a fair amount of news about what's new and improved as far as cigars go. This article is a blend of reports and posts from the forums here at Cigar Weekly. "Walking around" says Mad Dawg (Doug McGuire) "we found gracious receptions and a willingness to talk about cigars and the industry wherever we went. I won't get into name-dropping, because that doesn't really matter. I was tremendously impressed by the way we were received, and I'll definitely go to any RTDA"
Walking through the main door, the first exhibit in the hall is the Puros Indios exhibit and there's long time board member Frank Santos. It's been two years, since RTDA in New Orleans since we'd had the opportunity to speak in person, and he was generous with his time swapping stories with Castanza (Todd Golomb) and me, then also with Jefslat (Jeff Slatton) and Frau Evil (Brenda Slatton) who arrived moments later. The first cigar of the day was the Cuba Aliados Anniversary which was described to me as strong. The blend is called the Reyes Extra blend, in honor of Rolando Reyes, founder of Puros Indios/Cuba Aliados. The cigar I had was wrapped with a Sumatra wrapper, but also comes in a maduro. The size we had is one I can really get accustomed to smoking, being 4" x 48 ring gauge. It's wide enough to be really flavorful and complex whilst not taking hours to smoke. Puros Indios/Cuba Aliados have, over the years, been inconsistent in flavor or construction. According to my tastes, however, neither of these manifested themselves; it burned well, stayed lit until I was ready to let it go, and had a great flavor. Although it didn't seem TOO strong for me, it was medium to full-bodied. I'll smoke more of these.
Jess Fields (Mercado Libre) smoked a different size. "I can't remember which anniversary, 90th perhaps? (Actually, it's the 83rd, ed.) There are many to be had with Rolando Reyes, Sr. It is an artful cigar and quickly one of my favorites, with a large perfecto of the line that I smoked holding a firm ash solidly even at 3 1/2 inches - it had to be coaxed off the cigar."
Passing through, the next stop right behind was CAO. They were extremely busy this morning. The Flavourettes were there handing out their cigars and pairing them with various wines and Ports as well as coffee. A sommelier was at the front of the exhibit decanting wine in a very interesting decanter. Not being a drinker, I passed, but Castanza and Jefslat tried it. The decanter is shaped like a really thin funnel, made of glass which sits in wrought iron stand. Inside the top of the funnel sits a glass ball which holds water and can be frozen to ensure that the wine stays at a proper temperature. Both Jeff and Todd agreed that the flavor of the wine, when compared, were totally different. This was really a unique thing to see. Mind you, by this point it was only 11:00 in the morning. What a tough job, right?
Showing the decanting system
We were given CAO Americas which Jefslat described as quite strong; as I was still finishing my first cigar, I have not smoked this one, yet. The CAO America filler blend is 100% ligero tobaccos from Nicaragua, the United States, Italy (the same as in the Italia blend) and Honduras, bound in a Brazilian leaf. It's wrapped with Connecticut Broadleaf and a leaf of Connecticut Shade, to help it burn, since it's mostly ligero, also giving it an eye-catching look. . The packaging is spectacular, also. Says Mercado Libre, "CAO is releasing the America, of course, in the same sort of packaging/line of thought as the Brazilia and Italia were. In my opinion, the America is more tastefully done and is a much better looking cigar than those two. Its Connecticut Broadleaf Maduro over Connecticut Shade pinstripe wrap is very unique and, apparently, holds up suprisingly well under smoking conditions.
CAO also threw one hell of a wingding on Monday night at the hot local club "Hush", it was the "Escape with CAO RTDA Party 2007. The shuttle buses kept arriving and disgorging passengers even at 11:00 p.m. Shuttle isn't the right word, as they were full-sized charter buses, this seemed to be THE event of the show, replete with a full-fledged stage show, and constant dancing all over the club by some very fetching young ladies. Our little group, along with Cubano67 and Kilobyte got to talk and enjoy for a good bit. I've been waiting for years to meet Ken (Kilobyte) as we'd corresponded here on Cigar Weekly while he was on active duty in Germany. This is a great "hobby" to enjoy.
Back to the show, though.
Musician/Comedian/someday politician, Kinky Friedman has a line of cigars out, now. He ran in the last Texas gubernatorial election just last year, and has been a cigar lover for years. He's joined forces with the Oliveros company to make Kinky Friedman Cigars which can be found on the web at www.kinkycigars.com. We had the chance to meet with him and discuss cigars and his political aspirations, he's not given up, yet, and my Texan friends were proud to talk to him, and let him know they'd supported him last year. They've only just teamed up with Oliveros in the last couple months, and they've got, in just that little bit of time some nice packaging and bands. They only have one blend, just now, described as having a "medium-bodied filler blend of Honduran and Nicaraguan tobaccos and a Costa Rican binder. This is wrapped with a Habano wrapper grown in Honduras. The sizes are interesting!
The Governor -a 5.7"x 60 Toro
Kinkycristo -a 6.25" x 60 Torpedo
The Willie -a 6"x 48 "Twist Head & Shaggy (foot) named in honor of his friend Willie Nelson
The Texas Jewboy -6" x 56 Torpedo
And the Utopian -6" x 52 Toro Gordo.
Jefslat, Frau Evil and Kinky Friedman
Lonsmen: Castanza and Kinky Friedman
Rounding the corner from Kinky Friedman, we found an exhibitor with tables and tables of pipes, and in the center of the exhibit is a table with boxes of cigars, big surprise there, but they're open on top and in front. This is one of the things I really like about going to the RTDA is checking out all the smaller operators. Since I don't know many industry big guns, it's difficult sometimes to get in their booths as they're usually busy with clients and guys making real deals. We found here, this little brand called "Flor de Camaguey. They describe their presentation from their literature:
"The sight of a freshly-opened box of Flor de Camaguey is a sight to behold indeed. Fifty unbanded oily-wrapped puros nestled in a lightly colored natural wooden box is a sight rarely seen in a tobacconist's humidor."
These are Nicaraguan puros, with Corojo, Rosado, Connecticut and Maduro wrappers, with the exception of a couple parejo shaped sizes called the Supremo, a robusto and toro, everything in the line is a figurado, either torpedo or figurado. I had a Corojo wrapped little perfecto with the tuck at 4.5" x 52. This is a brand almost no one has ever heard of, and I enjoyed the heck out of it. Jefslat chose a longer perfecto, with the tuck and fatter in the middle with the Rosado, but he didn't enjoy his as much as I enjoyed mine. But it's still a nice cigar, not banded, they appear in the open boxes almost as if they're right on the floor of the factory.
Flor de Camaguey
Again, rounding another corner back to the front of the hall was Los Blancos. I first learned about these cigars the last time I went to RTDA, two years ago in New Orleans, just three short weeks before Katrina turned our world upside down. Los Blancos still features their Premiere Selection which has four distinct blends:
Sumatra-with tobacco from both the Jamstran (Honduras) and Jalapa (Nicaragua) valleys. The Sumatra wrapper is the only tobacco not grown on the Blanco family's farms. This is the red-boxed and banded blend.
Maduro-Made with a Habana 2000 leaf wrapper, around the same blend with added tobacco from Esteli. This is the yellow-boxed and banded blend
Connecticut Shade-This is the blue line
Criollo-Made with a Habano Criollo wrapper it's their newest blend of this series, but has been available since 2005
This program, with the colored boxes which are refilled with Spanish Cedar inserts instead of brand new boxes (the boxes are heavy cedar, and made to stay in the shop) are tied together with similarly colored caps, shirts and other accessories. I found this to be the most innovative presentations in 2005 and I still think that this is a winner. This system has now been patented.

Los Blancos Criollo blend

Los Blancos Premiere Selection Sumatra and maduro
Cesar Blanco, Jr. had time for us, and introduced us to their new brand "Primos." He said, "how do we top the Premiere Selection?" Primos is a premium bundle brand, but not a second. The wrappers are aged three years and are Habano Criollo in both Rosado and Maduro. To be fair, the Rosado didn't appear to be all that dark of a red, but a pretty, silky natural color. The binder is Jalapa with a filler blend inside made of Honduran, Nicaraguan and Peruvian leaves. These should have a price point around $3.00 or so at retail with a high end price somewhere around $4.79
Blanco reiterated his company's commitment to retailers telling us they have no plans to sell online or to catalog companies. They prefer to reward the tobacconists who have stuck with the company over the years.
In another vein, I asked his opinion of the obstacles facing the tobacco business, right now with the taxes being pushed through Congress to fund the SCHIP programs, and FDA regulation.
Cesar Blanco, Jr said:
He said tobacco, especially cigars, is really being "crucified." "The industry should have been more proactive over the last many years to fight this, as well as to separate itself from 'big tobacco' and cigarettes, But the rhetoric from the anti-tobacco side has been so strong, and the "mobilization that we've seen over the last 30 days or so should have happened long ago. A change of approach is in order; if we could get one state's ban repealed, we could get a snowball rolling in the opposite direction. Last year's concern was the California ban and tax, (we) should have mobilized then."
He promised a new, stronger blend from Los Blancos at next year's show.
---
Thomas Bender (TommyBB) is a moderator and contributing editor of
Cigar Weekly
. He hails from Greater New Orleans where he resides with his family and contributes his share of the air pollution of the area with cigar smoke as well as running his mouth online more than any human being should. He enjoys gathering with friends and family to partake of good cigars, good food and camaraderie when not coaching youth sports, or playing Church music. He's also been known to wear a good hat from time to time.