First Look
A look at the newest cigars. If you have a cigar most of us haven't seen yet, send us a regular photo, digital photo or scan of a photo and we'll include the cigar on this page. Contact the News Editor for details.
Perdomo Reserve Limited Cameroon Edition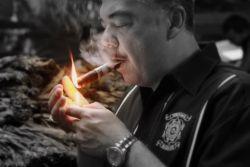 Introducing the Perdomo Reserve Limited Cameroon Edition in Petit Corona 4 1/2 x 44 This fine cigar, an extension of the Perdomo Reserve line will be released at this year's IPCPR show and will be available at a tobacconist near you very soon.

Like other Perdomo cigars, the Reserve Limited Cameroon Edition has a filler bunch and binder of Nicaraguan tobacco. But as its name reminds, it's wrapper is the prized wrapper leaf from Cameroon.
"This incredible cigar reveals a unique balance between the sweet flavors of a genuine African Cameroon wrapper and the bold essence of Cuban seed Nicaraguan filler tobaccos.
This is among a number of other offerings from Tabacalera Perdomo that are coming out this week.