First Look
A look at the newest cigars. If you have a cigar most of us haven't seen yet, send us a regular photo, digital photo or scan of a photo and we'll include the cigar on this page. Contact the News Editor for details.
Berger and Argenti Mooch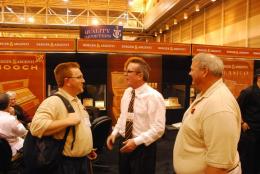 "IPCPR Debut Of Mooch® strikes chord with retailers

'Everyday' Cigar Brand Delivers Uncompromising Value and Craftsmanship"
Thomas Bender
August 30, 2010
"Say, you have an extra cigar with you? I like cigars, too." You know this guy, right? Nearly every cigar smoker has such a friend, acquaintance, relative. Big events and celebrations are ready-made events for this person, or the conscientious smoker who wants to share his joy by giving out cigars. The cigar forums, and
Cigar Weekly's
is no exception, often feature this topic from the generous smoker "what should I buy to hand out to friends and guests?" The answer is not always easy to discern; does one buy cheap, knowing that many will take the proffered cigar and put it down after two puffs no matter what it is or how good it is? Or, does one buy a good, well made cigar from a recognized manufacturer only to have the cigars go nearly to waste?
Berger & Argenti have hit upon a clever solution, with their new brand, Mooch, which made its first appearance at this month's recent Internaional Premium Cigar and Pipe Retailers Convention and Trade Show in New Orleans, Louisiana.
From a recent B & A company press release:
Mooch® is a medium-bodied, rich and creamy smoking experience that, along with the Berger & Argenti Clasico®, represents the best value in the premium long-filler cigar market. Produced with a flavorful Nicaraguan Cuban seed filler and binder crop and enveloped in a sun-grown Ecuador Connecticut Seed wrapper, Mooch® is aimed to appeal to the 'everyday' cigar enthusiast with suggested retail price points ranging from $3.99 to $5.79 per cigar, offering superior value and indisputable affordability for a completely handcrafted, long filler cigar brand.

"This brand is meant to fit the budget of consumers who want to enjoy the admirable everyday pursuit of smoking premium cigars yet have to deal with harsh economic realities each time they make a purchase," stated Albert Argenti, vice president and co-founder of Berger & Argenti, Inc. "Whether it's the current economic climate in this country or residing in an area where the tax burden on cigars is ridiculously high, I believe Mooch® will not only ease the burden on their wallet, but also be greatly appreciated for its exceptional flavor and craftsmanship."

Mooch® is available in four uniquely christened sizes:

'Minnie' (4 ¾"x 42 Corona);

'Schnorr' (5" x 50 Robusto);

'Loll (6" x 52 Belicoso);

and 'Windbag' (7" x 49 Churchill). Thirty (30) Mooch®cigars are delicately packaged in perforated Spanish cedar boxes. Tobacconists may also opt to dispense Mooch® cigars in an eye-catching, space-saving display tray.

"I wanted this fantastic new brand to have thirty cigars in a box because of the 'mooch factor' when entertaining friends and colleagues", continued Argenti. "Twenty cigars were never enough. But at these price points, I suppose cigar mooches can get their own now."