Interviews
Cigar Weekly Interview with Arlin Liss, craftsman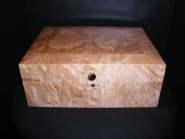 Cigar Weekly: Please give us a little little background, how did you get started in the humidor business?
Arlin Liss: I have been building humidors for about 10 years, since moving to Virginia. I started out making custom furniture and then had a customer that was interested in having a humidor made out of some exotic wood that he had. I built the first one and it turned out pretty good, so I built a few more. My business is mainly custom humidors built to customers specifications. I try to offer something that no one else does.
CW: How many do you build a year?
AL: I build about 15 to 25 yearly depending on the size. It took me 10 months to build one cabinet for a California customer. He had very specific measurements to fit it into a spot in his home. On average it takes about 1 week to build a desktop humidor.
CW: Arlin, I notice that on your site most of your humidors are made with exotic woods. What's the most challenging wood to work with?
AL: I would say that it would have to be Ebony. The most exotic I work with would be the quilted maple. If finished properly, the quilted maple gives off an almost holographic effect, it is really quite impressive.
CW: What's next for you and your business?
AL: Well, I will keep innovating my designs and I try to incorporate past customers ideas into new projects. I strive to provide a quality product for all my customers and I will continue making humidors as long as I can.
CW: Well, I would like to thank Arlin for taking some time to talk with me today. Following this interview is a CW review of one of his handcrafted humidors.