Interviews
A Cigar Weekly exclusive interview with Mario Andretti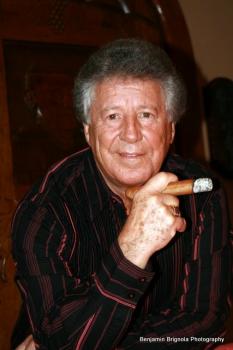 It can be said, with substantial justification, that no one has ever driven a race car better than Mario Andretti. During a career spanning an unprecedented five decades, Andretti has taken the checkered flag 111 times and achieved prominence in almost every category of motor racing. Named Driver of the Year three successive decades in a row (the 1960s, 1970s and 1980s), Driver of the Quarter Century (in the 1990s) and Driver of the Century (in January of 2000), he has attained legendary status.
Mario's skilled and versatile driving have produced some of racing history's most legendary accomplishments:
Formula One World Champion (1978)
Daytona 500 winner (1967)
Indy 500 winner (1969)
Three-time Indy 500 pole winner (1966, 1967, 1987)
Four-time Indy Car National Champion (1965, 1966, 1969, 1984)
Three-time 12 Hours of Sebring winner (1967, 1970, 1972)
USAC National Dirt Track champion (1974)
International Race of Champions titlist (1979)
Named Driver of the Year in three different decades (1967, 1978, 1984)
Named Driver of the Quarter Century (1992) by vote of past Drivers of the Year and panel of 12 journalists
Named Driver of the Century by The Associated Press (December 10, 1999)
Named Driver of the Century by RACER magazine (January 2000)
In 2006, Mario Andretti received the title of Commendatore from the Republic of Italy, in recognition of his remarkable career and exemplary character. Mr. Andretti was also named to the White House delegation for the closing ceremonies at the Winter Olympic Games in Turin, Italy. In 2008, the Library of Congress added him to its 'Living Legends' list.
Today, 15 years after retiring from racing, Mario is a successful businessman, acting as spokesman, associate and friend to top executives around the world. His legacy continues anew with the Andretti Winery, the Mario Andretti Racing School and a number of other interests, including cigars.
Anyone who knows Mario will attest to one fact - he is an extraordinary person. Mario embodies class and distinction. Well-traveled, articulate, inquisitive, principled and extremely hard working, he loves his family and enjoys the fine things that life has to offer, especially friendship. Mario takes great pride in the reputation he has earned, and demonstrates genuine interest in all those who cross his path. He is as comfortable with a poor kid from the barrio as he is with a head of state.
Mario Andretti remains amongst the most popular interviewees in the racing world, and he continues to be one of the most respected voices in motorsports. To put it bluntly, Mario Andretti is a household name.
It is a privilege to present this interview with Mario Andretti to the readers of Cigar Weekly.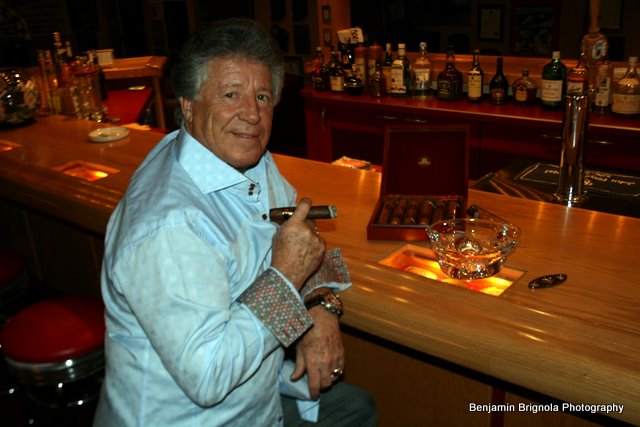 Cigar Weekly: So much of what you accomplished in life is well known. Can you tell us something people would be surprised to learn about you?
Mario Andretti: My knowledge of the opera. My interest in opera came as the result of being exposed to it. I was 13 or 14 years old, living in Italy. The theater in Lucca would hire extras, and my father would take jobs as an extra to make additional money for our family. When he was hired, our family was given free tickets, way up in the peanut gallery. So I would attend the operas in which my dad was appearing as an extra. I was not forced to go. I loved it. And the early teens are such impressionable years. Opera was also something we heard all the time on radio. It was quite common in our house. As a result, I have had a lifelong love of the opera. It's the music I play in my car, etc.
Cigar Weekly: You spent much of your childhood in a refugee camp. Thinking of time, place and of opportunity, would you still have risen to the top of the racing world?
Mario Andretti: Absolutely not. When we left Italy, we left a refugee camp where we were only existing. There were no opportunities for us there. The opportunity for me was in the United States. There are certainly successful Italian race car drivers living in Italy. But because of my family and where we were at the time, I would not have had the opportunity to pursue my dream of becoming a race driver. It's not that one can't be successful in Italy. But for me, personally, it could not have happened.
Cigar Weekly: What has been your greatest challenge to overcome?
Mario Andretti: Leaving one life behind in Italy, and starting a new life in America. I was 15 years old. It was just so many things at once - the emotion of saying goodbye to our native Italy, coming here, learning to speak English, making new friends and finding jobs so we could live independently. It was a big risk for my parents to make the move, and they had no way of knowing how it would turn out.
Cigar Weekly: Your two sons, your nephew and your grandson followed your path into racing. Sharing a race career with a family member is different than working together in an office. How much of an issue is danger?
Mario Andretti
: If my son and I worked together at a restaurant or a furniture store, obviously there would be no issue of danger. When your work happens to be racing cars, there is a roller coaster of emotions that don't exist in a normal work environment. Danger is a huge factor, but it goes with the territory. It's a huge issue and an emotional one, but there isn't anything we can do about it. Just be careful and pray a lot.
Cigar Weekly
: When you walk away from racing after so many years, how hard is it to live without that adrenaline rush? How hard is it to live without racing when it was so much a part of you?
Mario Andretti: Retiring was definitely an adjustment in my life. But it helps that my son continued to race, and also my grandson. That keeps me somewhat connected. The adrenaline rush from the sidelines isn't the same as being in the cockpit, but I occasionally get a shot of adrenaline from watching Michael and Marco race. Retirement has not been bad, however. I have so many business interests, and I get a great deal of satisfaction from my work.
Cigar Weekly: Do you have any particular cigar memories? Or cigars that created their own moments and memories?
Mario Andretti: To me, a cigar doesn't create the moment, it embellishes the moment. If you're sitting with friends smoking a cigar, it brings about conversation, and that's what creates the moment. It's the conversation. So the cigar isn't the moment, it embellishes the moment.
Cigar Weekly: What has led you to this point in time, where you're embarking upon creating your own brand of cigars?
Mario Andretti: Just for pure enjoyment.
Cigar Weekly: How did you decide to establish a relationship with Pacific Cigars?
Mario Andretti: My management team was approached by them.
Cigar Weekly: You have a line of six cigars that are quite diversified in taste. Tell us about them.
Mario Andretti: Actually, all of the cigars have the same blend, for now. The only difference is that one has an Ecuadorian shade grown Connecticut and the other has a Brazilian Maduro.
Cigar Weekly: Where do you see the Mario Andretti cigar a few years from now?
Mario Andretti: I'd like to see my cigar line appreciated and accepted by cigar aficionados throughout the country.
Cigar Weekly: What consideration have you given to the political climate where tobacco is concerned (smoking bans, taxes being levied, the passage of SCHIP legislation)?
Mario Andretti: Well, that's a loaded question. I think as long as tobacco is legal, those who enjoy it should be able to smoke.
Our magazine hosts an online forum and discussion groups. Some of the members also have questions for you...
Jon Davis (The JD): Do you like the CAO Italia?
Mario Andretti: What is that? A convertible? Seriously, I've never smoked the CAO Italia.
Cody (CodyMonster): How do you feel about having a cigar company and not being able to advertise your own product on your own cars?
Mario Andretti: That's the law.
(carmine7075): My grandmother and my great aunts were cigar rollers in Pennsylvania in an earlier time. Did any of your family work in the cigar industry in PA?
Mario Andretti: No. I grew up in Italy. My grandparents never came to the United States. We moved here in 1955. My father then worked for Bethlehem Steel.
(carmine7075): My great grandfather smoked dry-cured Italian cigars, so I wonder if you started out on D'Nobili or Parodi? You know, how did you get into cigars?
Mario Andretti: I never smoked Italian cigars. I got acquainted with cigars from pure curiosity.
Mark Scott (big ben): I see that the first cigar you chose to put your name on is 6.5 inch x 60-ring gauge one. Is this the size that you prefer? Are you targeting younger and inexperienced smokers with this size that exhibits an 'exceptionally mild yet flavorful' smoke? If so, will there be more sizes and strengths to be released in the future to lure us 'hardcore' guys?
Mario Andretti: Pacific took the lead on this and chose the 6.5 x 60-ring gauge. They brought it to me and asked if they could recognize the honor I received as Commendatore della Republica Italiana. Pacific felt strongly that the only cigar fit to carry the Commendatore name would be a 6.5 x 60-ring gauge.
Pacific brought me several different blends to try, all prepared by their blenders in the Dominican Republic. My preference was on the mild to medium side. Once we all agreed, Pacific began on the ring band and then the tube.
I don't believe age or experience will play a major role in whether or not someone enjoys our 'exceptionally mild yet flavorful' cigar. I think that they have a lot to offer - great construction, unique and delicious profile. We find that their profile stands out and is their 'own' as opposed to being similar to this cigar or that cigar. We think that is very critical in this current market in order to achieve success. I have had several long-time cigar smokers, who prefer the more medium to full bodied cigars, really enjoy the subtle complexities of this smoke.
Currently, we are primarily focusing on the introduction of the first line of Andretti cigars into the cigar community, though in the future Pacific plans on putting together another blend for the Andretti line, which will be more on the medium to full bodied side. There are currently 6 sizes to the Andretti line of cigars, all with the same blend.
Rafael Ferrales (Cabaiguan)
: How is the world financial crisis affecting teams from F1 to NASCAR?
Mario Andretti
: They all have to adjust like any other business.
Conrad Belnay (Smokestack Jack): Which form of racing was your favorite?
Mario Andretti: Formula One
Conrad Belnay (Smokestack Jack): Your most Memorable Racing Achievement?
Mario Andretti: 1978 Formula One World Championship
Rafael Ferrales: Which of your 111 wins is most memorable?
Mario Andretti: They all are. Winning the Indianapolis 500 changed my life.
Conrad Belnay (Smokestack Jack): I'd like to know who Mario's all-time favorite driver is? Also, what three people have had the greatest influence on your life, and why?
Mario Andretti: It depends on the time of my life. I was influenced by different people as I grew up. As a child, I was influenced by Alberto Ascari. In making the transition from Italy to America, it was my dad - the way he paved the way for us, being a victor rather than a victim of the war. Later during my racing career, Ronnie Peterson - he was my best friend, killed in a race. Today my business manager, John Caponigro - he influences current decisions and filters what I should and shouldn't do and what choices I should make. He's a great sounding board, mentor, business manager and friend.

Cigar Weekly: Country music legend Charlie Daniels wrote a song called Uneasy Rider, about a guy driving cross-country and getting caught in a real redneck bar in Mississippi.In it, he says, "Mario Andretti would'a sure been proud of the way I was movin' when I passed that crowd." Is it true? Would you have 'sure been proud'?
Mario Andretti: You bet.
Cigar Weekly: Mario, we'd all like to thank you for spending some time with us and answering our questions. It's truly been an honor!