Lifestyles
No Return Stamp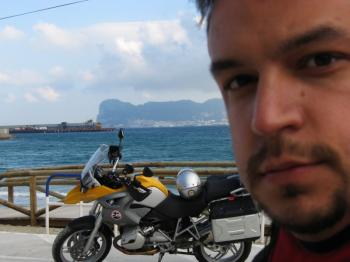 January 28, 2008
By Steve Smith (ServiceRifle)
CW Contributing Editor Steve Smith provides his experiences and insights on what it is like to be an American expatriate living and working in a country that was part of the Soviet bloc during the Cold War.
---
Electing to leave the United States of America and move to another country for work is a big decision. It's an even bigger one when you know the country you're going to is in the Third World, and you realize the nation's average income is about $150 a month. What will my living conditions be like? What will I eat? Do they have beds, sit-down toilets and roofs that don't leak? Of course, there are a hundred other questions of equal importance that you ask yourself, or others. Most people really don't know the answers.
I'm Steve (ServiceRifle), a long-time Cigar Weekly participant, and I would like to be your long-distance tour guide. I'm here to tell you about Kyrgyzstan, the country I have chosen to live in for the time being. I'll tell you the good as well as the bad about the place I currently call 'home', and what it's really like to live here.
Kyrgyzstan is one of the former Soviet Republics. Its people are made up primarily of two groups, the Kyrgyz, the indigenous people of the area, and the Russians, mainly descendants of transplanted former Soviets. Russian is the predominant language of the city, while Kyrgyz is spoken almost exclusively in the rural areas.

Many reminders of the Soviet era are still visible.
There was a time when no Kyrgyz people lived in Bishkek, the capitol city. They were mainly sheep herders, and lived in yurtas - essentially large, round, heavy cloth tents. Many Kyrgyz still do so, but most have now moved into the cities (especially Bishkek, which has a population of over 900,000 people).
First Impressions
My first day in Bishkek was an eye-opener. Leaving the hotel, I lit up one of my favorite cigars, a Toraño Robusto that I had brought with me from the U.S., and took a walk to see what my new city looked like. Just lighting up in front of the hotel got the bellboy's attention; he had never seen anything like it in his life! That should have been a big hint. My previous experiences in overseas locales had given me the idea that it was quite normal to smoke a cigar anywhere one pleased (as in Europe or the Middle East). In Kyrgyzstan, where Western influence is practically nonexistent and where 80% of the population would be considered 'poverty-stricken' by U.S. standards, I couldn't have appeared stranger if I were walking down the street dressed like Big Bird.
As I walked I couldn't help but think, "Man, I am in the bad part of town." Little did I know the whole city looked like this. The story of Bishkek is easily told. Absolutely no infrastructure maintenance has occurred in the last 15 to 20 years. And the Soviets pulled out when? Oh yeah, 15 years ago. I bet they weren't pumping any money into this place the last 5 years that they were here, either. Since then, the Kyrgyz people have just gotten by - and that's about it. Most of the buildings are in a state of disrepair. Some are clearly ex-Soviet (with hammer-and-sickle emblems prominently displayed over doors), and while these are usually the best-built, best-looking structures in the city, they show a lot of dilapidation as well.

The train station in Bishkek.
Early in my walk, I smelled an unmistakable odor, and it wasn't my cigar. No, it was an outhouse. I was walking next to a construction site, and the workers had built themselves an outhouse next to the road - no Porta-Potties with daily service here, just multi-month-old outhouses in the heat of the summer, right in the middle of the city. Continuing on, I nearly became the Pied Piper, as all eyes focused on the guy with the 'big cigarette'. Some boys even laughed - laughed, I tell you - when they saw my cigar! Eventually, the spectacle was too much for me to keep up, and I put my beloved Toraño to bed. I hated to do it, but I wanted to make it back to the hotel with my life intact. Being American is enough to get some curious and even suspicious looks, but being flamboyantly American is a bad way to get through the day. I continued to learn such lessons for months to come. One of those lessons was, "Do your cigar smoking in your home or in an expat-friendly bar."
Another thing that stuck me was that there were a lot of people drinking. Kids mainly, drinking beer, and right there on the street in broad daylight. I came to find out that there's no minimum age for drinking here, and one can literally throw a rock from one liquor kiosk to another all the way down the main streets of downtown. Alcohol - vodka especially - flows like water here. You can go to any liquor kiosk and purchase a single shot of vodka, or a 500ml bottle for a single U.S. dollar. I'm sure it's high quality vodka for that price.
Economy and Contradictions
Speaking of money, the Kyrgyz currency is the Som (Com in Russian). Currently, it trades for about 36:1 to the U.S. dollar. You would think, with such an exchange rate, that you could get just about whatever you wanted for nearly nothing. While true for very low quality items (honestly, items that locals will buy), it doesn't work for items of the quality that most Americans look for. I realize this sounds rather snobbish. But considering that the locals will buy poor quality products and then use bailing wire or duct tape to make the items last for years beyond their true lifetimes, there's a point at which one, as an American, just chooses to pay more for items that won't fall apart with normal use, or for food with less grease.
If it seems I've painted a bleak picture for you, you're wrong. Kyrgyzstan has two saving graces - saving graces that are so powerful and so overwhelming that everything else just melts away under the broken, ill-maintained sidewalks and the occasional piles of garbage. Mountains and women. Yup, that's right. Kyrgyzstan has both - in spades. The mountains near Bishkek, and throughout Kyrgyzstan, are absolutely stunning. Many within eyesight of the city rise well over 14,000 feet. And there are even taller ones nearby. The grassy high-altitude moraines in their midst create a wonderland of natural beauty that is still, for the most part, untouched. As for the women, I have yet to meet a Westerner who hasn't made a comment about them within 24 hours of his arrival. These women are, without a doubt, the most beautiful I've ever seen. And every one of them dresses like she's on her way to a nightclub - every day, all day long.

Those lovely mountains.
Kyrgyzstan in the Future
At the moment, it doesn't seem that Kyrgyzstan is doing much to succeed in the future. The government is so riddled with corruption that most people don't even bother to learn who the candidates are or to vote. It's obvious that money is going somewhere, but no one knows exactly where. Kyrgyzstan seems to still hold to the 'Iron Curtain' philosophy and, as such, is not very open to other cultures and ways of life. Today, Kyrgyzstan is roughly at the same level of advancement that the U.S. was back in the 1950s. Unfortunately, the country's rate of advancement is much slower, so instead of being 50 to 60 years behind in another 20 years, Kyrgyzstan will likely be closer to 70 years behind. It's been said that if you aren't moving forward in relation to the rest of the world, then you're actually moving backward. Kyrgyzstan is the perfect embodiment of that saying.
Kyrgyzstan, and especially Bishkek, is a place of many contradictions: stunning geography and terrible environmental policies, an established city with people still using outhouses, very low incomes and Vogue-like fashion competition amongst the women. I've been here for 6 months now, and I still don't understand a lot of what I see. As my tour here continues, I'll continue to produce little snippets of my life here, and submit them to Cigar Weekly. I hope you've enjoyed this article. I already have plans for my next one.
---
Steve Smith is a communications engineer living as an expatriate in Bishkek, Kyrgyzstan, in support of Operation Enduring Freedom. He has written several articles for Colorado Shooting, Colorado Cruising, and ADVrider.com. His favorite pastimes include motorcycling, travel, cigar smoking, and trying out new and unique restaurants. He enjoys working overseas and sharing his experiences with friends.