Lifestyles
The Virtual Gourmand - Column No. 3: The Many Lives of a Leg of Lamb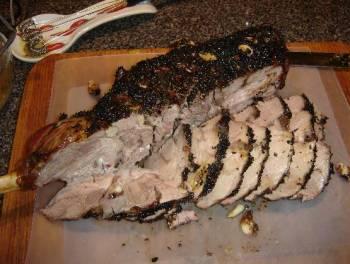 So far, this column has focused almost exclusively on grilling. While I am certainly partial to the grill in the summer and fall months, I realize that not only is that just half the year, but many parts of the country have climates that aren't really conducive to firing up Ole Smokey. So, this and perhaps the next few columns will explore some other facets of cooking that are both different, easy, and basically indoors in nature.
A lot of people have a negative feeling about lamb. For some, it's much the same they feel about veal...they shudder at what it is. Others think it has too strong a flavor as opposed to beef or pork. Others still shudder at thoughts of Clarice Starling and Hannibal Lector in Silence of The Lambs. For whatever reason, lamb hasn't gained the popularity in America that it has in the rest of the world. With modern shipping and refrigeration methods, the finest New Zealand lamb is readily available year-round, but is most available and affordable in the early spring somewhere between Ash Wednesday and Easter. In many parts of the country, lamb is considered a traditional Easter dinner dish.
I love lamb, every part of it from the loin chops to the shoulder chops to the arm and leg cuts. Leg of lamb is an especially versatile foodstuff that is quite economical when you take into account how many meals you are going to get out of it. It is simple as simple can be. In the late winter and early spring, it can often be found on sale at the supermarket from between three dollars and four dollars and fifty cents depending on the size and degree of processing to remove the bone. Below, you will find three different recipes for a single leg of lamb that will allow you to stretch the cost over several days without it ever getting boring.
Depending on the number of people you plan on feeding, purchase either a whole or half leg. I have a family of four that loves lamb, so I generally go for a whole leg roast. If you have only two to feed, buy a half-leg, but don't buy a boneless roast. You want that bone for one of the later dishes. Plus, in my opinion, bone-in meats are preferable to boneless cuts because of the added flavor in the finished product. Boneless leg roasts can make a delicious stuffed lamb roast, but that's a subject for another article. I want to keep this as simple as possible.
To prepare the first dish, you first want to pre-heat your oven to 450 degrees. In the summertime, I've been known to do this on the barbeque pit to keep the kitchen cool. If you are going to do this you need to 1) build your fire in the back of the grill, 2) place the roast on the front side of the grill, and 3) use hardwood charcoal and only hardwood charcoal, replacing coals periodically as you go. You want to roast the lamb, not smoke it low and slow. A gas grill would be even easier. Just light one side of the grill and leave the other side off.
Remove the leg from its packaging (most of them that I get are CryoVac packed) and rinse it thoroughly under cold water. Pat it dry with paper towels and select a Pyrex dish big enough to cook it in. Place it in the dish bottom side up.
Next you want to make about 30 slits in the bottom of the roast. You want to go in either half way or all the way to the bone. Try to alternate them so that they do not weaken the structure of the roast as shown below.
Now, take a whole, peeled garlic clove and push it into each slit. You can greatly reduce the amount of time it takes to prepare this roast if you'll buy whole peeled cloves of garlic in the produce case over whole heads of garlic which you will then need to peel yourself.
Flip it over and repeat the process on the top side.
Now, douse it liberally with Lea and Perrins Worcestershire sauce and cover it in dried mint flakes. Do not try to substitute another worcestershire sauce for Lea and Perrins. There are few brands I am 100% loyal to, but this is one of them. They invented worcestershire and no other brand has their taste.
Your completed roast should look like this:
Pour 2 cups of red wine in the bottom of the pan and place it in the 450 degree oven for one hour. After an hour, lower the temperature to 250 degrees and check it periodically waiting until it reaches an internal temperature of 130 degrees for medium rare and 145 degrees for medium. Well done should be at 160, but you really want a little pink on your roast. One of my favorite tricks is to use a probe thermometer. I can insert the probe into the thickest part of the roast's center, set it for the temperature I'm looking for and forget about it until the alarm goes off telling me it is done.
Remove the roast from the oven when it reaches the desired temperature and cover it with foil. Now fiddle with something else for 15-20 minutes and let the juices that have been pulled to the surface by the heat re-distribute throughout the roast while it rests.
To carve the roast, transfer your roast to a cutting board. Holding the leg upright from the small end, make diagonal parallel slices down to the bone.
Once you have made your slices down one side, lay the meat flat on the board and slice along the bone.
Repeat for the other sides of the leg. You're now set for at least two meals worth of sliced lamb and you have plenty left over - not to mention the tasty bone, which you should reserve for our next dish.
If you like, you can make a tasty gravy from the pan juices. In a saucepan, melt 2 T butter and mix it with 2 T all-purpose flour. Cook the mixture for a minute or so and then add the pan juices. Whisking constantly, bring the mixture up to a boil. If it is thinner than you would like, you can mix a T corn starch with a T water and mix thoroughly. Add the mixture a little at a time and allow to return to a boil until it is the thickness you want. It is important that the corn starch-water mixture (known in fancy cooking circles as a slurry) be cold and the gravy mixture hot for this to work. If your gravy is thicker than you would like, you can thin it with some water or beef stock.
---
Life #2: Lamb and Lentils
This is the dish my wife looks forward to more than any of the other lamb dishes. You need to take that bone and put it in a tall stock pot along with a couple of peeled carrots, a couple of stalks of celery cut in half and a couple of onions that have been peeled and quartered. Cover this all in water and boil on the back of the stove for an hour. Allow it to cool and then remove the vegetables from the pot and pick any remaining bits of lamb from the bone. Add a bottle of red wine to the pot and bring it to a boil, reducing it by half. Dice 4 pieces of bacon and render them until they are crispy in a sauté pan. Remove the bacon bits and drain on paper towels. While the bacon is frying, dice an onion and sauté it in the bacon fat. Add five cloves of minced garlic and sauté for another minute. Season the sauté with salt and peppre - just a little, the salt will bring the moisture out of these aromatic vegetables. Take 2 packages of dry lentils and add them to your boiling stock. Dice another onion and add it to the pot along with your sauté mixture. Boil them until the lentils break down into a paste. If you find that too much of the stock has evaporated before they get to this stage, you can either add water, wine, or low-sodium chicken stock to the mix. Adjust your seasoning of salt and pepper at the very end... with soups the salt tends to concentrate with the liquid and can become too much very fast. When the mixture is all a very thick soup that is the consistency of gravy, ladle it into bowls and garnish it with the bacon bits on top. It in many ways resembles split-pea soup, but with a heartier flavor.
You now have several more meals out of your leg of lamb.
---
Life #3: Lamb Hash
So, you've eaten your way through the sliced lamb and made the lamb and lentils from the bone and yet you still have lamb that needs to be used. Fear not... we have a recipe for that too. Dice up a half pound of bacon and render it in a big skillet. Add 2 large diced onions when the bacon gets to the browning point and sauté them until they become translucent. Add a couple of cloves of minced garlic and sauté for another minute or two. Add a bag of thawed, bagged hash browns to the mix and the rest of your lamb, which you have cubed up. Mix thoroughly. Reduce heat to medium, add 1/2 cup each of cider vinegar and sugar as well as 2 tablespoons of whole mustard seed I usually also add a jigger of balsamic vinegar as well, but that's my little secret). Cover and heat until all of the moisture is absorbed and the potatoes are fully cooked (about 10 minutes - stir it occasionally). Season with salt and pepper to taste and serve hot. This makes an excellent hearty breakfast reminiscent of German potato salad.
So, we've taken a roughly $40 cut of meat and we've stretched it to at least 6 meals for two without a lot of trouble. That's about $3 per person per meal for the meat. Hard to beat and good eating as well.
---
Contributing Editor and CW Executive Chef Jason Clabaugh (BigO) hailed from New Orleans before Hurricane Katrina devastated the city and has settled in a suburb of Atlanta. With the addition of a new baby to his family he's refocused his energies on fatherhood and a new project bringing his famous mango-habanero salsa and unique barbecue sauces into commercial production.