Lifestyles
Trinidad - The Real Cuba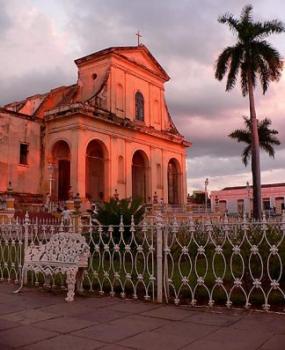 February 2nd, 2009
by Lawrence Leung
It's seven o'clock in the morning, and the tiny departure lounge at the Varadero bus depot is bustling. On the far side of the fifteen by twenty foot room sits the gatekeeper, an older Cuban gentleman. He punches numbers into an ancient Burroughs adding machine before issuing handwritten tickets. Tourists and locals mill about, anxiously awaiting the next wave of buses. I sit motionless, still half asleep. Today, I begin my journey to discover the real Cuba.
Surprisingly, my bus arrives at half past the hour, right on time. I make my way on-board, and settle in for the scheduled six hour trip. I and my fellow passengers travel long stretches at a crawling pace. Many of the pothole-ridden dirt roads are almost too narrow to navigate. Several times, we are guided through tight curves, barely inching by homes and hanging electrical lines. At one intersection, the bus attempts to make a three-point turn and ends up caught between a house and a telephone pole. About 2:30 in the afternoon, we arrive at our destination - Trinidad.
Cobblestone streets and vintage autos are a common site in Trinidad.
A chain rope cordons off the bus station parking lot. On the other side of the chain stands a throng of locals holding cardboard signs and waving pamphlets. I've been warned of this. Despite the sleepy atmosphere of this picturesque town, tourism is a major enterprise - at least for those who own Casa Particulars, the government licensed bed and breakfast accommodations. Here in Trinidad, a room runs about 20 CUC to 25 CUC (roughly $22 to $30 US) a night, more than the monthly wage for an average Cuban. Today, it seems like all the casa owners are out in full force.
I make my way through the crowd, trudging along the uneven cobblestone streets and finally arriving at the big red wooden door of my casa. I'm greeted by Rosa, whose English is much better than my Spanish. She hands me a key and leads me to my room. It's comfortable but sparse, with a table, a chair, two twin beds and whitewashed walls. Suspended from the fifteen foot high ceiling, an electric fan spins quietly. The full-height French doors of my room - one of five in this large Colonial style home - open onto a sitting area that is scattered throughout with antiques, figurines and paintings. Iron-barred windows, shuttered with painted red wooden panels, shield the interior space from the afternoon sun.
The patterned glazed tile floor, probably dating back to the mid-1800s, magnifies sounds from the street. By Trinidad standards, this is grand. I later find out that this home has been in the family for three generations. Julio, the present guardian and husband to Rosa, was born in the front bedroom, delivered by his father, a pediatrician.

After unpacking, I decide to take a little stroll through the city. Spanning roughly eight square blocks, the town centre is easy to navigate. My casa is ideally located, only about four blocks from Plaza Mayor, the historic centre of the town. A little distance farther is a La Casa del Habano.
The shop is tiny, divided into two rooms - one for rum, coffee and souvenirs and another with a walk-in humidor for cigars. Inside the humidor is a long glass counter. Behind are rows of shelves with a smattering of boxes. The selection is minimal, numbering some thirty boxes in total. I ask for older cigars, hoping to find a hidden gem. There are a few cigars from 2002, but nothing that interests me.
Two blocks away is yet another La Casa del Habano. This one has a hand painted sign that looks like it's come from the local flea market. I'm unsure as to whether the store is a legitimate LCDH, but enter nevertheless. Sadly, the selection here is even more dire. I'm mildly disappointed. Maybe I've just grown accustomed to having a well-stocked humidor at my fingertips whenever I'm in Cuba.
View towards the South from Plaza Mayor
Large wooden entry doors typify the homes and buildings near the centre of town.
I return to the casa in the late afternoon because it's time for a smoke. I select a 2002 Sancho Panza Non-Plus from my stash, and ascend a narrow spiral staircase to the roof-top deck. From here, my 360-degree vista of the surrounding area takes in the nearby mountains of the Escambray Range, the Church bell tower in the town centre and a hazy view of the Caribbean Sea to the south. The Sancho, purchased in Varadero, tastes delicious. It shows less of the typical grassy flavors and more of an intense richness of sweet tobacco with a touch of cocoa and some saltiness. My mix of Havana Club and Tukola, Cuba's version of Coke, serves to keep me cool on the clay tile and brick oasis of the roof top deck. Except for the sounds of horse drawn carriages trotting the street below, all is quiet.
Horse power
Evening slowly creeps in as I enjoy the tranquility of a glowing red sunset. I grab a few more smokes and head out in search of dinner. A block from my casa is a well-regarded paladar, Sol y Son. A carved wooden sign marks the entrance, and upon entering, I feel I've walked into an antique shop. Not only do the furnishings appear to be from the early 1900s, but there are also stacks of tables and chairs piled in the foyer. Beyond is a small archway that opens onto a courtyard where dining is al fresco. Unfortunately, all the tables are full. After a fifteen minute wait, I decide to try my luck elsewhere.
Towards Plaza Mayor, I choose the first restaurant I see. By this time, I'm starving and am not in the mood to search out another place to dine. I order a Crystal and light up a custom-roll that I purchased from LCDH at 5y16 in Havana. This cigar is possibly the best Robusto that I've smoked in the last five years - rich, creamy and hinting at the new school of blending that Habanos has taken on in recent years. It's accessible, smooth and refined with moderate complexity.
The ice cold Crystal keeps me cool and cleanses my palate. When I'm about halfway through the Robusto, dinner arrives - Cuban salad, rice, mashed potatoes and a huge leg of chicken. It always amazes me when I hear stories of unpalatable food in Cuba. Am I the only one who gains ten pounds when visiting Cuba? I finish off my delicious dinner with Cuban coffee, and enjoy the rest of my Robusto. A lively quartet that has been playing since I arrived moves into a salsa arrangement. A couple begins dancing, and the restaurant staff joins in.
After dinner, I wander over to Plaza Mayor. Nightly, starting at 9:00, Casa de la Musica presents a free outdoor concert. The seating is informal - tables and chairs for the lucky few who arrive early, places on the concrete steps of the Plaza for late-comers. Although the show is geared towards tourists, many locals attend the festivities. Some of the local men conduct an impromptu dance class, with female tourists participating as willing students. The musicians are first rate, although I find the arrangements to be a little too polished for my tastes. I quietly puff away on a Monte Petit Edmundo as I enjoy the vibrant music. The show lasts about two hours, and is entertaining enough to liven up the laid back atmosphere of Trinidad.
The next day, at about 9:00 in the morning, I'm enjoying a smoke on the rooftop deck of the casa. I have a rum and Tukola in one hand and a Gispert Habaneros No.2 in the other. The Gispert is a mild, creamy cigar with loads of rich, toasted tobacco flavors. Boxed in 2002, it was a rare find in Varadero one week prior, retailing for 32.50 CUC. Sadly, that was the second to last box remaining. The Gispert is a perfect cigar to start the day - short enough to finish before the heat of the day begins to lull me into sleep again. I shower, load up on cigars and stop to chat with Julio. An interesting character who speaks perfect English, he is a photographer, with one of his photos featured on the cover of the Moon Cuba guide book.
For the next few hours, I walk aimlessly, criss-crossing through alleys, streets and courtyards, taking a turn wherever my feet lead me. Near Plaza Mayor, I find a Peso food shack with an old gentleman quietly sitting in a rocking chair. I glance at the menu and see my favorite - bistec de cerdo (pork steak). At only 25 CUP or $1.00, I have to try it. A few minutes later, my lunch arrives accompanied with Cuba's favorite condiment, salt. The healthy serving consists of a thin pork chop, rice, shredded cabbage and a mash that tastes like yucca. The cleanliness of the shack leaves much to be desired, and I'm sure most of my friends back home wouldn't stomach such a meal, let alone set foot in there. But despite the circumstances, the food is pretty darned tasty. I compliment the cook, and she seems amused when I ask to take her photo.
Off to explore a bit more, I stop in at a Peso store where the locals purchase their staples. Bundles of cigarettes, small bags of beans and rice line the shelves, single file. That the shelves are barely stocked gives a glimpse into the struggles that Cubans endure on a daily basis. Across the street, a store window displays plumbing parts. A faucet, not including taps, sells for 300 CUP or about $12.00 US, nearly a month's wages for some locals.
Homes on the outer edges of the town centre
I wander into a small art gallery. Like many galleries throughout Cuba, this studio is an adjunct to the artist's home. Barely fifty square feet in size, its walls are filled with paintings depicting bold political statements. I ask the artist about one particular painting that interests me. It is a portrait of Fidel Castro, with each strand of his beard depicted as a key. The message is that only he has the key that will unlock the door. But which key? Which door will it open to end the struggle? Another painting is of Karl Marx, with a spike driven cleanly through his skull. Littered about elsewhere on the canvas are hundreds of broken and bent spikes. The message being that the original spike, in this case Socialism, is a poignant, brilliant ideal capable of being implemented and accepted openly. However, repeatedly hammering the ideal meets only with resistance and rejection. Quite shocked at the boldness of these paintings. I ask the artist if he's worried about the Cuban officials. He replies that for a small artist such as himself, there is no concern.
The neighbourhood Communist Party office
After a brief siesta back at the casa and dinner at Sol y Son, I return to La Casa de Musica. The crowd is livelier tonight, and it being Saturday, more of the locals are in attendance. With my tanned complexion enhanced by the dim light of the plaza, I'm mistaken for Cuban several times. Perhaps it's my relaxed attitude. Maybe my sloppy Spanish that mimics the Cuban tongue. Or might it be the ron and Tukola? I find a spot on a stone wall under a tree. Tonight's band, consisting of nearly twenty musicians, is in a salsa groove. Couples are dancing all over the plaza steps.
With a dwindling arsenal of cigars, I light up yet another Petit Edmundo with my Solder-It torch. Strictly utilitarian, the lighter never fails to spark up a conversation. This time, an English-speaking person named 'Carl' is on the other end. He's here for a few days, taking a break from Cienfuegos where he's staying with his Cuban girlfriend.
We have a few drinks, and he tells me about the difficulty of a foreigner having a relationship with a national. For the first year, he had to stay at a separate home whenever he visited his girlfriend. After they announced their engagement, he was permitted to sleep at his fiance's home, but in a separate bedroom. This tale of innocence and courtship is shattered when he tells me his fiance is only seventeen years old... and that he's fifty-five! 'Carl' also tells me that he is in Trinidad to find more action. Right about then, I have a sickening feeling. It's the third story of such escapades that I've heard on this trip. It begins to sink in that the beauty of the people and this country is nothing more to some than an adult playground ready to be raped and used by anyone with a lustful dollar to spend.
Next day... It's a peaceful morning with clear blue skies, and I'm once again sitting on the roof top deck. I spark up an El Rey del Mundo Demi-Tasse. On the street below, a woman sweeps water away from her freshly cleaned stoop while a dog lies in the shade of a doorway. Children are flying kites from the rooftop a few houses over.
"Lorenzo. Lorenzo!" Julio calls. I peer over the railing and see him waving me down. As I descend the spiral staircase, I see a horse in the carport.
"It is a quarter horse," Julio says proudly. He calls his daughter to come and take photos.
I don't know anything about horses, but I do know that quarter horses are for racing. I also know that gambling is illegal in Cuba, so this one is not going to see the racetrack. Besides, Julio doesn't have a field to plow, and his entire home is surrounded by concrete and blacktop. As he parades the horse through the courtyard and into the living room, it dawns on me that this is his 'Ferrari'. He leads the horse back through the front door and out onto the street to show off his shiny new 'car'.
I finish my smoke, and decide to stretch my legs and explore more of the town. While Havana seems to represent a time warp back to the late 1950s, Trinidad embraces a colonial heritage dating back to the 18th-Century. And whereas in Havana, the contrast between the have and have-not is quite apparent, the people here maintain a status quo - or at least so it seems. While no one in Trinidad appears to be prosperous by Cuban standards, the level of poverty here seems to be much less than in some districts of Havana. Unlike Havana, where foreigners can be easy targets for hustlers, here in Trinidad, the general feeling of being unnoticed is refreshing.
Family and friends pose for a photo.
Old man in the doorway
One of my favorite activities this trip is to taste some of the local fare. Finding a quick bite to eat isn't too difficult. I find several food carts selling ham sandwiches, although in one particular case, the jelly like consistency of the contents leads me to look inside. Hiding beneath the top layer of ham is a ½-inch thick slice of fat. But if that doesn't suit your taste buds, you'll find street stalls or little 'holes-in-the-walls' selling pizza. Trinidad's version is a personal-sized pizza without a lot of personality - six inches in diameter with some sort of red sauce, a liberal dose of sea salt, a smattering of grated cheese and then more red sauce squeezed on top. It comes piping hot out of an oil drum oven, and is placed on a sheet of recycled paper. Cost is 5 CUP. Pizza is a popular fast food item in this town; I've frequently seen locals ordering three or more at a time.
Rapido is a popular fast-food chain in Cuba, and getting service amongst the locals there is an interesting experience. Formal line-ups are non-existent. And it takes a bit of observation to get it right. Basically, you stand as close to the cash register as you can. Even if you arrive first, your position will be challenged. Stand your ground. Make sure you have your dollars in your hand, as that shows you are there to buy and not just to ask questions. Speak before you're spoken to and, of course, speak before the next person. That in itself can be a bit unnerving when your Spanish is as poor as mine. Once you pay, make sure you receive the proper change.
Plaza Mayor in the late afternoon
View from Plaza Mayor looking towards the Bell Tower
Without a doubt, Trinidad is one of the most picturesque towns I've visited. Everywhere I look seems like a page from National Geographic. Concrete and smooth stucco structures, once painted in vivid Socialist blue and Communist red, now fade to soft pastel hues. A student of the times would say this is a fitting metaphor for a country that has remained steadfast to its convictions in the face of economic difficulties. But nearly every face I encounter is accompanied by a smile and a pleasant "Hola". It's a small-town feel I could happily become accustomed to. The pace and quietude are real eye-openers.
As it draws late in the evening, I'm feeling restless. In Trinidad, I've found a slice of real Cuban life. And sadly, my time here is coming to an end. I wander out into the cool evening breeze, Robusto in hand, and amble through the deserted streets. The muffled sounds of Cuban Son and the glow from television sets wash out onto the sidewalk. And like a great cigar that reveals itself through each puff, so does Cuba with every step I take.
---
Lawrence Leung (the nub) is a self-employed commercial interior designer who devotes much of his spare time wondering what to smoke next. His days are often spent dreaming about the next trip to Cuba or planning an early retirement.