Lifestyles
Travelogue: Havana - From the City to the Farm and Back (Part 1 of 3)
February 19, 2007
By Lawrence Leung (the nub)
It was billed as The All Canadian, Habanos Brothers, Big Smoke in Havana. Twenty-one people from Canada, many of whom have never met, getting together for the ultimate herf, a once in a lifetime herf, in Havana. The root of it could be traced back to several places, but getting everyone together online could be credited to Marty Mix. He started a thread on Cigar Aficionado in July 2003 to rally all the Canadian cigar smokers together. With over 1100 replies, it's probably the longest running thread of any cigar board. This thread eventually lead, with minor detours, to the formation of a Canadian cigar board called Habanos Brothers. It's members contribute to many other bulletin boards including Cigar Weekly but their home is HB.
Click images to enlarge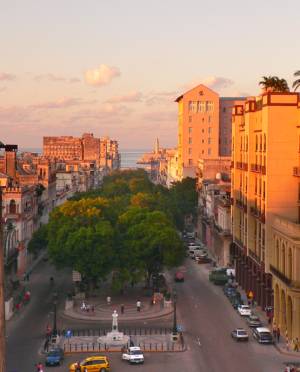 The Prado - a pedestrian thoroughfare that runs from the heart of Old Havana and leads to the Malecon. El Morro castle is visible in the distance - Photo by Lawrence Leung (the nub)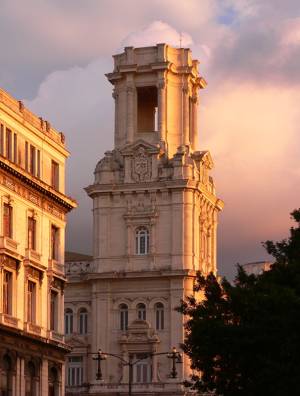 Old Havana glows in the afternoon sunlight - Photo by Lawrence Leung (the nub)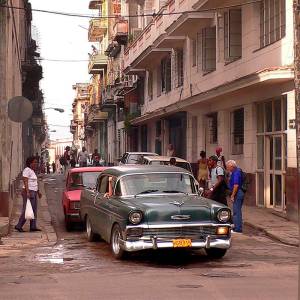 1950's era American automobiles can be seen at every street corner - Photo by Lawrence Leung (the nub)
The West Coast contingent consisting of Vansterdam, Cyclone, Tc (Calgary), PJ, JayArr, Sinbad and myself, the nub are the first to arrive in Havana... We've booked rooms at a villa near Playa del Este. It's not the most authentic of Cuban locales but given the sheer number of people, it was the only logical place. At roughly $20US a night including breakfast, it's hard to beat.
After check in, Vansterdam and I pull the chairs and tables out of our villa and set up Grand Central on our patio. It will become base camp for herfs, late evening binges and planning for the days' events.
Rule number one when traveling to Cuba- always bring at least one cigar with you. There's nothing worse than being in Cuba without a cigar, especially on the first day. I learned my lesson a few years back when I arrived in Varadero after all the shops had closed. Trust me, Cuban cigarettes are not a suitable substitute. This day, I brought along an H.Upmann Majestic from '99. It's a short smoke, roughly the size of a petite corona, with a nicely rounded flavor profile, enhanced by nearly seven years of box age. After a few rum and colas, we assemble and head into the city.
First stop is Hotel Nacional to pick up some walking sticks. It's nearly 7pm and we storm into the LCDH like locusts, checking box codes, opening cabs and making a mess of the neatly arranged walk-in humidor. It's a non-stop buzz. There is a good selection here, many with a decent amount of age. In the end we settle on '01 ERDM Gran Coronas, '98 Punch Coronas, '98 Dip 4, a 50 cab of '01 Partagas Coronas, '02 Partagas Coronas Grandes and '04 Serie A. Average stick price is 5 CUC or $6US.
Next stop is some food. Down the block, up La Rampa then left, across from Habana Libre is El Monguito. It's a little hole in the wall with good food and cold beer. The seven of us are shuffled into a private room at the back. I light up an ERDM Gran Coronas and it is good. I mean, it's damn FNP. Ice cold beer hits the table and we toast the first of many toasts of the trip. Time to order some food. Half of us choose the Steak Uruguay. None of us get it. We're happy just the same. Hell, it's Cuba! After dinner we resume our cigars. Smoke quickly fills up the 8x8 room. Our waitress remarks on the dense cloud as she clears our table and we decide to truck back to Hotel Nacional. For those who haven't been, the Hotel Nacional is probably the quintessential spot to smoke a cigar. Built in 1930, it's hard to imagine Havana without this landmark. Limestone columns flank the u-shaped veranda which overlooks the Malecon and El Morro. Peacocks and pheasants wander peacefully through the gardens. Beneath the gardens, underground tunnels lead to gun look-outs, now long since sealed off. Tonight we drink mojitos, smoke some aged cigars, talk about our lives, our friendship, politics and everything in between. We've become close friends in the short time we've known each other. We smoke together, celebrate birthdays, share the joy of newborn children and look forward to seeing each other every time. The term 'brotherhood' is often talked about amongst cigar smokers and within this group it could not be more appropriate. Round after round of mojitos come to the table. By the end of the night seven rounds have been consumed and I'm on the other side of my limit. When your head is on fire, you've had too much to drink. It's just as well, since we need to get back to the villa to greet the East Coast group.
It's about 1:30 in the morning and sitting by the pool are Sweetness, PunchFan, SergeAyotte, Che, Chaosgeek, and Marty Mix. They already have their rum on the table and are drinking away. We continue to drink well into the night and about 3:00 I call it quits.
Sunday afternoon, LusiHo shows up. Since the guys from back east don't have any cigars and it's nearing dinner time, we go into the city. The late afternoon sun casts a magical glow on Habana Vieja.1950's era American autos chug along and pink Camel buses carry passengers by the hundreds. The only people who seem to notice us are the jinetero's- the hustlers, and the odd beggar. It's uncomfortably hot and diesel exhaust fumes fill the air.
We stop in Hotel Sevilla to check out the LCDH. This was at one time, a good store to visit. Last year, numerous boxes from 1998 were available and single sticks could be purchased from any box in the walk-in humidor. It was probably the only store in Havana that would allow you to do so. Sadly, the store is now closed for good and the inventory has been moved elsewhere.
Just a few blocks up the Prado and to the left is Parque Central. They have a decent selection in their store and this is where we experienced some sticker shock. As some of you know, Marty Mix is also responsible for an online pricelist of cigars in Cuba. For the most part prices are up roughly 5% since April of 2006. Top-tier brands Cohiba and Trinidad are cheaper now, as well as, La Gloria Cubana. Cigars have long since ceased to be bargains in Cuba. The East coast group buy some singles but I pass. I'm here just to take mental inventory of the stock available.
After walking through Barrio Chino (Chinatown) and enduring an excruciating wait at Chan Lipo for dinner we meet return to the Nacional. We drink more mojitos and then head back to the villas to cap the night.
It's about 9:30am Monday and already we're into the rum and cola with our smokes. Mornings in Cuba is one of my favorite times. It's a time when you can kick back, think about what's ahead and quietly have a cigar. Then have another drink. Then another cigar. Then another drink. The next thing you know, your hungry and it's time to go into the city. The group decided to hit the LCDH near the Armary, first. Selection is good but there are only a few older boxes. Some interesting singles are available and I decide on a Raphael Gonzalez Slenderellas. I've become partial to long slim cigars of late. Last year I picked up an SLB of 50 Punch Ninfas from '02 that were delicious. Another trip later in the year yielded '00 LGC Medialle d'Or No.3, also superb. The RG starts out nicely but with so much going on, I have a hard time keeping it lit.
About a ten minute walk from the Armary is the LCDH on Mercaderes near Obispo. It's a small shop with a limited selection, old stock with beetles and the only reason I wanted to stop in- an old Partagas blue and white ceramic jar. They have some other old pieces; Cohiba Esplendido with old band in Cello, Partagas something in a glass tube and a shaped metal cigar case. I was only interested in the jar, though. After a brief attempt to persuade the manager, I give up. The jar is not for sale.
Click images to enlarge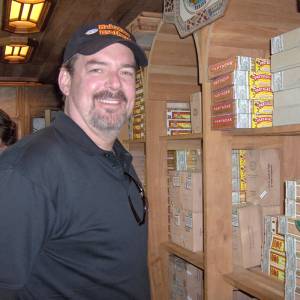 Tc in the Partagas walk-in humidor (Photo courtesy of Sinbad)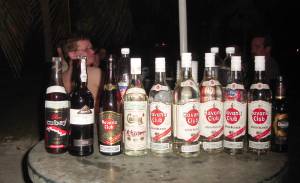 One night's worth of rum (Photo courtesy of Marty Mix)
Up the street is the LCDH at Conde de Villanueva. At the entrance to the hotel is a glass case filled with cigars shaped into various forms. Culebras, hand guns, tobacco pipes, etc. Nearby is a six foot long cigar, protected with plastic wrap, secured with packing tape to a nice wooden table. The LCDH has a good selection but everything is behind glass making it difficult to check box codes. The main attraction for me here though, is the house roller, Reinaldo- virtually unknown except to European cigar smokers. For this I am thankful. I can come in and pick up a bundle of salamones or other vitola without much problem. The crew departs here and leaves me as I need to make stops at the bank and check my e-mail. I speak with the manager and ask for diademas and corona gordas. A film crew is shooting a story for Russian national TV and while I'm sampling the complimentary corona gorda and sipping on café, they ask to include me in their footage. I'm comfortably seated in the leather highback chair, wearing my Cigar Weekly cap, ragged t-shirt, shorts and runners and thinking "I look like an idiot. I should have worn pants. The editor's probably going to look at this tape and leave it on the cutting room floor because I don't fit the profile of a cigar connoisseur." Then I think, "Who do I know that has access to Russian satellite TV?" Hmmm. So much for my fifteen minutes of fame. I finish my cigar, take my diademas and corona gordas, order another bundle of corona gordas with dark wrappers and race to Partagas because I'm already late meeting with the other guys.
The trick to getting in the VIP room at Partagas is to look like you own the place. If you can master stonewalling the cigar hawkers outside the front door, you've got it half mastered. In through the entrance, I head straight to the VIP door. Don't make eye contact, that is unless you know the managers. I've met them before but they don't know my face so I head straight to the door. Inside, half the group is lounging on the leather sofas, drinking rum and enjoying some La Chinas. Marty Mix has worked his magic and we're invited to Robaina's on Thursday for lunch. Suweet! Is it a big deal? Sure is. Anybody can find their way to the farm but no one gets through the gate without an invitation. Hell, if I had that many people over at my place for lunch it would be a huge deal. And I don't know the first thing about growing tobacco :-)
Dinner time rolls around and we meet up with the other half of the group at Los Nardos. Falcon, just in via Mexico City, shows up with suitcase in tow. Quick hellos, up the stairs and we enter a large dining room with floor to ceiling wine rack. I mean this wine rack is massive. The ceiling must have been at least twenty five feet high. The decor is dark wood, almost gothic, complete with sloping tiled floor and wrought iron encased glass pendant lights. At roughly 10CUC Los Nardos is a bit on the pricey side for Havana dinner. What they are famous for are huge portions of food. Marlin steaks the size of a football, lobster thermador with three tails, two breast of chicken Cordon Bleu. We have some big guys in our group but I don't think anyone was able to finish his meal. After dinner we pick up a half case of rum, 9 litres of cola and head back to the villa.
---
In Part Two of this three part series, the nub and his compadres go on a journey to Robaina's farm...
---
Lawrence Leung (the nub) is a self-employed commercial interior designer who devotes much of his spare time wondering what to smoke next. His days are often spent dreaming about the next trip to Cuba or planning an early retirement.