Lifestyles
Rediscovering an Old Friend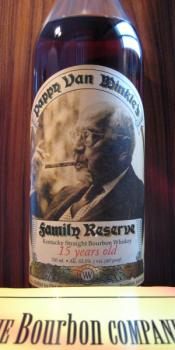 I was sitting outside on the back porch not long ago with a cigar and a good pour of a favorite Bourbon. I can't imagine I'm much different than anyone else, so I'm guessing I'm not the only one, when relaxing, and enjoying the place in the world you've carved out for yourself, might reflect on how you got there and just how wonderful that trip has been. That's exactly what I was doing whilst enjoying two of the world's great vices, cigars and whiskey. Finding favorites can take some time, but trust me when I tell you that it's time well spent.
My father enjoyed both Scotch and Bourbon. When I was old enough he told me in no uncertain terms, "Son, if you're going to act like a man and drink, drink like a man." Being easily influenced like most young men, I tried some Bourbon with Coke, Sprite and other sweet mixers with friends and never liked any of them. There was something about the flavor, the burn, the nose, all of it that I liked right from get go, I never had to acquire a taste for it at all. Back in those days, my choices for Bourbon were more than limited to say the least. Beam White and Black, Evan Williams, Early Times, Old Forester, Wild Turkey and all the other usual suspects.
I guess it's about time for me to get to the point of this story, so here it is in a nutshell. For no real reason, I took a long break from spirits of any kind and while I was going through the day to day doldrums of life, trying to figure where and who I was, there were things happening in the world of American Whiskey that I just plain missed. Just as quickly as I gave up Bourbon, I decided it would sure be nice to have big pour after work one evening. I could literally taste it most of that day and was looking forward to my stop at the ABC store close to home. That's when I realized what I had been missing for past several years. I was completely overwhelmed by shelves full of a new breed of American Whiskey: Small Batch and Single Barrel Bourbon.
I wasn't at all new to Bourbon, but I muttered to myself "What in the hell is all this", then grabbed a bottle of an old standby, Maker's Mark, and went home. I sat outside with that bottle, along with a good cigar and remembered just how much I enjoyed the combo. At the same time I decided to re-discover Bourbon, and I figured all those new bottlings were the best place to start. It was like being 20 years old all over again, and I had no idea where to start. So I sat down and did some reading so I'd know exactly what I was looking at. First, Single Barrel Bourbon is, simply put, Bourbon from a single barrel, brought down to bottling proof and put in the bottle. These are hand-picked, usually extra aged barrels that have matured very well and become some of the best whiskey available from any country. Small batch, on the other hand, is something completely different. What distilleries have done since the beginning is dump hundreds of barrels at a time, filter it, and get it down to bottle proof. Small Batch is done the same way, just on a much smaller scale, and the barrels that go into it are again, hand-picked by the Master Distillers and allowed to age longer. Some distillers feel this method is the best way to get a more consistent product. Either way, these are some damn fine whiskies. All this started in the mid 80's when Single Malt Scotches were gaining in popularity. The Bourbon distilleries needed to step up to the plate and offer more high-end whiskies. Bourbon distilleries have been fighting an uphill battle since the repeal of Prohibition. Canadian and Scotch distillers weren't affected by prohibition, and had plenty of whisky aging all through those years, so it was easy for them to put a well-aged product on the shelves. The Bourbon folks on the other hand needed to rush a product to the market that just wasn't ready, it sadly, and deservedly earned the reputation of a bottom shelf whiskey. Those days are definitely over, and the guys from Kentucky have turned the tables with these new offerings.
Armed with that knowledge, I strolled back into the nearest state store started off with a bottle of Evan Williams Single Barrel; just delicious stuff. Very well balanced, and it shocks me just how flavorful it is being bottled at 86.6 proof. I highly recommend this one.
Then came Eagle Rare 10 yr. Single Barrel. Wow, is all can say, the spiciness compliments the sweetness very well, and has a fantastic dry finish. Another one I highly advise you to try.
Knob Creek is one that's become my go-to-pour. I just love the stuff. It's big, bold, and somehow refined all at the same time. It's an all out assault on the senses that bring everything good about Bourbon to them at once, vanilla, oak, spice, pepper and even some smoky char. It really doesn't have a weak point that I can find. If I was new to Bourbon, I don't think I'd start here, but I'd damn sure find my way here soon enough.
Jim Beam offers four small batch Bourbons, Basil Haden's, Booker's Baker's and Knob Creek. Basil Haden's is a nice Bourbon, but I think it would be so much better at 90 proof instead of 80. Baker's is just too young, and at 107 it's hot and the flavors are hidden by it. Booker's is great, and is a cask strength, unfiltered bottling. A must try at some point. Personally, I think Basil Haden's is nice enough, Booker's is better than Baker's and Knob Creek is the best of the bunch.
Maker's Mark is a small batch Bourbon, and it's the only brand that comes out of that distillery. It's a wheated Bourbon and may not be the most complex or rich whiskey out there, but it is delicious and very easy to drink. It won't tax the senses, but it'll hold your attention. Maker's is a great place to start if you're thinking about getting into American Whiskey.
Woodford Reserve is one that I fell in love with at first. An excellent expression of a good, straightforward Bourbon with sweet vanilla and fruity flavors. For some reason the good folks at Brown-Forman decided to tweak it and started adding pot-stilled whiskey from Versailles Kentucky. The post-stilled stuff is top-flight whiskey, but it affected the flavor in a way I didn't like. Couple that with a high price tag for what you're getting and I'm steering clear of it for a while; at least until they finish experimenting with it.
Pappy Van Winkle 15 yr. is, easily, one of the best overall pours out there. This one is simply superb. Its rich, caramel, vanilla, oak and spice with a slightly dry finish that lasts all night. Like my friend Big O (Jason Clabaugh - The Virtual Gourmand) once said about the smokiness of Ardbeg, "You'll taste the smoke in the morning". The same can be said about the spicy sweetness of this Bourbon. I've yet to try the 20 yr., but I hear it's better. I really can't imagine any better pour than this one.
That's just a few that I've tried since I decided to re-discover an old friend. Believe me there are more, but given my lack of time, writing and typing skills, I just went over some that stood out in my memory and experience. It still amazes me how the selection and the quality have both improved over the years. Even some Bourbons that aren't technically Single Barrel or Small Batch are very good and I'd highly recommend some of them. Ancient Ancient Age 10 year-old, Buffalo Trace, Jim Beam Black Label, and Elijah Craig 12year-old, all come to mind. I'll even give some props to Jack Daniel's Single Barrel and Gentleman Jack. Both are actually Tennessee Whiskies, but they more than deserve a mention here. I'm not about to get into possible pairings with cigars right now. There could be volumes written about that, and, quite frankly, finding the ones you like is really up to you.
I do feel the need go on record and state that I don't profess to be anything close to an expert or even a connoisseur. I'm just a big proponent of fine American Whiskey. Make no mistake about it, the Bourbon available today is probably better than it ever has been, and you owe it to yourself to give it a try. Don't give in to any preconceived notions, past experiences or anything anyone else has ever told you. Get a bottle and try it for yourself. I'll bet dollars to doughnuts whether you like it or not, you'll agree that it is indeed some serious whiskey.
With contributions from Thomas Bender (TommyBB)
---
Todd Crandall (sevenmag) is a husband, father, a self proclaimed Jack-of-all-trades and master of none. He's been a lover of the leaf since the mid 80's and a lover of ales and American Whiskies for even longer. Todd is a former professional water skier, but had to get a real job, so he's been a Telecommunications Tech for the last 24 years.