Lifestyles
Travelogue: An Irish Tale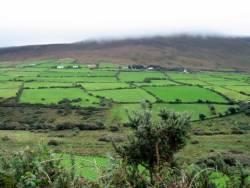 December 4, 2006
By Robert Burke Tinning (gumby)
---
We love to travel, and being that both my wife and I are of Irish descent Ireland has always been on our dream list of place to visit. So to celebrate our twentieth wedding anniversary we made the plunge. If you will indulge me, following are some highlights from our trip.
We made the choice to go after the tourist season, which we highly recommend because there are no crowds and very few tour buses. The only caveat to this plan is that you can't wait too much after the season because a lot of places close down for the winter.
Anyone who has ever been to Ireland knows that the roads are narrow. In fact, most are barely wider than an alley, with no shoulders, and walls built of boulders within feet of the road. Add to this that they drive on the other side of the road and the steering wheel is located on the right hand side of the car and you can imagine how nerve racking it is to be going 100 kilometers while a truck goes flying by you! But that being said, I highly recommend renting a car and touring the country on your own.
Lodging is as expensive as you want to make it, but bed and breakfast are located throughout the country and are quite reasonable. We never paid more than $75 a night. Better yet, for the first part of our trip we decided to make our base of operation in Kenmare and rented a house for the week for only $500. After splitting the cost with another couple that went with this it was a steal.
Following and in no particular order are some highlights from our trip:
Beverages
The Irish do indeed love their drinks, with 8% of the national barley harvest going to the making of Guiness alone! As small as Ireland is it was surprising to find that there are still regional beers. For instance, Murphy's Stout (my personal favorite) can only be found in the southwestern part of the country, Harp Lager is found, mainly, around Dublin, and Smithwick's mainly in the central part of the country.
The whiskeys are outstanding, with our favorites being Black Bush and Knoppague, both of which can be found everywhere. Wine is our usual beverage of choice with dinner but we found that the Black Bush is a great compliment to most heartier fare.
The pubs are not to be missed. One of the magical things about Ireland is the people and I can think of no better place to get to know them than the small local pubs. Some of our favorite memories are our conversations at the pubs. One of my favorites was when two Scotsmen, two Irishmen, a Czech, my wife and I discussed why you never mount a horse from the other side. This went on for hours, the cheers and beers were flowing and a grand time was had by all. Though I still don't know that we answered the question.
The Food
For all of the bad press that British and Irish food get, we found the food to be a culinary delight. A lot of talented chefs have sprung up all over Ireland and the prices were very fairly reasonable. I can think of only two meals that were average, the rest were a gourmet's delight.
Smoking
With national laws prohibiting smoking in almost all public places it was extremely difficult to find anywhere to smoke a cigar. But since I had been gifted a 1960 Rass for my birthday I was not going to be denied, and enjoyed this piece of heaven sitting outside of our rental, looking up at the stars on a beautiful and rare clear Irish sky.
Religion
Even being a history nut I never really understood why there is so much animosity between the Catholics and the Protestants over there. It quickly became apparent. One thing you don't see in Ireland are the great cathedrals and churches like you would find elsewhere throughout Europe. What we found instead are the ruins of these churches, left standing for over 500 years. The history behind it goes back to King Henry the VIII and when he confiscated the Church's possessions. I assumed that the Church of England had simply taken over the churches but the reality is that the English wanted to make sure that Catholicism was crushed completely. So the churches were burned and plundered, and to insure that they would never be used as churches again graves were placed inside the remains of the buildings. So to this day ruins are readily found throughout the country. As a side note, until the beginning of the last century Catholics had to meet for Mass in secret in the woods, with the risk of death if caught. Gaelic could not be spoken or taught, and Catholic lands could only be inherited by all descendants (not just the oldest) so that within a few generations the holdings would be so reduced as to be inconsequential. The fact that the Irish people persevered is amazing.
Sites
Southwest Ireland is famous for it's views, and the peninsulas are must-sees. The Beara, Dingle, and Kerry peninsulas take you back in time and you could spend a month just exploring this part of the country (and their pubs!) Of interest to me is that this area was not always so barren; it was,in fact, forest land until the British clear cut the lumber for their ships, homes, etc. Again, you begin to understand why the Paddies (Irish) don't like the Jerry's (Brits). Words cannot describe the beauty of this area so I have attached pictures.
Ireland is every bit as green as you hear and rainbows are in abundance. The country is enchanting and magical. The Irish take stewardship of the land very seriously and you find very little trash. Truly amazing to us was the lack of urban sprawl and the abundance of open country. One gentleman (an uncle of the other couple we were traveling with) was living in the same small house that his family has been living in for over 460 years.
Golf
A trip to Ireland would not be complete without a round of golf. We played at the Kerry Golf Club, which overlooks the ocean and has some breathtaking views. The best part was the fact that we were the only people on the course! I love the off-season. At the 19th hole we imbibed in ... you guessed it, Black Bush. A lovely day laddy.
A Great Way to End Our Trip
While waiting in Shannon Airport a planeload of American servicemen returning from Iraq filled the airport. My wife and I made a point to thank as many of them as we could for serving our country. The looks of surprise and genuine appreciation warmed our hearts. These guys are heroes.
I now find myself thinking of Ireland often and understand why people return year after year. A truly magical experience. Hope you enjoy the pictures and thanks for letting me bend your ear.
---
Robert Burke (gumby) likes to travel.