CW Review: Romeo y Julieta Exhibicion No. 4

Published Monday, October 09, 2000
The Romeo y Julieta line of cigars was developed in 1875 by Inocencio Alvarez and Mannin Garcia. The brand was an immediate hit, winning gold medals in four universal expositions between 1885 and 1900. Romeo y Julieta was named for the lovers in William Shakespeare's tragedy. The brand also is traditionally credited with the introduction of the "Churchill" shape in honor of Winston Churchill. The full-flavored Romeo y Julieta brand is one of the most widely known Cuban cigar brands in the world today.
Most of the cigars are made in the Romeo y Julieta factory in Havana. At the factory, the average roller can make about 130 cigars a day, but the larger-sized Churchills cut daily production to about 95 per roller. Some of the Romeo y Julieta cigars are made next door at the El Rey del Mundo factory.
| | | |
| --- | --- | --- |
| Frontmark | Size | SRP |
| Belvederes | 5 x 39 | $2.60 |
| Cazadores | 6.44 x 44 | $7.60 |
| Cedros Deluxe #2 | 5.63 x 42 | $8.00 |
| Cedros Deluxe #3 | 5.13 x 42 | $6.90 |
| Celestiales | 5.44 x 46 | $8.00 |
| Churchills | 7 x 47 | $11.60 |
| Churchills AT | 7 x 47 | $13.40 |
| Coronas | 5.63 x 42 | $8.00 |
| Coronas Grande | 6.13 x 42 | $8.00 |
| Coronitas en Cedro | 5.13 x 40 | $4.00 |
| Exceptionales | 5.1 x 42 | $3.60 |
| Exhibicion #3 | 5.7 x 46 | $8.60 |
| Exhibicion #4 | 5 x 48 | $8.50 |
| Mille Fleurs | 5.13 x 42 | $3.65 |
| Panatelas | 4.63 x 34 | $2.20 |
| Perfectos | 5 x 44 | $3.00 |
| Petit Coronas | 5.13 x 42 | $5.60 |
| Prince of Wales | 7 x 47 | $13.00 |
| Regalias de Londres | 4.63 x 40 | $3.20 |
| Romeo #1 | 5.56 x 40 | $7.20 |
| Romeo #2 | 5.13 x 42 | $3.50 |
| Romeo #3 | 4.63 x 40 | $4.00 |
| Sport Largos | 4.63 x 35 | $3.00 |
Pre-Smoke Comments
Eric Hall (ehallz): a firmly bunched, slightly pressed robusto. colorado wrapper with some veins and a triple cap.
Jim Chandler (Cedarman): A well made Robusto. Square pressed with a handsome reddish brown wrapper of perfection. The triple cap held it's own while snipping it clean with my Xikar. The leaves were carefully bunched in symmetry. The unlit draw was easy and I could taste light cedar and quality tobaccos. Upon lighting I noticed a pleasant aroma that would get nice comments from most non-smokers. The ash was a little flaky and dark. But after the first few rips of this baby, I knew I was in for a killer smoke!
Joseph J. Giordano (JGIORD): A nice looking stick with only minor veins. Nice bunching with no soft spots and a rather hard box press. Wrapper was a nice med brown in color and slightly oily. An alluring but subtle pre-lite aroma. It did have a fairly jagged cap.
Kendall Payne (Sancho Panza): Box Pressed, Beautiful Maduro coloured wrappers on all three samples. 4 15/16" x 50, Vitola de Galera (Factory Name) Robusto/Rothschild (Robusto). Very pleasant, earthy pre-smoke aroma. My first guess was either Bolivar Royal Coronas or Ramon Allones Specially Selected.
Kenneth DaSilva (kdasilva): This cigar was the size of a Hermoso No.4 (48 x 5) with a slight press. Two of the three samples were firm throughout. The third was soft. The seamless wrapper was light-brown and somewhat smooth with no blemishes to speak of. The pre-light aroma was clearly that of an ISOM. Oddly, a "triple cap" was only evident on one of the sample (the worst sample at that). The cap cut well using my bullet and stayed intact. I excused the third sample from the scoring, factoring it in only slightly.
Smoke Comments
Eric Hall (ehallz): a little tight on the draw. the smoke had a papery taste with cedar and coffee notes along with some spice. a metallic aftertaste lingers on the palate. mild bodied, almost medium.
Jim Chandler (Cedarman): The flavors were plentiful. I noticed a light citrus twang with sharp flavors of leather, mild pepper, hints of mouth watering caramel and coffee, and a slight grassy edge of youth. As the cigar developed, so did the flavors. They seemed to grow in my mouth from a smooth smoke to a spicy edge. Very complex! The cigar did burn on the warm side, but wasn't too hot and did produce tons of pure white smoke. I noticed a slight burn in the throat, this cigar could use a little more aging.
Joseph J. Giordano (JGIORD): Draw was good to slightly tight with good smoke volume. The stick tended to tunnel slightly, but not bad. Ash was a med grey and firm. The aroma was subtle with a honey flowery aspect. This was a mild-med strength med bodied smoke. Its best flavor comes from the first few puffs. By the mid point this stick became almost boring, but then it picked up again in the last third. The first third is by far the most flavorful.
Kendall Payne (Sancho Panza): Volumes of smoke yield a very pleasant, woody, earthy and spicy taste and aftertaste. Although not powerful enough to my tastes, a very tasty delight! Very pleasant aftertaste with hints of chocolate, honey, and cinnamon.
Kenneth DaSilva (kdasilva): The unique taste was evident upon lighting, but faded away after the first inch. It still had flavor, but it had changed after the first inch. This earthy smoke showed some light sweetness and a touch of saltiness. A slight runner corrected itself. The somewhat flaky ash was like a briquette, white in some spots, gray in others, and black yet in others. It produced a fair amount of smoke and had medium body. Not as much as I would've liked in either category. At end the cigar was slightly sour.
Summary Comments
Eric Hall (ehallz): a good cigar, but not a great one. possibly a good morning smoke or one for those who prefer good flavor with less body.
Jim Chandler (Cedarman): A handsome robusto with classic Cuban flavors that I'd be proud to hand out to my friends. I suggest wearing an absorbent sweater to enjoy the aromas all evening long. Perfect for sitting back in an old Morris chair and enjoying the moment. I found it hard to set it down long enough to take notes. But when I did, it just kept calling to me..."Hey Dude, Whassuupp?"
Joseph J. Giordano (JGIORD): The first 2 samples tasted very different from the last one. Initially I picked up predominantly honey and woody flavors which made me think of the ERDM Choix Supreme. However, the last sample was a bit stronger with more of a woody herbal flavor. This had me thinking RyJX4. A very enjoyable stick, more mild-med in flavor and strength. This might not be an after dinner powerhouse, but it was an enjoyable afternoon smoke. Although I was confused by it, I will guess the ERDM Choix Supreme.
Kendall Payne (Sancho Panza): A very, very good cigar. My best guess after 2 cigars, Bolivar Royal Coronas. After 3 cigars, Ramon Allones Specially Selected.
Kenneth DaSilva (kdasilva): This wasn't the best cigar of its kind. I expected its unique flavor to be there start to finish, ebbing at times, but it disappeared as if someone threw a switch. The taste that was there was enjoyable, but a let down. One sample was an anomaly: the others, firm, it was soft; the others, seamless, its seams were lifted; the others, no triple cap, it did? Even if it was an inexpensive cigar, I wouldn't buy it. Why go through the trouble to get a cigar of its nature and not get a top shelf smoke.
Scores

Reviewer
Eric Hall
3.0
4.0
3.0
4.0
6.0
5.0
6.0
31.0
Jim Chandler
5.0
4.0
4.0
4.0
8.0
8.0
8.0
41.0
Joseph J. Giordano
4.5
4.0
4.0
3.8
7.5
7.8
7.8
39.3
Kendall Payne
5.0
5.0
5.0
5.0
8.0
9.0
8.0
45.0
Kenneth DaSilva
4.0
4.0
4.5
3.5
6.0
6.5
6.0
34.5
Averages
4.3
4.2
4.1
4.1
7.1
7.3
7.2
38.2
For more information see the link below for Review Methods.
Review Results
Final Score: 38.2 out of 50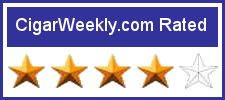 4 Star -- Excellent
For our second Cuban cigar review we chose the Romeo y Julieta Exhibicion No. 4, one of the many robusto sized cigars from Cuba. Our reviewers seemed to enjoy our selection, commenting favorably on it's reddish brown wrapper, expert construction and it's distrinct Cuban flavor profile. The flavor nuances mention include cedar, coffee, leather and honey, among others. Most categorized the cigar as mild to medium bodied.