CW Review: Cusano Hermanos Corona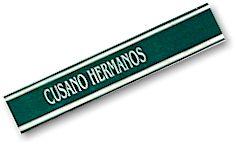 Summary
Dimensions
44 x 6 inches
Style
Corona
Origin
Dominican Republic
Filler
Cuban seed Ligero, Cuban seed Seco, Dominican Seco
Binder
Dominican Olor
Wrapper
USA Connecticut Shade or Dominican Colorado Maduro
Suggested Retail Price
$5.95
Pre-Smoke
A great looking Cigar. The cigar had a couple of veins that ran about three inches down the side of the wrapper other than this it was a great looking cigar
Smoke
Has a smooth, mild smoke and is a pleasing change of pace. Medium flavor. Very one dimensional with the same taste throughout the cigar. The aftertaste was good, not too strong, and the cigar smoked okay. Did not get hot on the tongue. Generally a nice smoke. Density of smoke a bit thinner than I prefer. Nice aroma and taste. All had tight draws.
Overall
Has an agreeable look & mild & smooth flavor, with no harsh aftertaste. Would recommend that you give it a try! A good looking cigar. I wish the flavor were more complex. This cigar had a great draw and ash. I believe these to be a quality smoke. Nice outward construction and aroma... need to work on the draw problems but other than that I really liked them.
Cigarweekly.com Summary
Our reviewers generally enjoyed this cigar as did the Cigarweekly.com editors. This is a well made, tasteful cigar that was very pleasant to smoke.
Some reviewers had problems with the draw being overly tight. Aging may solve the draw complaints.
The Cusano Hermanos Coronas were mailed to our reviewers during the busy holiday season and may have paid the price. Some reviewers reported shipping damage. We are reviewing more secure ways to deliver the cigars.
Criteria
Max.
Points
Reviewers
DB
SG
MK
JK
SC
Appearance
5
5
4
4
4
4
Burn
5
5
5
5
2
4
Draw
5
4
4
5
3
2
Aroma
5
4
3
4
4
4
Flavor
10
6
5
5
8
4
Taste
10
6
10
5
8
4
Overall
10
7
5
6
8
4
Total
50
37
36
34
37
26
To achieve the final score we throw out the high and low scores,
then average the remaining scores.
Final Score: 35.7 out of 50
The Cusano Hermanos Corona was well received by our reviewers. While the total scores ranged from 26 to 37, after throwing out the low and high scores the average was 35.7, a four-star rating.
---
Find out more
DomRey Cigar, Ltd.
Cusano Hermanos brand
Review: Cusano Hermanos Pyramid
Cusano Hermanos Reviewers
Review Methods
---
Member Comments
Joe Dakille, rating = 3 stars - Average
An overly tight draw made this cigar a chore to smoke.
Very solid construction with a couple of major veins throughout the cigar. Solid ash with flavors of cedar and spice. The draw was a major problem and took away from really enjoying this cigar. A short finish.
Editors note: David Brower was selected to review this cigar but was unable to submit his review in time. His comments are below.
David Brower, rating = 3 stars - Average
Hardest draw ever experienced.
tight draw....overallvery mild.....wouldn't highly recommend because it was too hard to smoke.