CW Member Review: Leon Jimenes Don Fernando #4
March 12, 2011


Cigar Weekly Reviews Editor Doug McGuire (Mad Dawg) gives his personal impressions of a cigar he enjoyed recently, from Leon Jimenes Read more...
CW Member Review: Ramon Allones Estupuendos
July 15, 2010


Cigar Weekly Managing Editor (and Community Forums and Discussion Groups member) Doug Kuebler (jazznut) submitted this review to the Cigar Reviews Forum recently. CW editors will select and publish particularly insightful and exemplary posts by members from the Cigar Reviews Forum. Read more...
Berger and Argenti Garner Honor from Robb Report
May 18, 2010


Cigar Weekly member Albert Argenti informs the cigar world of his company's latest honor! Every June, Robb Report publishes its annual "Best of the Best" special issue, which represents the culmination of an entire year's search for excellence in every aspect of the luxury lifestyle. For 2010, Berger & Argenti CLASICO has been selected for this achievement based on its superior quality, craftsmanship and value. Read more...
Reyes Family Premier Perfecto
December 21, 2009


Cigar Weekly Managing Editor Doug Kuebler (jazznut) recounts his initial autumn encounter with the Reyes Perfecto. Read more...
Cigar Weekly Blind 2009 Review #1
March 03, 2009


Pinar Del Río Habano Sun Grown Toro Read more...
Cigar Weekly 2008 Blind Review #7
December 26, 2008


Cuban Crafters is well known in the cigar world for producing a wide array of proprietary blends. When their newest line, the Medina 1959 â€" Miami, was released earlier this year, Cigar Weekly contacted national Sales Director Alberto Noguera about doing a blind review. Mr. Noguera graciously provided a box of the torpedoes for the review. The wrapper is aged for 5 years and binder and filler for 6 years. The blend is first-generation Cuban seed tobacco grown in Nicaragua (in a special section of our farms). The cigar is made under the supervision of Manuel Medina in our Miami Factory and the Churchills are made by him. In Cuba he was the Head Cigar Maker at H. Upmann and then at Davidoff before he left for Miami. Read more...
Cigar Weekly 2008 Blind Review #6
December 21, 2008


Compiled by Doug McGuire (Mad Dawg) I first remember hearing about Dea Cigars when I noticed a review in the Cigar Reviews forum titled "Dea: Maybe the best cigar that you have never heard of..." which had been written by Cigar Weekly member Robert Tinning (gumby). Since Robert is a personal friend of mine whose tastes I have come to understand are a lot like my own, I read the review with some interest. About that time, Cigar Weekly Editor-in-Chief Tommy Bender (TommyBB) contacted Mike Byelick (mdman) about doing a review of the Dea line. Read more...
Cigar Weekly 2008 Blind Review #5
November 03, 2008


El Original Lancero Maduro Back when I first discovered the online cigar community, the El Original brand had the reputation of being something of an insider's cigar. Although the line did not receive the kind of attention that some of the major brands did, everything I heard about it was positive. In fact, I remember being told by a very experienced cigar man whose tastes I trusted that they could compete with the best of the Cubans. I was very glad to get the chance to send these out to Cigar Weekly's review panel. Read more...
H. Upmann Coronas 1980
October 24, 2008


Cigar Weekly Managing Editor Doug Kuebler (jazznut) lends his singularly talented palate to an evaluation of an almost extinct vintage cigar. Read more...
Cubao #3
October 12, 2008


This is Don Pepin's newest cigar for EO Brands (part of United Tobacco Inc.), for whom he also produces the various 601 lines and Mi Barrio. It is composed of a binder and filler blend of Garcia's specialty, Nicaraguan tobacco, with a material new to Pepin for the wrapper: Ecuadorian Sumatra Oscuro. Read more...
Cigar Weekly 2008 Blind Review #4
October 10, 2008


Compiled by Doug McGuire (Mad Dawg) In December 2007, the Cupido Criollo line was re-launched under the Cuban Crafters banner. Reaction from the online cigar community was swift, dramatic and overwhelmingly positive. I was glad to receive a box to use for a formal blind tasting. The cigars for the review were graciously provided by Alberto Noguera, National Sales Director for Cuban Crafters. Read more...
Padilla 1948 Torpedo
October 07, 2008


Overall, one of the nicest cigars I've had from Padilla (my favorite being the 8/11 Miami) and a surprising blend from a man known for his bold, robust cigars. To my taste buds, evoked flavors like those of the Cuban-made Hoyo de Monterrey Épicure and Le Hoyo series. Read more...
Cigar Weekly 2008 Blind Review #3
September 19, 2008


Compiled by Doug McGuire (Mad Dawg) CW's latest blind review is a little different from our usual format. Gary Korb (Chief Copy Writer, Famous Smoke Shop, Easton, Pennsylvania) sent me a five-pack each of the three sizes that make up Famous' new La Floridita Limited Edition line for the review. I sent one cigar of each size to five members of our review panel, and asked them to record their impressions of the entire line. Read more...
Black Pearl Morado Torpedo (Piramide)
August 06, 2008


This cigar marked my second encounter (the first being the smaller Toro) with this line, once again courtesy of the generosity of Mark (Cigar Weekly's rdking). I was also fortunate in being presented with an ideal summer evening while reposing on the back porch. Breezes gently wafted in from the west, and a multitude of swallows chirped while busily sweeping across the sky in an evening quest for food. Events were apparently 'conspiring' to create a perfectly relaxing atmosphere. Read more...
Bolivar Petit Corona
July 25, 2008


A Jazznut special review of what many smokers consider to be a benchmark cigar. Read more...
Cigar Weekly 2008 Blind Review #2
July 24, 2008


Reyes Family Cigars Premier Perfecto (5.5 x 58) Compiled by Doug McGuire (Mad Dawg) The story of this atypical review necessarily begins in late 2007, when Frank Santos (Marketing Director for Reyes Family Cigars) sent me a cigar for a personal review. Frank told me only that this was a prototype blend for a new cigar line that Reyes Family Cigars (â€úRFCâ€Â) was in the process of developing. Read more...
Cigar Weekly 2008 Blind Review #1
July 07, 2008


The following description of the Casa Toraño Lancero Maduro was provided by Bruce Lewis, Brand Manager â€" Toraño and Dunhill Cigars: The Casa Toraño Maduro was introduced late last year but first orders were filled in the early part of this year. It is not a limited release, but what I would refer to as an exciting new release for Toraño. In the first few months of this brand being available to the public, the response and feedback has been extremely positive. Cigar Aficionado have already awarded it two ratings in the 90's. The cigar features a naturally fermented CT Broadleaf maduro wrapper which brings a sweet, rich flavor and aroma to this medium bodied smoke. A Nicaraguan binder and Nicaraguan and Dominican filler complete the blend. As you are aware, there has been increasing interest in the Lancero size and this was one of the reasons to introduce this cigar in this size. More importantly, though, the Lancero size in this blend allows consumers to fully appreciate the rich, sweet characteristics of the maduro wrapper. The Lancero is 7â€Â x 38 and all sizes in the Casa Toraño Maduro line are handmade in Nicaragua. Read more...
Don Pepin Garcia Blue Label
November 08, 2007



Good God! Only a year old and this good! Just think what a box of these laid down for a few years could turn into! I've heard that this was the line that the Levins smoked that convinced them to seek out Pepin Garcia to make their new San Cristobal line Read more...
Cigar Weekly 2007 Blind Review #4
March 31, 2007


Puros Indios Toro Especial Colorado Claro Read more...
Cigar Weekly 2007 Blind Review #5
March 31, 2007


Cuba Aliados Toro Deluxe, Doble Corojo Wrapper Read more...
Cigar Weekly 2007 Blind Review #3
January 01, 2007


Picos mini torpedos Read more...
Cigar Weekly 2006-2007 Blind Review #2
December 18, 2006


Purisco Negro robusto Read more...
Cigar Weekly 2006 Blind Review #3
October 30, 2006


Cuban Crafters Cabinet Selection Torpedo Figurado Read more...
Cigar Weekly 2006 Blind Review #2
October 02, 2006


El Rey del Mundo Rectangulare Read more...
Cigar Weekly 2006 Blind Review #1
September 18, 2006


Carlos Toraño Tribute '03 Torpedo Read more...
CW Review: Cohiba XV 652
March 05, 2004


Read more...
CW Review: Perdomo2 Ecuacion
February 03, 2004


Read more...
CW Review: Cuba Aliados Rothschild Maduro
November 12, 2001


While the flavors were subtle, there was (just) enough complexity to hold my attention. I'm guessing that it's a Dominican cigar with a Cameroon wrapper and the two biggest makers of this combo are the Fuentes and General Cigar. The 5 x 50 size doesn't fit anything Fuente-made with a Cameroon wrapper so I'm guessing that it's the Cohiba Red Dot Robusto or perhaps the new Montecristo Serie V, which I have yet to try. Of course, I could be way off, in which case, I'll just blame the cold! Read more...
CW Review: Camacho Havana Nacionales
November 05, 2001


Daniel Bienkowski (DanB): I thought this turned out to be a good choice for a morning smoke, being mild to medium strength with a nice straightforward flavor. I did notice a slight buzz afterwards, so it probably would have been too much on an empty stomach. The flavors were good but mostly one-dimensional with not much complexity. I could never get a handle on the country of origin for this stick. There didn't seem to be enough earth flavors for a Nicaraguan and there wasn't the sweet and sour flavors I associate with mostly Dominican sticks. My guess is either a mix of Nic and Dominican or predominately Honduran tobaccos. If I was forced to choose which cigar this was at the point of a gun I would say the Camacho Havana blend -- but don't hold me to that. I enjoyed this stick as a good change of pace, but doubt that I would include it in my regular rotation. I do know that I liked being on this side of the reviews much more! Thanks Grinnin for including me! Read more...
CW Review: San Cristobal de la Habana el Morro
September 10, 2001


San Cristobal is Cuba's newest addition, created in 1999. The entire lineup consists of four sizes; Two of the San Cristobal sizes are unique to the Cuban cigar world. The La Fuerza is a long robusto, measuring 50 ring gauge by 5 1/2 inches. The El Morro is a tweaked Churchill/Double Corona hybrid measuring 49 by 7. The range is completed with a tres petit corona (4 3/8 by 42) called El Principe and a belicoso (52 by 5 1/2) named La Punta. The Havana prices for these cigars are (per box of 25): $57.50 for El Principe, $102.50 for La Punta, $120 for La Fuerza and $152.50 for El Moro. San Cristobal is probably the best of the new brands Cuba has introduced over the past several years, with the exception of Trinidad, which debuted in February 1998. Veteran roller Rigoberto Dorticos, 67, one of the eight torcedores who worked on the new brand, stated that the blend was sort of a cross between Hoyo de Monterey and Punch. The cigars are reportedly very aromatic according to interviews with Dorticos. They are all manufactured in the La Corona factory. The smaller sizes have been geared more toward a strong full bodied smoke, with the larger sizes taking on a bit more mellow of a blend. For this review we sampled the El Morro (7x49) with a box code date of June 2000. Although the samples are still considered young, I detected no youth in the samples. Read more...
CW Review: Neptune Force 2 Naiades
September 03, 2001


Designed to enchant the most passionate "Aficionados", Neptune cigars are fashioned in the traditional manner from Cuban-seed Tobacco naturally fermented and aged. After several months in a cedar aging room, the cigars are carefully deposited in a Humidor box to keep the richness of their flavor. Neptune comes in two different blends: Neptune Original, a mild-to-medium bodied cigar; and Neptune Force 2, a medium-to-full bodied cigar. The robusto-sized Neptune Force 2 Naiades reviewed here features an Ecuadorian wrapper with a blend of Dominican Piloto Cubano and Nicaraguan filler tobaccos. The Naiades retails for $99.60 for a box of 24 and ships in a beautiful box complete with a small humidification device and cutter right in the box. Neptune cigars are available directly from the manufacturer at http://www.neptunecigar.com Read more...
CW Review: Excalibur 1066 Merlin
March 12, 2001


Villazon and General asked cigar smokers to help select the blend. The wrapper is Cameroon. The binder is Connecticut River Valley Broadleaf, the same tobacco used as wrapper on Excalibur's Maduro cigars. The filler is a blend of the Honduran, Nicaraguan and Dominican tobaccos. Read more...
CW Review: La Tradicion Perdomo Reserve No. 4
March 05, 2001


Nick Perdomo, Jr. seemed destined to make great cigars. Nick's Cigar Company, which began in 1991, started with two Cuban rollers and a sales and marketing staff consisting of himself and his wife, Janine. His grandfather, Silvio, worked as production manager for several of the most prestigious cigar factories in Cuba. His father, Nick Sr., also served as manager for a number of top Cuban producers until 1962 Read more...
CW Review: Bolivar Royal Corona
February 26, 2001


This week was another split decision with three reviewers enjoying this week's cigar, and two wishing for something else. Some construction problems may have contributed to the less-than-stellar ratings. Another contributing factor may have been the relative youth of this box of cigars. Bolivar Royal Coronas are generally lighter than others in the brand with flavors of earth and wood and some spice. Royal Coronas are generally considered medium bodied with medium strength. Read more...
CW Review: Sancho Panza Primoroso
February 19, 2001



Crafted by Estelo Padron, the Honduran cigar master, the wrapper is Connecticut Shade. The binder is Connecticut Broadleaf and. the filler is a blend of the Honduran, Nicaraguan and Dominican Cubano Piloto. Sancho Panza has a Cuban lineage dating back to 1852. The cigar was named after the Sancho Panza character from the great Spanish novel, Don Quixote. General Cigar markets the Sancho Panza, which is manufactured by Honduras American Tabaco, S.A. in Cofradia, Honduras. Read more...
CW Review: Excalibur Lancelot
February 12, 2001


Villazon and General asked cigar smokers to help select the blend. The wrapper is Cameroon. The binder is Connecticut River Valley Broadleaf, the same tobacco used as wrapper on Excalibur's Maduro cigars. The filler is a blend of the Honduran, Nicaraguan and Dominican tobaccos. General Cigar markets the Excalibur 1066, which is manufactured by Honduras American Tabaco, S.A. in Cofradia, Honduras. Read more...
CW Review: Cifuentes Churchill
February 05, 2001


The heritage of Cifuentes cigars goes back to l876, the year when Ramón Cifuentes, the cigar master of Partagas, introduced a cigar brand of his own. In 1997, some 36 years after the younger Ramón Cifuentes left Cuba, he succeeded in recreating the Cifuentes cigar. Read more...
CW Review: Ramon y Ramon Nino
January 29, 2001


As a tribute to Ramon Cifuentes, the creator of the Partagas cigars, Edgar Cullman, CEO of General Cigar commissioned the Ramon y Ramon cigar to honor General's long relationship with Ramon Cifuentes. Cifuentes died at the age of 91 in January 2000. The special cigar was announced at the 2000 RTDA show and shipped to the fortunate customers in November. Read more...
CW Review: Diplomaticos No. 3
January 22, 2001


The late 60's and early 70's were a huge boom time for cigar sales -- the likes of which have yet to be duplicated. Diplomaticos were introduced during that boom to fill a market for a lower cost version of the Montecristo. Currently, Diplomaticos tend to be slightly more expensive then their Montecristo brethren and somewhat harder to find. Our reviewers enjoyed the No. 3's and described them as mild and slightly sweet with cedar flavors and that "Cuban twangy thing." Overall, a good cigar if you can find them on special; otherwise I would stick with the Montecristos. Read more...
CW Review: La Luna Maduro Fuerte Relampagos
January 15, 2001


The Maduro Fuerte line has enjoyed remarkable success and I was anxious to see what our reviewers thought. They liked it well enough to push it into the Cigar Weekly Top 10! A couple reviewers mistook the rich, maduro wrapper and slight box press for a Perdomo product. The samples were medium to full bodied with earthy, spicy flavors and an excellent balance. Some burn problems prevented this cigar from achieving an even higher score -- maybe even 4.5 Stars. A must-try cigar. Read more...
CW Review: H. Upmann Torpedo Maduro
December 07, 1998


For well over a century, the name "H. Upmann" has been the symbol of unequaled quality and workmanship in premium cigars throughout the world. Established in Cuba in 1844, H. Upmann is internationally famous for consistent excellence and is one of the largest cigar manufacturers in the Dominican Republic. One of the newer additions to the H. Upmann line is the Torpedo. The binder and filler are from the Dominican Republic and the wrapper is from Indonesia. This gives H. Upmann's a slightly spicy, medium-bodied taste with first-class construction and consistency. H. Upmann cigars are made by Consolidated Cigar in La Romana, Dominican Republic. Read more...
CW Review: Astral Grande Reserve Vintage Beso
November 17, 1998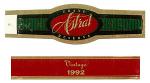 The Astral Grand Reserve Vintage filler is a blend of Dominican grown Piloto Cubano and air-dried black leaf tobacco from Mexico for a sweet and peppery flavor. The binder is from Mexico. The wrapper is an Indonesian shade grown Connecticut seed tobacco from 1992. All of the tobacco is aged at least one year. The Dominican filler tobacco is generally known as semi-sweet and good burning. The Astral Grand Reserve Vintage is blended to be medium to full-bodied, with sweet overtones and a lightly spicy flavor. The Astral Grand Reserve Vintage comes in four sizes: Maestro (7.5 x 52), Perfeccion (7 x 48), Lujo (6.5 x 44) and Beso (5 x 52). US Cigar produces the Astral Grand Reserve Vintage brand on its plantation in Honduras. The cigars have a suggested retail price from $7.50 to $10.50. Read more...
CW Review: Habano Primero Pyramid
September 17, 1998


This review included more newbies than usual; normally we get a good mix of "seasoned" smokers and those new to the hobby. The reviewers with 2 years or less of cigar smoking, as a group, enjoyed the cigar, while the reviews from the seasoned smokers were mixed. The final score of 37.6 puts this cigar in the Cigar Weekly Top 10. Quite a difference from the Habano Primero Robusto we reviewed earlier this year which scored 33.5, or 3 1/2 stars. This cigar received high scores in almost every category; especially in appearance, burn and flavor. The aged Indonesian wrapper has a toothiness reminiscent of Cameroon. Although one reviewer didn't care for the shape, I found the cigar to be well made with a firm bunch and the shape seemed well balanced and easy to hold and smoke. Read more...
CW Review: Aristoff 550S Cameroon
September 10, 1998



Aristoff cigars were launched with a big fanfare at the Retail Tobacco Dealers Association show in Nashville in August 1998 and with double page ads in Cigar Aficionado and Smoke Magazine. The cigars come in two distinctive shapes: perfecto and bellicoso. The filler is a blend of aged Dominican tobacco and the binder is Dominican Olor. Both sizes are available with three different wrappers: Connecticut Shade, which brings a mild, smooth flavor; Cameroon, which adds a hint of spice; or Arapiraca (Brazilian Maduro), which adds more body and a touch of sweetness. Read more...
CW Review: Signature Collection Churchill
September 10, 1998


In 1994, Kevin Doyle and Caribbean Cigar opened his first retail cigar store in Miami. To stimulate business, Doyle hired two Cuban immigrants to roll cigars in the store's front window. As word of mouth spread, Doyle couldn't keep up with demand and considered manufacturing his own cigar. He named this new cigar, Signature Collection, and took samples to the RTDA. Read more...
CW Review: Thomas Hinds Honduran Short Churchill
March 01, 1998


The Thomas Hinds Honduran Selection Short Churchill is a medium bodied cigar with a hint of a spice. The filler and binder are from Honduras. The wrapper is shade grown from Ecuador. The Thomas Hinds Honduran Selection comes in eight sizes: Presidente (8.5 x 52); Churchill (7 x 49); Torpedo (6 x 52); Supremos (7 x 43); Short Churchill (6 x 50); Royal Corona (6 x 43); Robusto (5 x 50) and Corona (5.5 x 42). The cigars are manufactured in the company's factory in Cofradia, Honduras. The suggested prices range from $3.10 to $5.50. Read more...
CW Review: Temple Hall 550
February 17, 1998


Temple Hall Estates cigars are named for the most famous tobacco fields of the past on the island of Jamaica. The Temple Hall cigars begin with filler tobacco from the Dominican Republic and Mexico. Each cigar is then bunched in a dark, supple Mexican San Andrean binder leaf and wrapped in a Connecticut Shade. The finished cigars are each rounded in the Temple Hall tradition. Cifuentes y Cia in Jamaica manufactures the Temple Hall cigars. Read more...
CW Review: Partagas Almirantes
February 04, 1998


Judging by the results of this review, Partagas is a cigar you either love or hate. There isn't any middle ground. But there was more reviewers on the negative side, resulting in a final 3 star rating. Partagas is certainly a cigar that benefits from extra aging and perhaps we received a batch that was particularly young. In any event, I was glad to see that the reviewers that listed Partagas among their favorites were the reviewers that rated the cigar highly Read more...