Ernesto Perez Carrillo New Wave Reserva Connecticut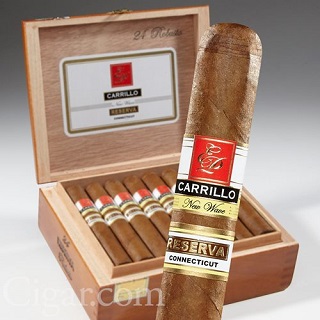 Background:
E.P. Carrillo had released a new cigar line that was originally marketed exclusively to the European market. However, EPC saw the error of its ways, and the New Wave Reserva Connecticut has now been made available right here in the USA.
The roots of the Perez-Carrillo family are in Cuba, where Ernesto's father launched the family cigar dynasty in 1948 when he purchased El Credito, a small cigar factory in Havana. The Perez-Carrillo family became well-respected in Cuba, and Ernesto Sr. was elected to the Cuban Senate in 1954, and again in 1958.
When Castro gained control of Cuba, Ernesto Sr. was arrested several times for his political beliefs, and the government confiscated the family's properties, including the El Credito factory.
The family fled to Miami in 1959, where Ernesto Sr. was able to purchase a cigar factory in Little Havana. He named the factory El Credito.
Ernesto Jr. worked as a jazz musician (specifically as a drummer), but came to work with his father, Ernesto Sr., who made cigars for the locals in Little Havana. It wasn't until his father contemplated selling El Credito in 1976 that Ernesto realized cigars were his calling in life. He convinced his father not to sell the factory.
Ernesto Jr. took inspiration from a Cuban Davidoff, and set out to create a cigar that would excite the senses. When he finally put the perfect blend together, he had created La Gloria Cubana.
In 1992, a relatively new publication entitled Cigar Aficionado gave 90-plus scores to the La Gloria Cubana Wavell. Then, in the spring of 1993, a story about the Perez-Carillo family-style operation (in the same magazine, Cigar Aficionado) propelled El Credito and the La Gloria Cubana brand into cigar stardom, and Ernesto became the God Father of boutiques.
The brand went from selling a few thousand cigars a year to millions. In 1999, Swedish Match/General Cigar purchased El Credito from the Perez-Carrillo family. In 2009, Ernesto left Swedish Match to form EPC Cigars with his children, Ernesto III and (daughter) Lissette.
EPC Cigars has created countless 90-rated blends, like the New Wave line, and many highly rated limited-edition cigars utilizing special tobaccos, such as the Short Run series.
The cigar construction:
The E.P. Carrillo New Wave Connecticut Reserva is inspired by the highly rated and well received New Wave Connecticut Short Run 2012. What makes the Reserva blend different and unique is the use of an Ecuadorian Connecticut seed wrapper over a Connecticut Broadleaf binder Wrapper and binder, which are then blended with aged long-filler tobaccos from Nicaragua and the Dominican Republic, creating a medium bodied cigar with loads of flavor and smoothness. Produced at Tabacalera La Alianza factory in Santiago, Dominican Republic, the cigar is offered in four sizes. Of note is the Ecuadorian Connecticut seed wrapper, and how dark it is, as it utilizes higher priming's. It's silky smooth to the touch and just lovely.
The draw:
The draw was easy and smooth (just the way we like it) with no resistance... Almost effortless and oh so satisfying, with loads of flavor.

The taste profile:
This was an incredibly good smoke from start to finish. It was very complex and smooth, stronger in body then most Connecticuts, but mild to medium in body. We tasted slightly sweet natural notes of honey, vanilla and roasted nuts, with hints of leather and just a hint of a woodsy earthy flavor, but pleasantly creamy and balanced nonetheless.
The Reserva was just perfect with a couple of cups of our new Cigar Guys Radio Show Morning Blend Coffee, created by our good friend Jim Euritt from Cathaus coffee. But did our cigars get a 'Cigar Guys Radio Show Buy Recommendation'?
The E.P. Carrillo New Wave Connecticut Reserva was most satisfying. It went beyond being an enjoyable smoke, and was an experience to be tried and savored - Cuban-esque in every respect.
This cigar is why we are a fan of the complex blending of Ernesto Carrillo, and why you have to try this cigar for yourself. You will not be disappointed.
EPC cigars has raised the bar again while keeping to Ernesto's philosophy of making a good quality cigar at a price that most people can afford.
__________________________________________________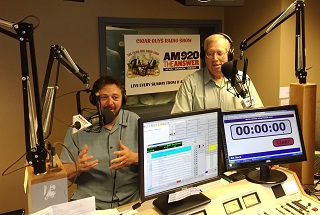 Alan 'The Cigar Savant' Friedman is a co-host on the Atlanta based Cigar Guys Radio Show, which airs Sunday from 11 AM - 1 PM EDT on AM 920 The Answer, and is available on your favorite radio app.
Alan and Gary
Alan 'The Cigar Savant' Friedman & Gary 'Doc' Laden
Address:
513 Brookeshyre Court,
Suite 100,
Woodstock, GA 30188
E-mail:
This email address is being protected from spambots. You need JavaScript enabled to view it.
Website
: Cigarguysradioshow.com
Facebook:
Facebook.com/Cigarguysradioshow