A Cigar's Tale Review VI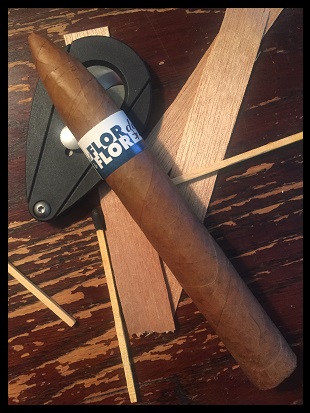 Cigar name: Miami Blend
Cigar brand: Flor de Florez
Wrapper: Ecuadorian
Binder: Honduran
Filler: Dominican, Nicaraguan
Vitola reviewed: Torpedo
Strength: Medium
Price: Samples
Visual
It's always fun when you get to smoke a cigar for the first time. Take this cigar, for example. I had never even seen it before having this particular one sent to me. Now, I get to do all my little rituals, and tell you about it.
Looking over the Connecticut Shade wrapper, I take note of the light, brown sugar color. Small veins are present, accompanied by some really tight seams that are almost invisible. There is a slightly coarse texture as I run my fingers down the torpedo-shaped cigar.
Cold aroma
After my visual inspection, I move on to my aroma testing of the wrapper and the foot. The wrapper has a faint aroma that consists of a slight leather smell. The foot is a lot more fragrant, with a barnyard base, sweet hay and slight licorice scent – very pleasing to the ole sniffer.
Cold draw
The torpedo shape gives me many options as to what kind of draw I want to get. I usually like a fuller smoke experience, so I cut the head about halfway from the end to the cap line. As I take a cold draw, I note that the cut has given me the desired effortless draw I'm looking for. The cold draw gives me some good notes of cashew and cloves, as well as that slight barnyard fragrance I've noted before.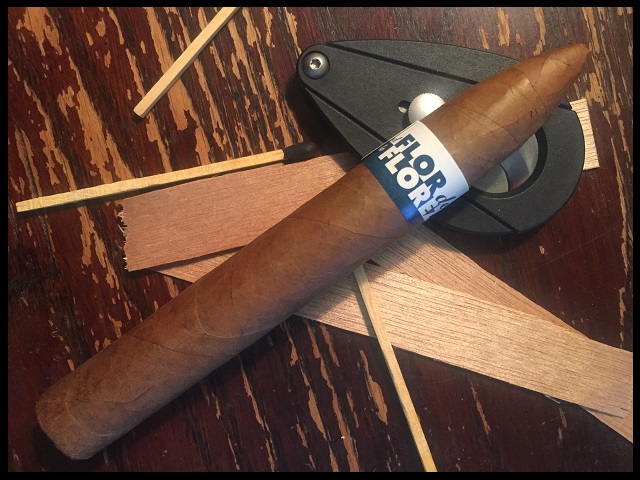 1st third
I use my torch lighter to toast this cigar. I immediately pick up light spice - maybe white pepper – and faint clove. There is also a nuttiness that I am going to call cashew, and a very slight woodiness that reminds me of hickory. After an inch or so, I take note of the even burn line and light gray ash. Some slight floral notes are making their way into the mix in both taste and aroma.
2nd third
The second third shifts tremendously, bringing buttery notes followed by spice and some clay characteristics. The burn line is still perfect, and there is plenty of aromatic smoke. The halfway point has a woodiness moving in that is accompanied by some faint ground coffee notes.
Last third
The final third has a more creamy texture to it. Pepper, licorice and coffee make up the beginning of the final third. The creaminess brings it together. Finishing off the experience, I note a grapefruit type flavor that gives a bit of zest, which gives a clean and fresh feeling.
Thoughts
The Flor de Florez Miami Blend is a cigar that reminds me of breakfast. Sitting around with a cup of coffee, taking in the morning sun and the calm atmosphere best describes my experience with this cigar. As a matter of fact, that's exactly when I feel a desire to have this cigar. Although this would be a good cigar anytime, morning seems to be the time I desire the Miami Blend the most. Its coffee notes and zestiness seem to fit just perfectly.
Thanks to Carlos (@florezcigars1 on twitter) for the samples to review and for the opportunity. You can find these cigars and other blends on their website at flordeflorezcigars.com.
__________________________________________________
Follow me on Facebook: www.facebook.com/ACigarsTale, Twitter: @nhale1300 and Instagram: @nhale1300.