Black Market Filthy Hooligan

Editor's Note: Each week, our friends at the Smooth Draws Radio Show, based in Atlanta, GA, do a review of 'The Cigar of the Week' on their radio show, which can be heard Saturday mornings on AM1230 ESPN the Fan 2 (WFOM radio) from 9AM to 11AM. That review is printed (in its entirety) here on Cigarweekly.com, usually on the Monday following its broadcast.
The Smooth Draws Radio Show Pick of the Week
The Cigar
I've found my way into a back alley this week, and found a hooligan – in this case, the Black Market Filthy Hooligan by Alec Bradley. Let's take a look at this cigar.
The Back Story
Saint Patrick's Day is a wonderful celebration of life – especially here in the United States where everyone becomes Irish for the day! We drink green beer, do shots of Irish whiskey and, if we're cigar enthusiasts, locate a 'green' cigar to enjoy.
Alan Rubin, owner of Alec Bradley Cigars, introduced this interesting cigar in 2013 as a limited edition candela-wrapped vitola. And it has been a yearly limited edition release ever since. At the 2015 IPCPR Trade Show, the Filthy Hooligan 2016 release was debuted as a lead up to Saint Patrick's Day.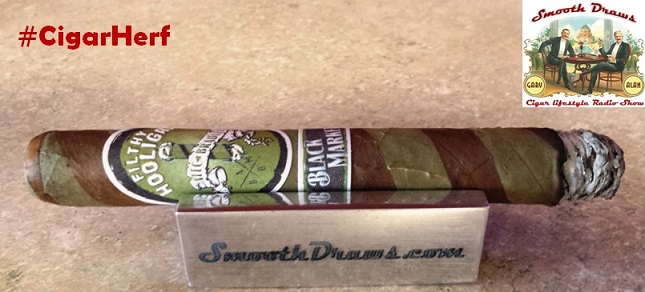 The Construction
The Filthy Hooligan is impeccably constructed in Honduras at Tabacos de Oriente SA. It features an Ecuadorian Sumatra binder, and filler tobaccos from Honduras and Panama. The wrapper is comprised of a Candela from Honduras and a Nicaraguan Jalapa, the two rolled in a contrasting barber pole style.
The cigar is available in one size, a Toro measuring 6 inches by 50 ring gauge. It's double-banded and packaged in the green version of the Alec Bradley Black Market crate, each of which holds 22 cigars. As a limited edition, only 2000 boxes of the Filthy Hooligan were produced.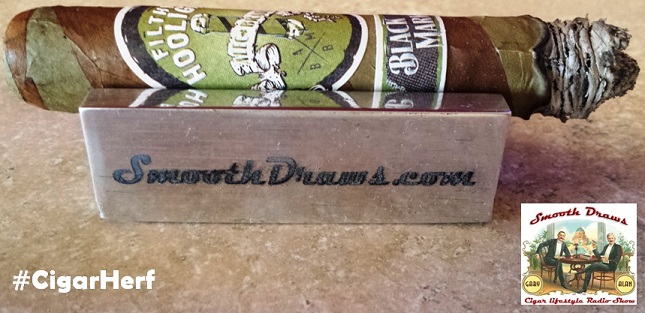 The Draw
The draw on this cigar was amazing – definitely a smooth draw. The smoke production filled the mouth with a uniquely tasty smoke that was creamy, clean, crisp and very flavorful. It made our note taking easy.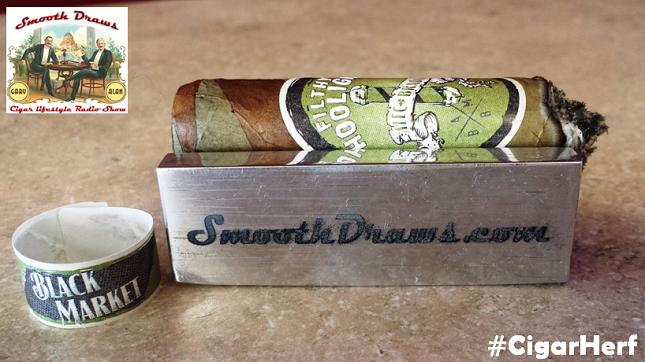 The Taste
This blend was medium in body and full of flavor, with loads of sweet tobacco – unique and complex in every way. As the cigar progressed, I tasted wood, nuts and chocolate along with a hint of spice (like black pepper) that was infused with creamy vanilla. The cigar seemed unique in that it yielded different flavor profiles throughout my smoking journey. It finished with hints of mint and licorice, as well as earthiness and a garden-like tone of freshly cut grass. The taste profile was reminiscent of a warm spring day.
Buy Recommendation
When we first saw the 2016 Alec Bradley Filthy Hooligan, its barber pole contrasting wrapper of Candela and Jalapa leaves immediately caught our attention. The Candela wrapper marries perfectly with the sweetness of the Jalapa leaf, leading to not just an enjoyable cigar, but a true experience.
Make room in your humidor. You have to find this cigar and try it. You will not be disappointed.
We feel that every level of cigar smoker should try this cigar. It definitely earns a Smooth Draws Radio Show buy recommendation. And no... You don't need to lurk in a back alley to find the Alec Bradley Black Market Filthy Hooligan 2016. It's available at most fine tobacconists.

__________________________________________________
Discuss this article in our forums!
Not a member? JOIN TODAY (always free!)
Alan"The Cigar Savant" Friedman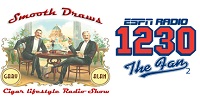 This email address is being protected from spambots. You need JavaScript enabled to view it.