Review: Rancho Luna Maduro Robusto
PUBLISHER'S NOTE: This review by H311oLHD (Aaron Handelman) is the first of many reviews of cigars newly released at the IPCPR 2016 trade show. Stay tuned for a lot more reviews of new products from the convention.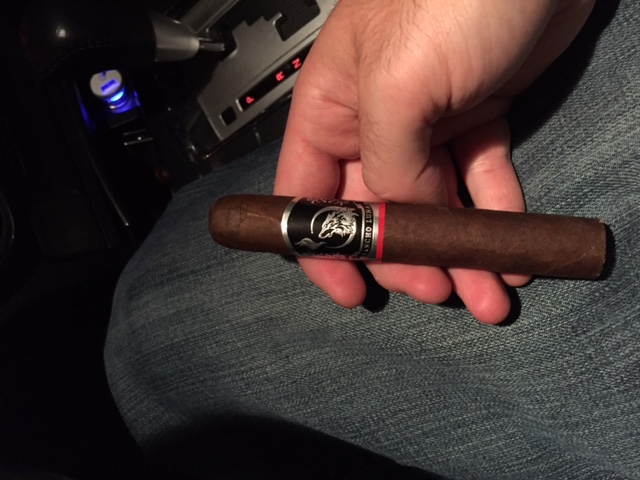 Going into this cigar, I knew nothing about the manufacturer or the brand. After doing some research, it turns out that this release is from the cigar makers Julio and Justo Eiroa of JRE Tobacco Co.

The cigar had a nice presentation overall, with a pretty black, silver and red label featuring a fire blowing wolf. The Maduro wrapper was flawless, with a nice oily sheen to it. And the cigar itself had some weight to it. I didn't get much from the pre-light draw in terms of flavors; however, it did reveal that the cigar would have a near perfect draw.
The initial flavors that hit me were a hint of spice, coffee and a little bit of earthiness. The flavors didn't develop throughout the experience, as this wasn't the most complex cigar on the market. The flavors overall were very enjoyable, but again, not very complex. I would categorize it as a medium-bodied and medium-strength stick.
I did have some major problems with the burn, as I had to make multiple touch ups, and it burned extremely hot. At one point, I thought that I had smoked it down to where I was holding the cigar (I was driving home from work in the dark, in case you were wondering). The cigar just seemed to radiate an abnormal amount of heat, and the metallic finish on the label seemed to make the problem worse.

Overall, I thought this was a decent cigar. I didn't love the flavors; however, they were enjoyable - especially for a commuter stick. I think the MSRP of $7 is a bit high for this cigar, as there are so many more complex sticks that come to mind at this price point. I also can't see myself purchasing many more than a single or two, albeit they would have to be near the $3-4 mark for me to pull the trigger on them.

Pre-light – 7
Light – 7
Draw – 8
Construction – 5
Flavor – 7
Power – 7
Average – 6.8/10