AB Cigar Shipping LE Trilogy Collector's Series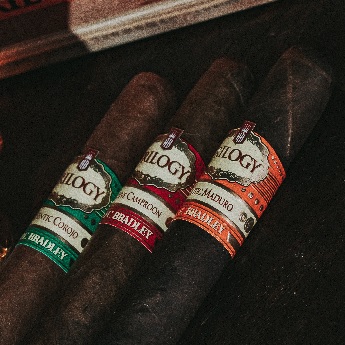 2000 Ten-Count Keepsake Boxes of Each Toro Sized Authentic Corojo, Exotic Maduro and Native Cameroon to Hit Tobacconists' Shelves for Holiday Season

Alec Bradley Cigar Co. today announced that the Limited Edition, Collector's Series, Trilogy keepsake boxes will begin shipping to tobacconists next week. Trilogy Authentic Corojo, Exotic Maduro and Native Cameroon are being released in their own unique "cigar-press" shaped boxes, paying homage to the triangular mold created by Alec Bradley brand owner, Alan Rubin in the early 2000s. Only two thousand collectable 10-count boxes of each of the tree cigar blends are being presented in the triangle pressed, 6" x 52 ring gauge Toro format.

"Trilogy has been a passion project for me since I started with Alec Bradley in 2017," said second generation cigar maker, Bradley Rubin. "I'm honored that my dad, Alan, finally allowed me to move forward with the project; and now we have the opportunity to share a part of Alec Bradley's history with our brand advocates, old and new."
In
troduced in 2002, Alec Bradley Trilogy was the first triangular shaped cigar to hit the premium cigar market. A testament to Alec Bradley's creativity and innovation, Trilogy set the stage for other unique brands and blends, including one of the earliest "large ring gauge" cigar lines, MAXX and Cigar Aficionado's "96-Rated, Number 1 Cigar of the Year," Prensado Churchill.

Although Alec Bradley Trilogy may still be found on some tobacconists' shelves, sales for the line took a decade's long hiatus. In August of this year, the company collaborated with a Florida tobacconists to resurrect the line in a sampler featuring 6 Robusto shaped cigars of each blend.

All three Trilogy cigars - Authentic Corojo, Exotic Maduro and Native Cameroon- have been blended to mirror their original flavor profiles. The iterations share the same Honduran Connecticut seed binder and fillers from Nicaragua and Honduras. Exotic Maduro features a Maduro wrapper from Jalapa, Nicaragua; Authentic Corojo features a Corojo wrapper from Jamastran, Honduras; and Native Cameroon features a true Cameroon wrapper from the central African nation of the same name. MSRP has been set to $15.00 per cigar/ $150.00 per box, before any applicable taxes. Trilogy will begin shipping next week to appointed tobacconists. Alec Bradley Trilogy cigars are being produced at Tobacos De Oriente, Danli, Honduras.

"The Trilogy packaging is just as unique as the cigars inside," Bradley Rubin continued. "Just in time for the holiday season, any cigar enthusiast would truly be grateful to receive one, two or all three of the keepsake boxes of the historcal Trilogy cigars!"