MACANUDO GOLD LABEL RETURNS TO RETAIL WITH LIMITED EDITION SIZE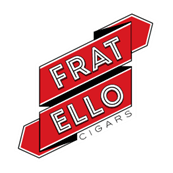 Macanudo Gold Label is making its annual return next month and will mark the occasion with a new, limited edition size available this year only.

Macanudo Gold Label will ship to retailers between May 1 and July 31, 2023 or until this year's allotment has been depleted. Eight frontmarks will be available, including the "Golden Nugget" which is a new, limited edition frontmark created exclusively for the 2023 season.
The blend was originally released in 2002, and has, for more than two decades, remained a perennial favorite among discerning cigar aficionados.
Steve Abbot, director of marketing said, "Macanudo Gold Label continues to delight cigar smokers with its alluring mellow blend. This cigar makes for a great indulgence on its own and is equally as versatile when it comes to pairing. We're delighted to bring the blend back for its 21st year and look forward to sharing it with cigar lovers across the country."
Macanudo Gold Label cigars are named for the brand's golden wrapper leaves harvested from the first and second primings of the Connecticut Shade tobacco plant. Exposed to less sunlight which allows more natural sugars to remain, each leaf is extremely thin and remarkably supple with barely visible veins. The result is a texture that is especially smooth and silky, and a subtle hint of sweetness on the palate.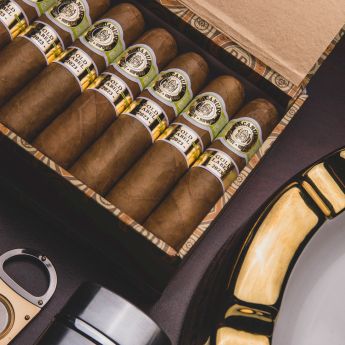 The Capa Especial (special wrapper) is combined with the first and second primings of Mexican San Andreas tobacco which is used as the binder and sits atop a blend of Dominican Piloto Cubano and Mexican filler tobaccos. The result is an extraordinary cigar with the traditional smoothness of a Macanudo and a unique note of sweet earth not found in any other cigar on the market.
Macanudo Gold Label is made in Santiago, DR at General Cigar Dominicana and will be available in these frontmarks:
*New for 2023* Gold Nugget: (4.5" x 60); SRP per cigar $11.39 (20 per box)
Hampton Court Tubo (5.5" x 42); SRP per cigar $11.79 (25 per box)
Lord Nelson (7" x 49); SRP per cigar $12.29 (25 per box)
Tudor (6" x 52); SRP per cigar $11.99 (25 per box)
Duke of York (5.25" x 54); SRP per cigar $11.49 (25 per box)
Shakespeare (6.5" x 45); SRP per cigar $11.29 (25 per box)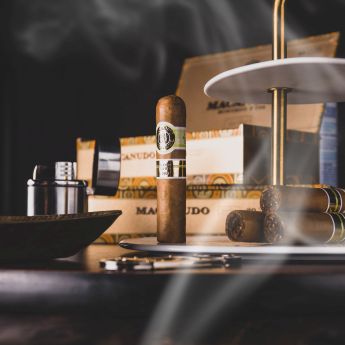 Crystal (5.5 x 50); SRP per cigar $12.29 (8 per box)
Ascot (4.18" x 32); SRP per tin $24.29 (10 per tin)