Drew Estate Herrera Esteli Miami
Drew Estate Herrera Esteli Miami

Country of Origin: United States
Wrapper Color: Dark Colorado Maduro
Wrapper type: Equadorian Habano Oscuro
Filler: Dominican Republic, Nicaragua
Binder: Equadorian Sumatra
Vitola: Short Corona Gorda
Manufacturer: Drew Estate Cigars
Distributor: Drew Estate Cigars
Factory: El Titan de Bronze, Miami
Setting: My regular spot in the little, outdoor smoke shack.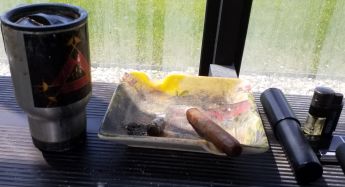 A very smooth, single vein, invisible seams wrapper with a smooth, long cap, a hard bunch and perfect cold draw with no taste. Overall a very attractive cigar.
An even burn, short, conical coal, and a white, strong ash.
Perfect draw, ample smoke volume, cool, slightly biting smoke, and a fragrant aroma of plain tobacco.
Generous richness, body, and perfectly balanced flavors of wood and herbs.
Finish/Aftertaste Comments:
Generous strength, medium length, vegetal and woody flavors.
Overall, a great cigar in every regard as evidenced by the overall score of 95 out of 100.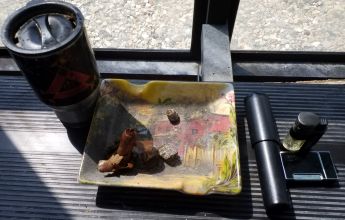 Appearance/Construction___15____ 15
Flavor/Strength____15__15
Finish/Aftertaste___10_____10