Diesel Unlimited D.5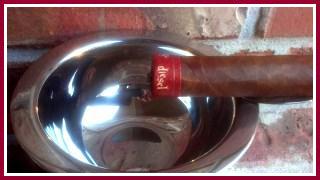 Size: 5.5 inches x 54 ring gauge
In 1975, the legendary rock group Lynyrd Skynyrd released their third album, called Nuthin' Fancy. It was (and remains) an appropriate title. When compared to the band's other releases, this album was, frankly, not outstanding. The record contained eight cuts, of which only one, Saturday Night Special, remains memorable. However, for diehard fans of southern rock and boogie, it was still pretty special. I write all of this to help me characterize the Diesel Unlimited D.5. It is a good cigar (I am not overly criticizing it), but will certainly not make anyone's Top Ten list. In short, it is nuthin' fancy.
This vitola is a long, fat robusto sporting a thick, tough, dark-brown wrapper. The cold smell is of raisin or fresh chewing tobacco. My sample squeezes nicely. A punch-cut allows a free-flowing draw and plenty of smoke. The 45-minute burn proceeds evenly, and leaves a pale-gray ash with even segments. I would rate the construction score a 5 out of 5. The D.5 is put together very well, and performs admirably.
The Diesel Unlimited line is composed of Honduran ligero filler and wrapper with a Nicaraguan binder. This combination of tobaccos makes for a full-bodied cigar with little pretense of complexity – just pepper, leather, coffee and cedar right from the start. It is bold and brash, but not in a bad way. One would never use the words 'subtle' or 'nuanced' to describe the D.5. Some cigar enthusiasts might look down their noses at this cigar due to its in-your-face nature. Not me, though – I like it. However, because the cigar is not everybody's cup of tea, I will have to score the flavor 3 out of 5.
To sum up my review, the Diesel Unlimited D.5 is full-bodied, strongly flavored and well-constructed. Give it a total score of 8. At around $4, it represents a lot of bang for the buck, even if it is nuthin' fancy.