Herrera Esteli Piramide Fino by Drew Estate

Size: 6 inches by 52 ring gauge
There are numerous cigar brands in the world. Some, you'll find everywhere. Some are only available in a handful of shops. There are mass-produced labels that everyone knows, and then there are the boutique brands that can be nearly impossible to find. A few cigar makers 'live' in both neighborhoods.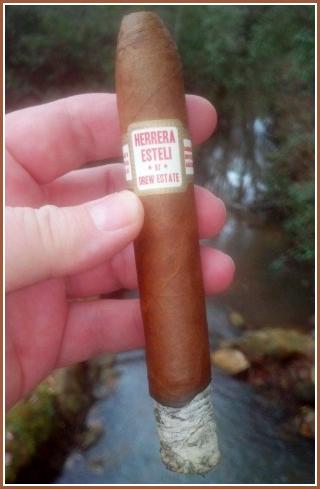 One manufacturer that blurs the line between mass-produced 'corporate' cigars and rare boutique gems is Drew Estate. Even though the company has recently been acquired by Swisher International, it still retains its boutique credibility. Drew Estate, which has always set itself apart by being quite different (and bold enough to claim to represent 'The Rebirth of Cigars'), continues to churn out great blends possessing a small batch feel – this from a company that produces nearly 100,000 cigars daily. Can Drew Estate really be called a boutique cigar maker with those numbers? Regardless of how you view the brand, it makes some damn fine cigars.
The Herrera Esteli line gets its name from its blender (Willy Herrera) and where it's made (Esteli, Nicaragua). The Piramide is a fairly standard-sized torpedo with a rounded head. It's draped in a medium-brown or dark-khaki colored Ecuadorian Habano wrapper, which covers a Honduran binder and Nicaraguan filler leaves.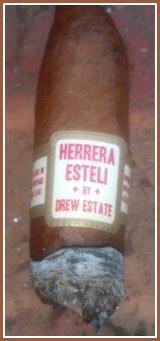 My sample displayed only one prominent vein and no blemishes – a beautiful cigar. It squeezed perfectly. The cold smell was pungent, fresh chaw. A modest guillotine cut provided an easy draw and plentiful smoke. The even burn lasted 52 minutes, and left a pale-grey, evenly segmented ash. I couldn't find any deficiencies in construction or performance. I gave it 5 out of 5.
The blend of this cigar produced a medium-bodied smoke with a warm, earthy taste of wood, peat and nuts. There was a creaminess and slight sweetness, too. And I noticed a little vanilla and some pepper-spice when the cigar burned to the sweet spot. To me, this was an absolutely awesome flavor profile – rich without being brash. I scored it 5 out of 5 for taste. If you're keeping score at home, this was my first 10, and it was an easy decision.
To sum up: I can understand why this cigar is so highly rated. The praise is warranted. I will definitely smoke the Herrera Esteli Piramide Fino again. It sells for around $11 (depending on your state tobacco taxes). It's worth every cent.