Caobanero Churchill by M.J. Frias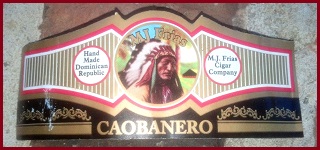 7 inches x 50 ring gauge
"You can't always get what you want / But if you try sometimes well you just might find / You get what you need." – The Rolling Stones, 1968.
We all want to experience our own personal 'World's Greatest Cigar' – the best cigar we've ever had. We can probably stop looking now. Some of us spend decades looking for that penultimate cigar, but few of us ever find it. Yeah, you can't always get what you want. Nevertheless, like the Rolling Stones sang, sometimes you get what you need. In a cigar scenario, this amounts to getting a satisfactory cigar at a fair price.
The Caobanero Churchill is a slightly larger than average Churchill-sized cigar. In fact, it is a tad longer than 7 inches, and feels a little chubbier than a 50-ring gauge. The wrapper is a dark, natural Connecticut with a couple of prominent veins and one tiny stain, but nothing horrible. When squeezed, the sample is stiff and fully packed. The pre-light smell is syrupy-sweet like fresh chewing tobacco, and a bit floral.
A punch-cut allows a free flowing draw and an adequate smoke output. The hour-and-ten-minute burn is slow, cool and even. And the ash is dark-gray with narrow, even segments. This cigar is put together nicely, and performs accordingly.

The Caobanero Churchill is a Dominican puro that uses criollo '98 ligero and criollo seco leaves in the blend. This mixture produces a mild to medium smoke with initial notes of paper, wood and earth.
About midway through the cigar, a sweet tartness and cinnamon become apparent. Toward the finish, minimal spice, mineral tastes and some bitterness enter the profile. When it's all said and done, this cigar – while not my favorite – offers up a good enough profile.

Pre-light: 8
I'll try not to damn the Caobanero Chruchill with faint praise. In my opinion, while it is a decent cigar, it's far from being a great cigar. Because of its mildness, the Caobanero represents a perfect cigar for newbies. It's a good one to keep on hand to share, as it won't offend anyone. It would also make a good 'morning' smoke for just about anybody. And frugal cigar enthusiasts should love it.
This bundled cigar is a good buy at only $3.00 – a satisfactory cigar at a fair price. Sometimes, you do get what you need.