Alec Bradley Black Market Vandal Toro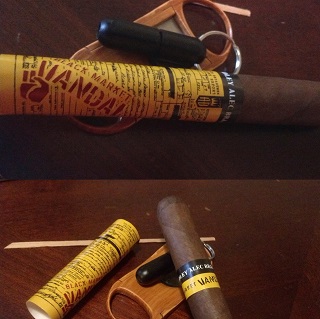 Size: 6.2 inches x 54 ring gauge
I've often wondered where the names of cigars come from. I know the oldest ones have their own classic stories. Those cigars were usually named for either the owner or the factory. And I'm sure some of the newer names are strictly creations of the wonder-boys in marketing. But how about when a cigar is named? Is it before or after the cigar has been blended?
While the Alec Bradley Black Market Vandal, introduced in 2013, sounds like it was named by an imaginative ad-man, it is indeed aptly named. The image presented by the name and labeling perfectly matches the nature of the cigar, suggesting to me that it was named after it was blended. Let me give you my review as a means of explanation.
Two-thirds of this cigar is covered by a huge yellow label that reads like a police report. Beneath that label is a smaller, more traditional label. Like it or not, this type of presentation seems to be the thing now.
The Alec Bradley Black Market Vandal is a brawny cigar. It has an oily dark brown Nicaraguan Jalapa wrapper with a shadowy black patina. The leaves are uniform, with only a few small veins. It is a handsome cigar. The binder is Sumatran.
The original Black Market cigars list the filler as a Honduran and Panamanian blend. However, the exact mix for the line extension called Vandal isn't published.
My sample squeezed well, with no hard or soft spots evident. The cold smell was sweet like a fresh plug of chewing tobacco, with a definite barnyard character.


I used a punch-cut and a cedar strip to light the cigar. There was an easy draw throughout, and plenty of smoke. The burn was even and consistent for at least the first two-thirds of the smoke. The ash was sturdy and average-gray, with even segments that mirrored the even burn.
Flavors evident in the first puffs were a gin-like astringency and pecan hull. (True aficionados probably have a better word to describe this flavor, but that's what it tastes like to me.) There was also pepper, black coffee and peat. The character subtly changed after about an inch had burned. Wood notes and a richness were then revealed. This combination of flavors, while not my favorite, was still good. To this stage, I certainly enjoyed and appreciated the stick.
During the last third, the cigar began to burn a wee bit hot, and bitterness began to creep in. My fondness for using a punch-cut might have caused the hot finish, so maybe that's my fault.
I would characterize the Vandal as medium to full-bodied. It was flavorful and strong, but not overwhelming. The total smoking time was 55 minutes.
Using the Cigar Weekly scoring system, here's what I thought of the Vandal:
Pre-light – 9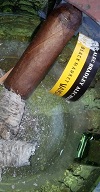 In my opinion, the Alec Bradley Black Market Vandal Toro is neither complicated nor sophisticated – and that's not an insult. This is a solid, straight-forward, no-nonsense kind of cigar. I imagine it would pair well with bourbon, whiskey or beer. It is the type of stogie that a boots, blue jeans and black leather jacket-wearing guy would smoke.
It had to have been named after it was blended and smoked because the image – from the police report label to the name – is a spot-on match for the nature of the cigar. Mr. Alan Ruben and company got the name for this cigar right. This is not a gentleman's cigar. It's a Vandal. The Alec Bradley Black Market Vandal Toro is an affordable mid-price-range premium cigar, listed at $9.
I recommend it.