Southern Draw Kudzu Toro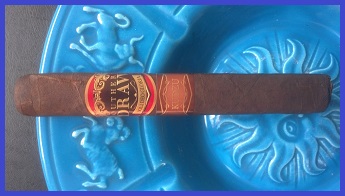 Size of cigar: 6 inches by 52 ring gauge
Over a year ago, I reviewed a cigar I'd discovered online – the Southern Draw Firethorn Robusto. For some time now, I've been meaning to smoke and review one of its sister sticks – the Kudzu Toro. You know how it goes. First one thing and then another happens, and before you know it, over a year has passed.
Anyway, just to refresh your memory, Southern Draw Cigars is based in Austin, Texas, and is owned by a group of U.S. veterans. Their mission is to produce cigars that represent a Southern gentleman's smoke, and that always have a perfect draw. These cigars are made in Esteli, Nicaragua by A.J. Fernandez – one of my favorite blenders.
The Kudzu Toro is box-pressed with a closed foot. Its wrapper is an Ecuadorian Habano Oscuro leaf, which is lighter-colored than one normally sees in this variety.

On my sample, there was an oily sheen to the outer leaf, which displayed one prominent vein and no flaws. The cigar felt more tightly-packed than I would have expected from a box-pressed stick. Nonetheless, there were no irregularities. The pre-light smell was sweet and perfumed.
I used my trusty punch to cut the cigar, and lit the Toro with a cedar splinter. The loosely gathered closed foot caught easily. The draw was practically effortless, and produced plenty of smoke. And although the burn was crooked off the light, it eventually evened out. That said, the burn seemed a tad hot and fast. The ash was light-gray with even segments, and was somewhat loose though still quite sturdy. Smoking time was a respectable 52 minutes.

The first few puffs from the Kudzu Toro were sweet like candy. Over the first third, I noted such disparate flavors as earth, malt, leather, cedar, sweet fruit and an alum-like quality. In the middle stretch, I picked up on coffee. The finish, which came more quickly than I anticipated, was full of leather. Overall, this was an intricate and complex flavor profile indeed. I felt that the cigar started as a full-bodied smoke, but mellowed over its course into a more medium-to-full tenor.
Here's how I rated the Southern Draw Kudzu Toro:
Pre-light – 9.0 (nothing wrong here)
Light – 8.5 (slight deduction for the uneven burn)
Draw – 9.5 (close to perfection)
Flavor – 9.0 (I loved it)
Power – 8.5 (not included in average)
Average – 9.0 (a damned fine cigar)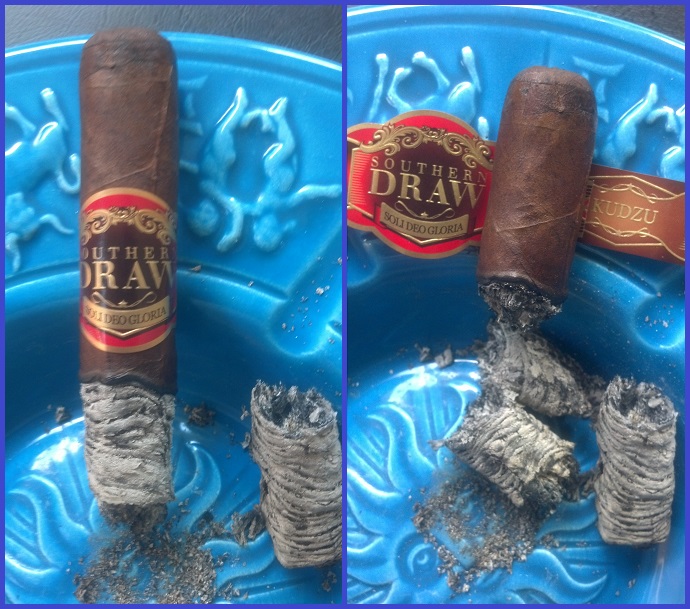 Yeah, I liked the Kudzu – a lot... and not just because half of my home state is covered in that particular 'Japanese' import. I found the Southern Draw Kudzu Toro to be a really good cigar. Performance and flavor were both well above average. As for it representing the sensibilities of a Southern gentleman, I don't know. However, the producers are certainly pretty close to accomplishing that perfect draw.
So, what do you drink while you enjoy a Kudzu? Southern Draws recommends your favorite craft beer, a robust wine, or a premium rum or whiskey.
Southern Draw Cigars are heavily distributed in Texas, but are hard to find in the rest of the country. They are available from Army and Air Force base exchanges. Of course, you can purchase them directly on-line. The Southern Draw Kudzu Toro sells for about $10.