Marrero Tesoro Mio Dos Capas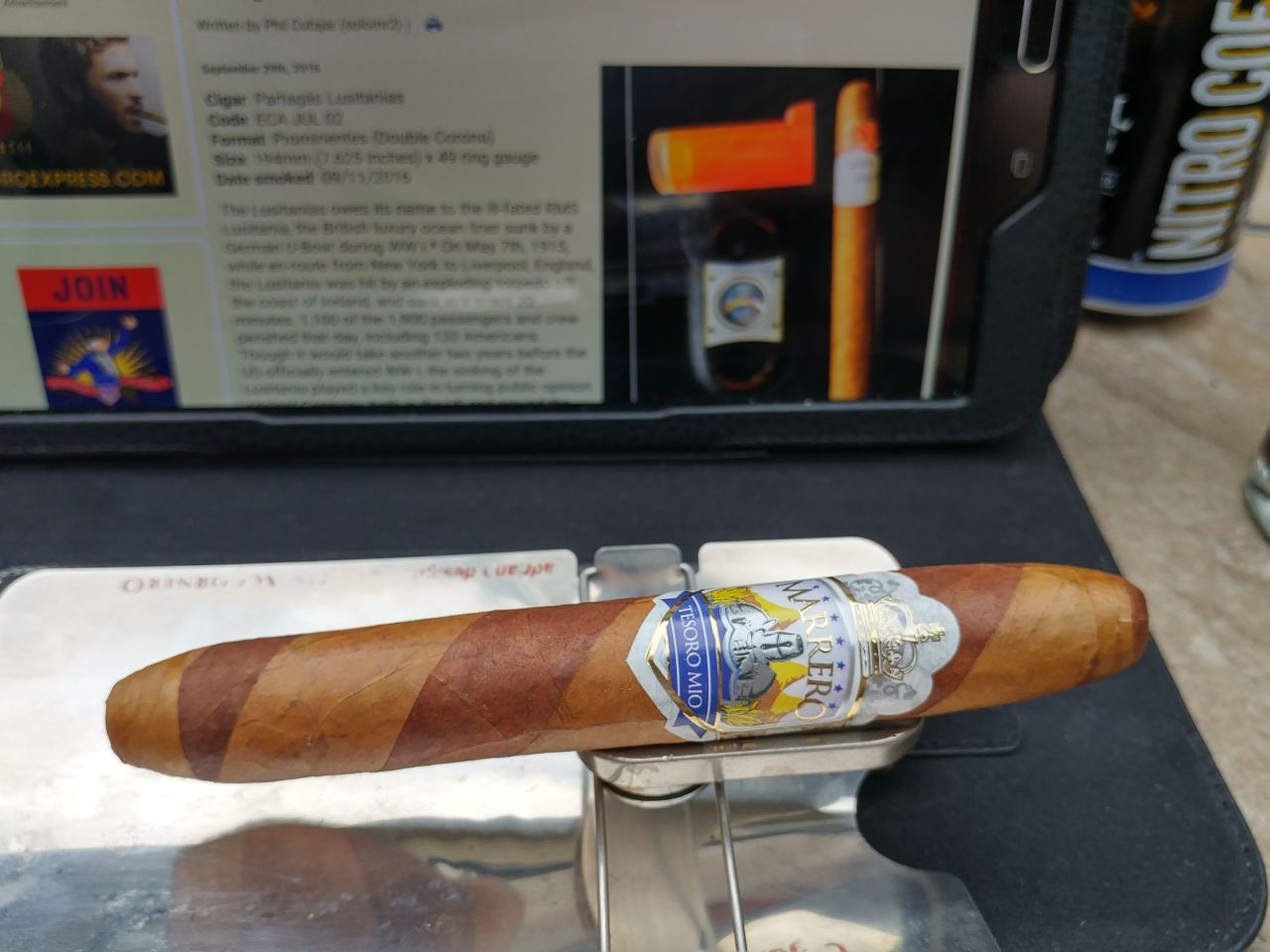 December 12th, 2016
I've had occasion to meet with Joel Marrero of Marrero Cigars on several occasions. (Atlanta is a great market for cigars.) Tommy Bender, one of our editors and long time members, met him and discussed his brand back at the 2015 edition of the IPCPR. Both Tommy and I consider Joel a friend of Cigar Weekly.
Last fall, when Joel was in town, we had the opportunity to have lunch together and talk cigars. What a discussion it was! Joel's passion for this business is vibrant, and this passion is exemplified by the quality of his cigars.
His original line included the Tesoro Mio, Fuerte and Bellartes, all of which have been covered here by other reviewers. In fact, the underlying reason I invited others to do those reviews was because I didn't want to introduce any personal bias. I really like Joel, and have been very impressed by the quality, taste and construction of his cigars. (My hands-down favorite was the Tesoro Mio.)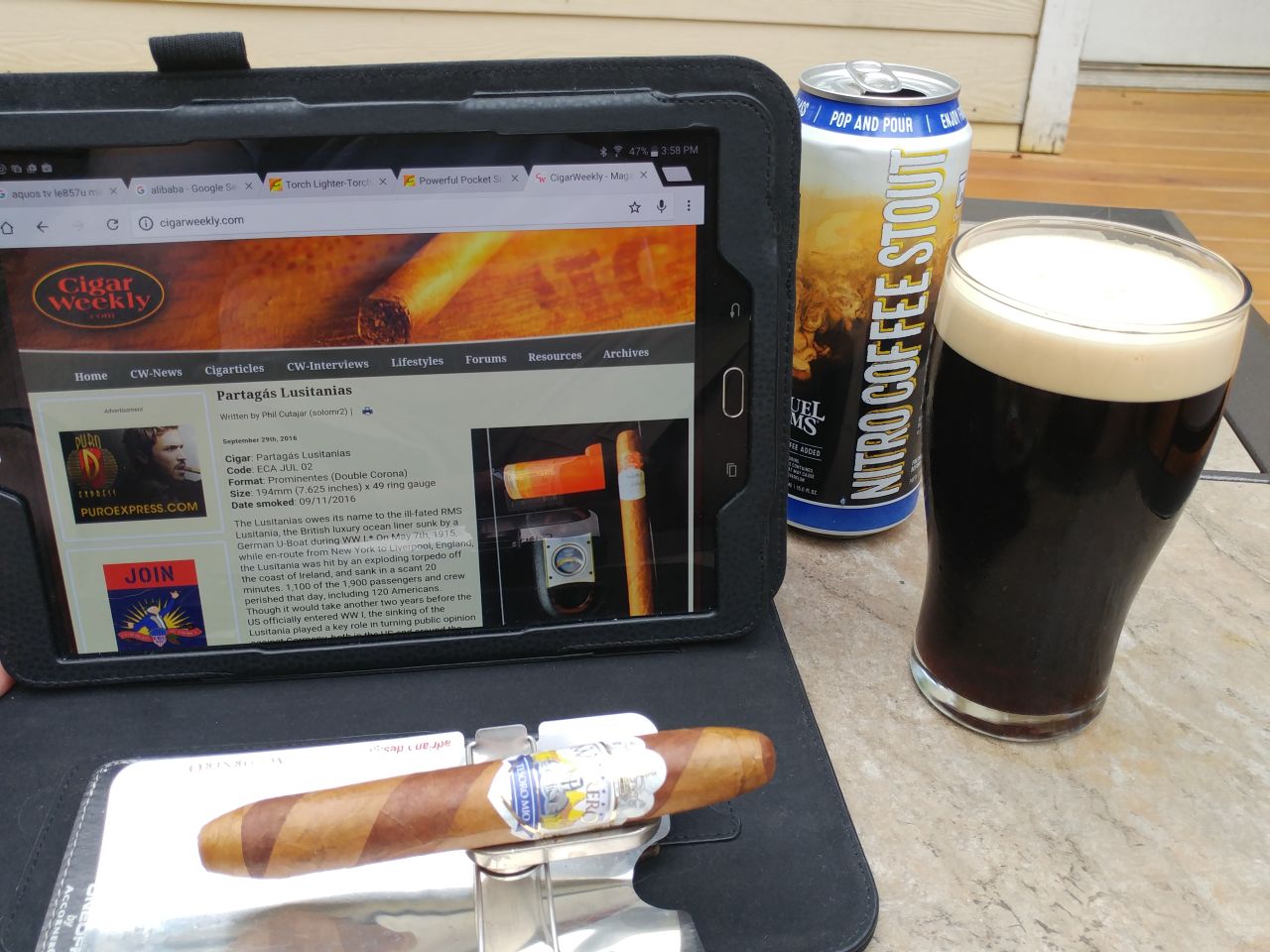 When Joel started posting pictures of himself and of the amazing 'barber pole' (Dos Capas) from Costa Rica (where his cigars are made), I had to both drool and inquire! Joel's response was that the 'barber pole' would extend the Tesoro Mio line by introducing a darker wrapper in tandem with the original one. That this cigar was also a figurado was simply icing on the cake.
For this particular tasting, I poured myself a glass of Sam Adams nitro coffee stout, settled in on the back porch with my pup Lucy, and put my mind into full relaxation mode. I anticipated that a cigar this size should take about 50 to 70 minutes to enjoy.
Pre-light
The cigar was firm and evenly filled, the wrapper looked amazing, and the band spun around on the cigar - a sign of good construction from end to end. (I hate when a band is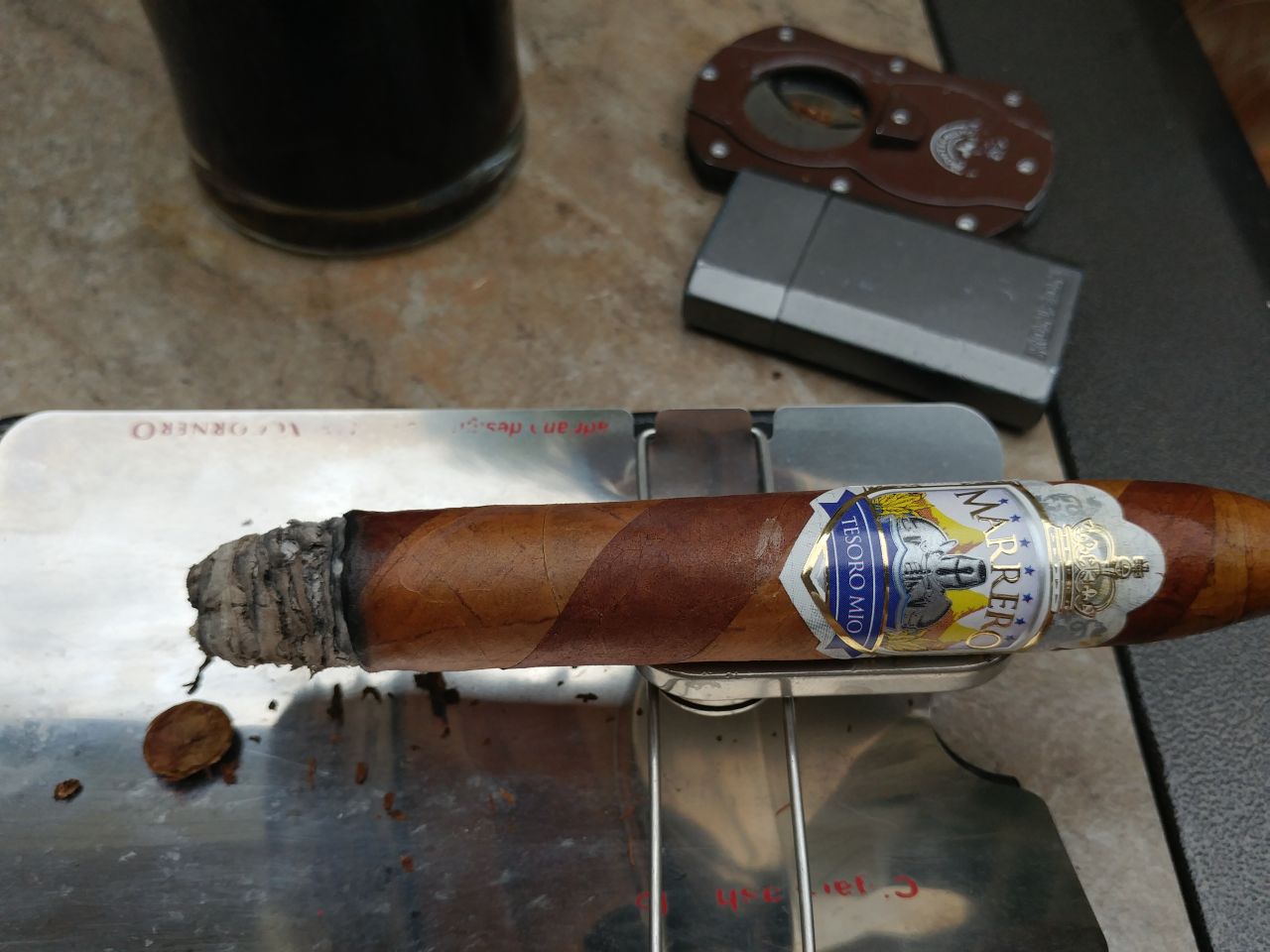 overly glued to the wrapper.)
Cutting just the smallest bit off the cap, the prelight draw was smooth and easy, with notes of mellow tobacco and a light spice on the lips.
The first third
Lighting a cigar with a torch outside is always a challenge, as the blue of the flame is practically invisible. However, I toasted the foot carefully and then drew through the cigar. Being a figurado shape, the foot and cap were the same size. So it was a small target!
The wrappers on a Dos Capas are twisted around the cigar in such a way that you're always getting a bit of both - sometimes more of the light or dark wrapper, but always a bit of both. This feature really added a bit of a rich cocoa note to the very fine filler package. With a sweetness like raisin along with notes of wood, leather and coffee that I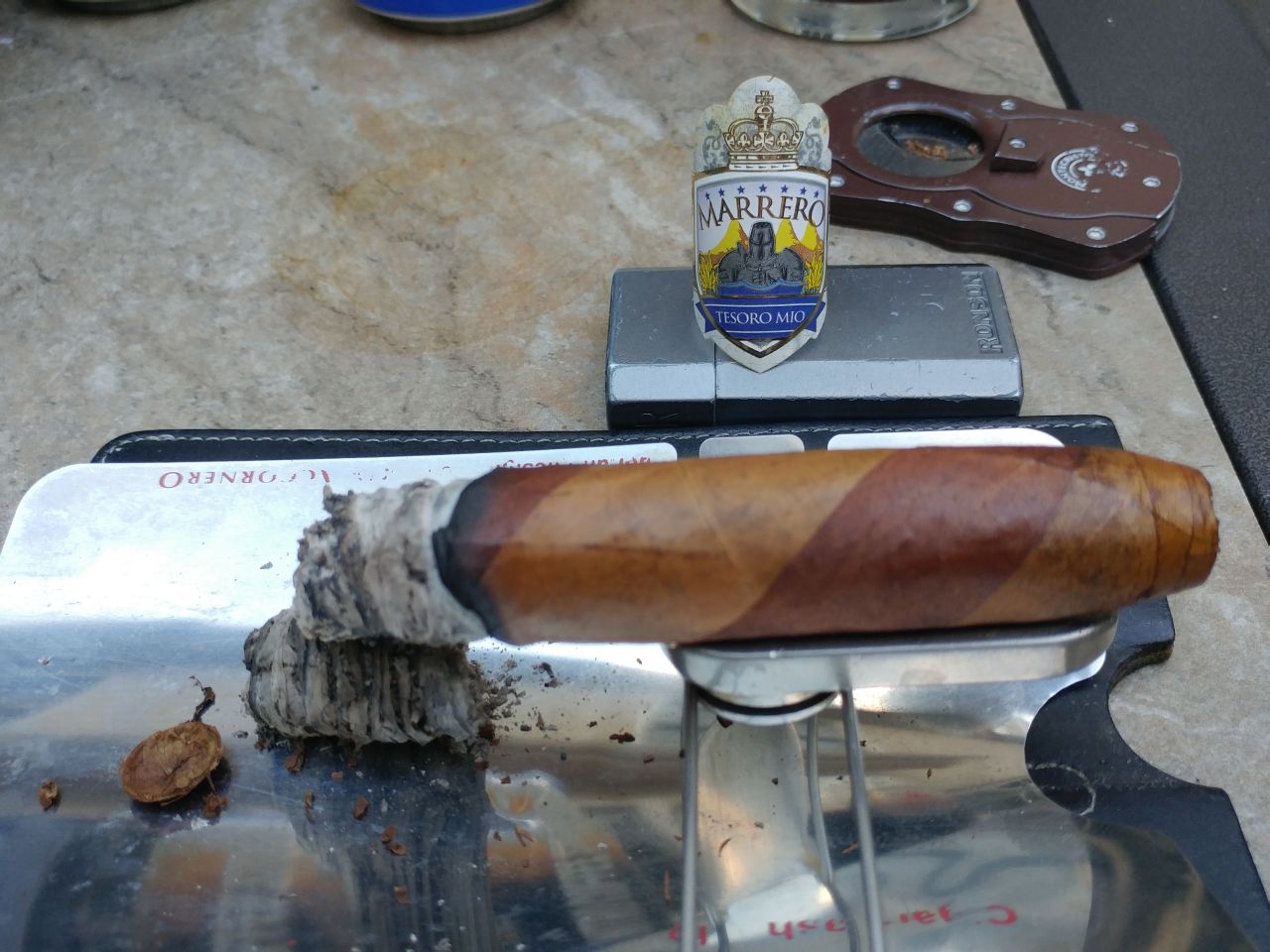 detected in the original cigar, I was intrigued.
Second third
The ash fell off naturally at about an inch and a quarter, just as I was entering the second third of the cigar. It was also at this time that the probe on my smoker went off, and I had to put the cigar down to tend to some smoked meat.
To my pleasant surprise, the cigar did not go out. A couple of pulls, and I was back in full swing. The cocoa notes of the darker wrapper were accentuated by the coffee stout I was enjoying, with the bitterness of the beer balancing the naturally sweet flavor combination of the cigar.
Now, dear reader, do not mistake these comments as suggesting that this cigar is sweet. What it is is a very balanced cigar without a lot of ligero sharpness or under-aged tobacco bitterness, such as you find from time to time in some of the boutique blends. It is just a truly well-balanced cigar.
By now, the smaller cap area was causing a tiny bit of tar build up. But a quick purge or two, and that off note subsided. Creaminess, plus subtle pepper and almost fruity tones, then returned at the midpoint.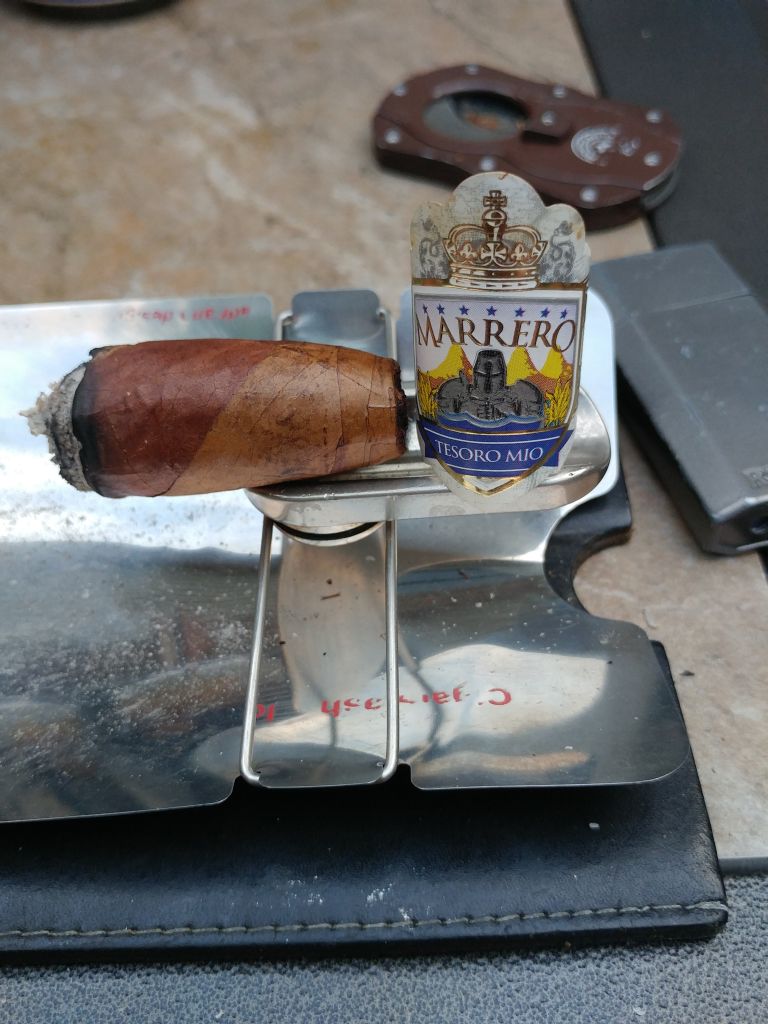 Final third
Coffee notes and cocoa rode on the smoke, along with leather. The strength picked up here, but very subtly.
This is not an over powering cigar. Rather, it's very much in line with the original Tesoro Mio that I like so much. Every cigar maker strives for balance and complexity, and I think Joel has done a really great job here.
The cigar finished with creamy sweet dark chocolate notes, nuts and that natural earthy taste and aroma you crave in a cigar. Wrapping up a session with this Marrero Tesoro is like finishing your espresso - you look into the cup for one last sip, but there is none. I smoked this one right into moustache-burning territory.
Final thoughts
Representing a very great addition to the Marrero cigar line, the Dos Capas version of the Tesoro Mio adds just enough of a twist to what's already a notably tasty blend.
My Cigar Weekly ratings looked like this...
Pre-light: 10
Light: 9
Draw: 9.5
Construction: 10
Flavor: 9
Power: 7 *
Average: 9.5
* As always, power is not included in the average score, the strength of a cigar being the most subjective of things. (As my friend José Blanco likes to say, some guys' breakfast cigars would put down another guy after a full steak dinner.) I tend towards full-flavor, medium-strength cigars. This cigar should appeal to most smokers, but novices would be best served to enjoy it after a meal.
I was impressed. Lucy, the golden retriever? She just enjoyed being outside with me!
__________________________________________________
Discuss this article on the Cigar Weekly Community Forums HERE.