Edgar Cullman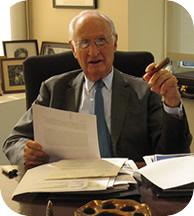 Zman (Cigar Weekly member)
August 28, 2011
With a heavy heart, we have lost a true Cigar Legend. Mr. Edgar Cullman passed away today at the age of 93. Mr. Cullman the former Chairman and CEO of General Cigar and Culbro Tobacco was responsible for the success of General Cigar Holdings, Inc. General Cigar wouldn't be where it is today without his leadership, knowledge, and most important his passion for tobacco and cigars.
The Cullman family has been involved in the tobacco industry for at least four generations. Mr.Cullman was always involved in all aspects of of the industry from growing tobacco, processing tobacco and the final product the cigar. Mr. Cullman has touched everyone in the cigar industry and was one of the most respected individuals in the cigar world.
Everyone in the industry listened to what he had to say or asked for his advice. My wife worked with Mr. Cullman while at General Cigar. When General Cigar moved their distribution center from New Jersey to Virginia back in May 2010, Mr. Cullman and his family opened their arms and hired her to work for them at Culbro LLC. Culbro Tobacco, which is a subsidiary of General Cigar, was the largest or second largest grower of Connecticut Shade wrapper. Mr. Cullman was, justifiably, very proud of his farms. He spent a great deal of time in Connecticut at these farms. Even after the complete acquisition of General Cigar Ccompany by Swedish Match, Mr. Cullman would still roll cigars at his office.
The man was so fit that he still played tennis this past winter; he was salmon fishing this past June(he was an avid fisherman). Seemingly, there was nothing he couldn't do. The man was remarkable, very generous, and always talked about integrity. There is a biography of Mr. Cullman called Cigars and Other Passions which he presented to me, or, should I say, to my wife. I read it in a few days, it is a great book if you are a cigar nut, like me.
Mr. Cullman's knowledge in tobacco could never be replaced.There are many in the community of cigar enthusiasts who believe wholeheartedly that Mr. Edgar Cullman knew more about his passion, the Connecticut Shade wrapper and its cultivation than anyone else in the world.
In his memory, please light up a Macanudo, his brand, which he enjoyed smoking up until the end. Mr. Cullman was a true Legend! May he rest in peace.