Now Showing in The Man Cave #2: Shane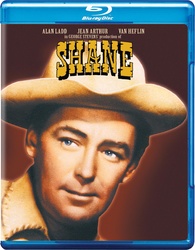 Shane (1953)
Blu-Ray
"What's your favorite film?" That's a question I am often asked, and with good reason. Having a personal movie collection of almost 1000 DVDs, HD DVDs and Blu-Rays, as well as watching close to 300 movies a year, I fit the description of a movie fanatic. I don't often watch regular TV, but spend most of my TV time watching movies.
Over many years, when asked what my favorite film is, I've answered the same way: "I don't have a favorite." Sure, I am fond of many films. But choosing just one favorite film seems impossible. Eventually, however, I've been able to narrow the choices down and make my single selection.
As is obvious from the title of this review, that one film I am referring to is Shane. Many of us are probably familiar with this George Stevens classic, as the film is included in most lists of the greatest movies ever made. It's not hard to see why.