Marrero Tesoro Mio Gran Toro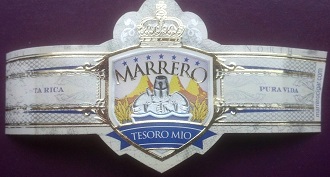 It's kind of big deal where a cigar comes from. Isn't it? The pedigree and origin of a premium cigar is of utmost importance. So when did they start making cigars in Costa Rica? Did I miss a memo or something? Yeah, I'm being facetious – but only a little.
We all know about Cuba, the Dominican Republic, Nicaragua and Honduras. There are even a few well-known cigars from South America and elsewhere. But Costa Rica? Really? Yes, really.
A couple of years ago, Joel Vazquez Marrero jumped into the cigar game and created Marrero Cigars, a company that represents "the flavor of Costa Rica in a premium cigar". By my reckoning, he's making some pretty good cigars down there. This is my review of the Tesoro Mio Gran Toro – a vitola in one of Marrero's four blends. For those of us who speak only English, Tesoro Mio is Spanish for "my treasure".