Case Study CS/05 'Robusto Extra'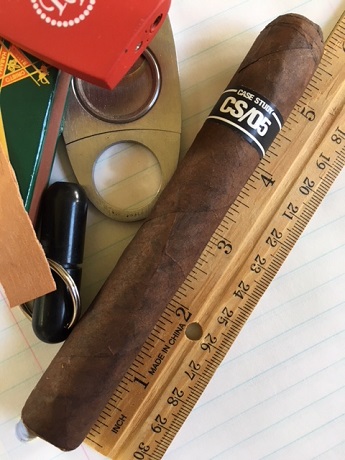 May 24th, 2018
This, my final review of the Case Study series from Ventura Cigar Company, is a write-up on the CS/05, one of 26 different blends in the line that pay homage to 26 famous homes built in Los Angeles. The LA homes are renowned for their simplistic, modernist designs and their famous master architects. The Case Study cigars mirror the homes with their simple, minimalist labeling and the fact that all were blended by famous, albeit secret, blend masters.
Sixteen of the blends are 'Master Editions', while ten are 'Limited Editions'. The CS/05 is a limited edition. My knowledge of the cigar is restricted to what venturacigar.com informs me. No information is given regarding the blender's identity or where the cigar was blended.
The Case Study CS/05 blend comes in three vitolas, respectively measuring 5.75 x 60, 5.75 x 54 and 6.75 x 52. This review profiles what I'll call the 'Robusto Extra', given that its 5.75 x 54 format doesn't fit conveniently into any established size category. Maybe it's a short Toro or a fat Double Corona. Who knows? Full disclosure... I love the size of this cigar. At any rate, here's what I thought of it.