Interviews
Cigar Weekly Interview with Kevin Doyle
---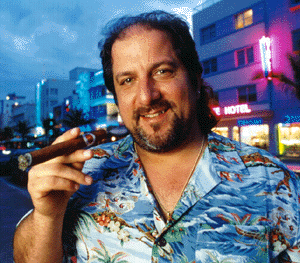 Cigar Weekly: There has been a lot in the press lately about the end of the cigar boom and I wanted to get your take on that. How will that affect Caribbean Cigar Company?
Kevin Doyle: I don't see any substantiation for the boom ending. The reason I say that is that from what I understand, and the reports that I see, retail sales are still very strong. And stores continue to add cigars to their offering. Now, manufacturers and brands are all under change and shifting and the big name players are coming back into supply. But I don't see any retail cigar shops going out of business. We open new accounts almost every week. So really, I haven't seen it. I expect attendance at the various cigar trade shows, like the ICE show in Las Vegas and the Miami Expo, to be greater than ever. The European trade shows for cigars are experiencing turnout like they've never seen. I don't think to say the boom is over is fair.
CW: I presume that this quarter will have fewer shipments to the retailers because the manufacturers all caught up last quarter. Will that be perceived as a lack of increase is sales growth?
KD: Yeah, I think it's a combination of filling back orders and retailers having to deal with reality which is that they only have "X" amount of shelf space and "X" amount open to buy. I think a lot of them are sitting on a lot of stock, perhaps wishing they had not purchased. Perhaps even by cigar companies that aren't even in business anymore. And they're stuck with these products and they're going to have to buckle down and blow them out the front door at a "buy one get one free" price and get their money back out of it. Because that's the most important thing they can do -- get their cash out of the product. The beauty of our business is that people take the product and they burn it. So it's a self-rejuvenating thing: you have to get back in the poker game to be able to buy the products you want. And you get back buying from manufacturers who are greater than ankle deep in this business. And who are going to be around from year to year and who advertise products, and who make their own cigars -- they don't represent them 3 or 5 generations down the pipeline. They buy the leaf, they make it, and then they sell it. That's the people that are going to stay in this business.
CW: Is that the reason you sold the Morro Castle and some of the others to JR for liquidation?
KD: Absolutely. The thing with JR, I'll tell you I know for a fact that Caribbean Cigar Company got a bad wrap on that and I just wish we could clear the air because we have never done anything with any of our brands that damaged any of our retailers. There has only been two situations where we completely canceled a brand and liquidated the balance of it to JR. And in both cases, every customer that had any inventory, we took it back and offered the account full credit. Now when you do that, I don't understand how anyone could complain. I mean, companies make those decisions all the time. If Coca-Cola changes their packaging and they go to the grocery store and pull the old stuff off the shelf, that's their decision, and they think they are doing it right. Morro Castle just didn't sell. And we had so much of it, I said fine, let's just get rid of it. The fact that it didn't sell meant very few customers actually had it.
CW: Is that good news or bad news?
KD: Yeah, if we had bought a lot of it we probably wouldn't have liquidated it. 'Cause you can't have your cake and eat it to, so when they see it in JR's catalog where it formerly sold for $139 a box and now it's $39 that's no statement to anybody, all it is, is a bargain.
CW: And Lew Rothman, owner of JR Cigars, claims it's a bargain.
KD: That's it. And anytime we do that, and we don't have any plans to do it in the future, we always back up the retailers 100% by crediting their product and giving them something else.
CW: What you did with the Celestino Vega was a different situation, right? You took an existing brand and re-did it?
KD: When we bought American Western Cigar Co. and all their assets, what came with that primarily was the brand name Celestino Vega. Prior to that acquisition we had been their distributor. Looking back now, it was substandard. It was a short-filler product.
CW: Was it machine made?
KD: No, it was all hand made. But it was short filler. We sold that for about 6 months and we accumulated quite a bit in inventory. We were still romancing this company so we wanted to take the product from them and not really complain about it. When we finally got our hands on the trademark and we had free rein to do what we wanted with it, I immediately changed it to long filler, changed the blend, upgraded the packaging, changed the logo. But then we're still stuck with this old product. Now we did sell a lot of that to Lew Rothman, but then again we had not sold a lot of that, period, to anybody. So all you have there is the confusion of the old product with the new and now Lew is out of it. But we're still living with the perception that Caribbean Cigar Company blew a bunch of Celestino Vega out, why should I buy the new stuff. When in reality Lew doesn't have any in stock. It's all gone. But because some of these magazines are still floating around on coffee tables I'm still bearing the brunt of it.
CW: Would you do that again, the same way?
KD: No, I sure wouldn't. Looking back, I would never do it again. We didn't think it would hurt anything. For our retail customers, we exchanged probably 4 or 5 thousand boxes of Celestino Vega for the new product at dollar for dollar and they had bought the original product at a higher price than our current wholesale. They made out like bandits.
CW: The Celestino Vega Churchill got an 89 rating in Cigar Aficionado and yet it sells for about 3 or 4 bucks?
KD: $2.95.
CW: Is it under priced?
KD: No, it's exactly where we want it to be. I wanted that cigar to be the best made, best tasting cigar for the price. It's the highest rated cigar under $3 in the world. Whenever you get the same rating as a Romeo Y Julieta Churchill for $3 you've got to be happy about it. We put a lot into that. Of course, since the release we're moving the production, or have already moved it, to the Dominican Republic where I think we can make it better and it'll be better received in the international markets from the Dominican Republic than it will be from Indonesia.
CW: Have you closed down all of the Indonesia manufacturing?
KD: As it relates to Caribbean Cigar Company, yes. The factory still exists and they make product for the European market and the local market. We've pulled out all of our brands. It was to be a joint venture and it was getting close and then their economy exploded and it just got very difficult.
CW: The Celestino Vega will still have the Sumatra wrapper?
KD: Yes, we'll still use that wrapper 'cause we own a lot of it. It's a '94 wrapper which is really nice to work with and it burns real well.
CW: The wrapper is from the 1994 crop?
KD: Yeah, we did some good things with our money. (laughs)
CW: You did an Initial Public Offering (IPO) and now consolidated manufacturing in Dominican Republic. Are you now on track?
KD: I think it's really on track now. We've got new packaging coming out in April and for the first time in my history in the cigar business, I am now comfortable with the package that we'll be delivering to the public. And I mean it is absolutely magnificent. Most of our lines are coming out now in glass tubes. And in the entire line there's all new boxes, all new printing, cedar lined. It's really state-of-the-art packaging. It's something I've wanted to do since day one, but because of the boom we've always had to rush everything to the market. I didn't really have the chance to do all this. And having been in the business now for about six years I've kept this mental collection of all that works and all that doesn't work.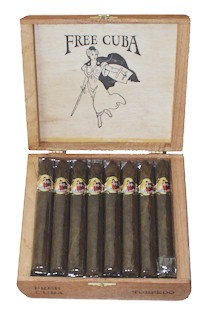 CW: You aren't going to change that Free Cuba box are you?
KD: Not going to change that at all. That's a winner. (laughs)
CW: I like that one.
KD: Actually, I'm wrong about that, because we are going to put a giant cigar band around the entire box that is actually a collector's piece of printing. And we've increased the size of her breasts a little bit.
CW: Boys will be boys.
KD: I know it. I know it. We're a small company; we're a niche player. We're a microbrewery, if you will, compared to General Cigars and those guys.
And it's taken us about 18 months to figure out who we are and what we do best. And we've made mistakes along the way, and we've done some absolutely great things along the way. What I'm worth now and what I know about the business is a lot more than I was than when I got in it. And now I'm just getting the chance to put it to use. You know, we're licking our wounds. We've been laying low for about 4 months and we're going to come back real strong in the spring. With products that just will sell. This business has been crazy, when you launch your business in the middle of the boom you think you can take the sky down. You learn you can't do everything. We've chased too many rabbits and you don't catch any. Now we're focusing on what we do best which is grow tobacco, make four brands of cigars, in about four sizes each, keep them in stock and give first class customer service.
CW: You're going to trim your lines?
KD: We have. The only lines that we do now are the Signature Collection, Calle Ocho, Free Cuba and Celestino Vega. That gives us four really distinctive, different cigars. Which lets us take very good advantage of the wrapper supply. The Signature Collection and the Calle Ocho are our flagships and will both be available in glass tubes across the board in all four sizes. That presentation is going to be a winner. The glass tubes look so good, they are all cedar lined, have heavy printing and beautiful bands from Holland. They also have second bands. Also, the Signature Collection is going to be made in a limited reserve, which is the only way we'll sell it now, with our very best tobacco that we grow. The Calle Ocho will use vintage '95 wrapper that we've been sitting on.
CW: When will these be available?
KD: We'll be at the Las Vegas ICE show in April with the entire new line. We've got a whole new look. The packaging is there, everything is in stock, we've got knowledgeable sales reps and customer service reps and we'll cure anybody that's got a problem with us. Hopefully, we'll be opening new accounts and trudging forward.
CW: It seems that aging the cigar an extra year makes a big difference. Do you plan to age your cigars longer? And secondly, why don't cigar companies use vintage labels more, similar to the way they do in the wine industry?
KD: I had never thought about doing that, but it's interesting because we truly are using some dated tobacco. But I don't know, maybe it's because people will buy wine for the purpose of laying it down. Cigars smokers want to crack them open and smoke them.
CW: It's well known that some popular brands need to be aged for 6 months or more.
KD: That just totally baffles me. I get so much entertainment out of people that will hold a cigar on such high pedestal and claim that they are part of the fermentation process. How can you hold a manufacturer so high when he's turning out cigars that are so green? I'd like to put a sticker on our cigars that says, "Ready to Smoke."
CW: All of the cigars that received a 95 or higher in Cigar Aficionado are vintage Cubans. Have you thought about putting a vintage on them?
KD: Well, I should do it. With the new Calle Ocho and the new Signature Collection it's the first time we'll have anything on them that indicates a vintage or reserve. And it truly is. The filler in the Signature Collection is at least a year old. Which is unusual in this business. And the wrapper on the Calle Ocho is a '95. We're excited about that. At some point you have to switch it to '96 'cause we'll run out.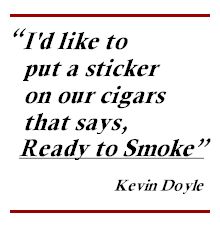 CW: You had flood damage on 110 tons of tobacco. Is that a significant part of your tobacco needs?
KD: No, it wasn't. I guess it's because I'm almost completely Irish that that worked out for me. Two of our warehouses were affected in this area (DR). One of them is about two feet lower than the other one. Most of the tobacco we lost was slated for resale. Some of the Dominican Republic filler that we grew, but wouldn't use. You have to take the whole crop. We say, look, this stuff isn't really the best, we don't want it for our cigars, but I know I can sell it to other manufacturers. That goes on all the time.
CW: Will the tobacco loss impact your production?
KD: It won't impact us at all. We actually over bought in some categories. Thank God it was a flood and not a fire. I don't know how to create a flood. I could imagine some of the industry rhetoric I would have got if it had burned. (laughs)
CW: You've had a lot of changes this year. You moved your production from Indonesia to Dominican Republic, changed accounting firms, plus you wrote off over $700,00 in inventory shrinkage. Is that right?
KD: Well, beyond that it was a much more substantial situation that occurred. It wasn't working all that great. Bear in mind I can't say all too much about it because of the litigation of the class action suit. But it wasn't working with the board of directors and the CFO we had and the outside auditor and the attorney. There was a lot going on there that really was not ideal and we took the steps to change that. Part of the process of changing that was finding out what exactly was not ideal about it. The new CFO unearthed some situations that he felt were very important to discuss and caused the ultimate restating of two quarters. After that we started catching the heat, the repercussions, which is sad because the good guys were left standing and they are the ones catching the flack, and the bad guys are gone. That'll come out in court. When the chips lie and the hands get spanked, the people that aren't here are the ones that are going to get spanked. The people that are here truly love the cigar business and want to make this company survive. But they are the only ones here to answer the phones, so we catch it all. I'm guilty of being a bit naïve about that side of the business. I'm a tobacco guy, I'm an operations guy. I like making the cigars and I like marketing and selling them. When it gets into the SEC and stock related company stuff, this is my first spin at the wheel.
CW: That's why you hire high priced lawyers.
KD: If I had to do it over again I would probably again try to hire and surround myself with the best people. There's no guarantee until they do the right thing, or the wrong thing. I feel I've surrounded myself with the right people.
CW: Are you still having fun?
KD: I am. It's been a little tough lately because the company's has a lot of industry perception problems that they truly don't deserve. There's a lot of things that we've done right and we really set the pace in many instances for a lot of companies.
CW: Tell us the things you've done right.
KD: The right things? Well, we were the first company to go public, we showed most of the industry how to finance itself. We ran some of the coolest ads in 1997 that made people really double check the way cigars are advertised in the world. Our flavored cigars are the only ones that people ask for by name -- can't make enough of them. The tobacco we grow and the product we're putting out is excellent. I'll put it up against anything. It's been proven by our consistently high ratings. For someone who holds ratings reverent, we've always gotten great ratings.
CW: Your entire line has been well received.
KD: And that's since 1995. We aren't new kids on the block anymore, but the oldest of the new guys. At least make me a junior member of the old guard and let me pay my dues a little bit. We set such pace starting off in Miami and we've done so much that people said was impossible. The Dominican Republic factory looks like a laboratory. It's state of the art, you can eat off the floor there. Those are the things we've done right.
CW: In the high tech industry many companies are subject to class action suits. Is the situation to Caribbean Cigar Company similar to that?
KD: It's a lawyer's fest. We'll deal with it. My main concern is industry perception: people thinking that we're some kind of crooks or something, because we're not. We're hard working people in the cigar business. We think most of the crooks are gone.
CW: It boils down to, do you make good cigars or not.
KD: That's the thing. Do we deliver them and do we back it up and if you have a problem do we make it right? I just want to be one of the people left in this industry. I don't want to be the biggest guy on the shelf. But I want to be on every shelf.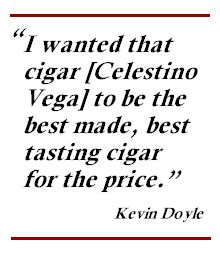 CW: Who designs the blend for the cigars? Like for the new Celestino Vega. Is that you?
KD: Yes. Me and Jose Moreno. Who is our production guy in the Dominican Republic. Jose's former employers going back are Juan Sosa, Arturo Fuente, Manuel Quesada and Fidel Castro. He was the guy that trained the original group to make Cohiba. Jose and I do the blends. We know the tobacco inventories that we have to work from and we design the quality and flavor of each product. For the Signature Collection and the Calle Ocho for 1998 I told him I wanted the cigar to be as strong as it ever can be. Because I think the market wants that. I called that shot. It's funny, I read a week ago that Consolidated Cigars released a statement that they were going to increase the strength of their cigars. We laughed around here and joked that they must have a bug in this office. (laughs)
CW: Do you think the tastes of cigar smokers are changing and they want a stronger cigar?
KD: Oh sure. It's just like when you start off with a Singapore Sling and end up with Single Malts. You become more of a purist and you're more demanding out of the product. You don't see anyone in the industry using the terms "the smoothest cigar" or the "mildest cigar" anymore. That doesn't catch anyone's attention.
CW: Are the flavored cigars taking over that niche?
KD: I think so. I think that's a good entry level cigar, but some people are taking our flavored cigars and smoking them as an alternative. Just for something different.
CW: What tobaccos are used in the Celestino Vega?
KD: Well the Celestino Vega has a bezuki wrapper and an Indonesian binder. The filler is Dominican Republic, Connecticut and Brazilian filler.
CW: What are the actual tobaccos?
KD: Dominican Piloto Cubano and Ligero. The Brazilian is Mata Fina. And the Connecticut is broadleaf.
CW: Where in the Dominican Republic is your tobacco grown?
KD: There's about three regions. It's all in the Cibao Valley. Santiago, Mao and Laguna Salada.
CW: Do you buy most of the tobacco on the market or do you grow your own?
KD: We grow most of our own filler. We grow in Nicaragua also. We just have a crop coming in, Nicaraguan shade wrapper, which also generates quite a bit of filler. We grow the Nicaraguan filler and the Dominican Republic filler and besides that the only other filler we use is Indonesian. Which is only used in the Free Cuba.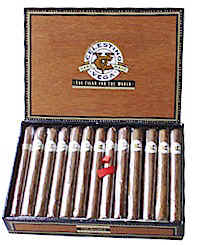 CW: Filler and wrapper can come from the same plant, correct?
KD: It can. That's not to say you going to get wrapper out of a Dominican Piloto Cubano sun grown crop. Although there's some companies that take the filler leaves and flatten them out and call them wrappers. Some people will stop at nothing to say they have a Dominican Republic wrapper.
CW: What kind of taste does the Piloto Cubano bring to your cigar?
KD: That brings the pepper. And we pretty much only use the ligero, which is the stronger of the leaf. What that brings is the deep rich dark, not harsh, but strong. All of our recipes begin with the ligero and that determines the strength of the cigar. We either say we're going to use half a leaf in this cigar, or a leaf, or two leaves. Two leaves means you're saying this thing's going to pack a wallop. On a hot day you should get a bit dizzy. That's the strength of this particular leaf. It all starts with that and works back from there. Then you bring in the seco and perhaps the Nicaraguan, or your Indonesian. And the rest of it can be seco or basically any type you're using as a filler: it's called a relleno. Something to take up space that burns good but doesn't really add or take away from any flavor. Provides bulk.
CW: What does the Brazilian tobacco bring to the cigar?
KD: The Brazilian brings the sweetness to it. That's where your nuttiness comes from. Your richness, that kind of nutmeg flavor that you can't put your finger on but it's got a sweet nature to it. Takes the acidity off, takes the bitterness out. It's a sweet tobacco by nature. Pennsylvania has the same type of effect on the cigar. Dark and sweet. Some of the Mexican fillers have the same impact. But they run so weird from different region to different region, you have to be very careful.
CW: Same question for the Free Cuba. What tobaccos are used?
KD: The Free Cuba has the highest grade of the Indonesian wrapper that you can buy. The Celestino Vega has a lower grade because price was more of the issue. Where price is less of an issue we wanted to make a really great cigar with a Java wrapper on it. The binder is Nicaraguan, and it's filler is Dominican Republic and Indonesian. The Indonesian is grown in Jambur, on the island of Java.
CW: Java coffee is stronger. Is Java tobacco stronger?
KD: No, I wish. It tends to be on the milder side. As a filler, it burns really nice, it's a litle bit ashy, but it's used as a filler. It brings a mild taste to it. It lets your other cigar tobaccos shine through. It doesn't inhibit anything. It provides smoke, it tastes good, but if you put that with Piloto Cubano leaf it really shines through. You can pick it out.
CW: What's your lighter tobacco?
KD: The Nicaraguan seed. It's a Habano seed. Habano 751 seed. A strain from Havana that they did grow in Nicaragua for years prior to the revolution there. They had the same success in Nicaragua that they did in Piloto Rio. So they started re-growing that a couple years ago and we got in on a crop last year and it was very successful. That has a lot of flavor.
CW: Are you announcing any new lines?
KD: No. I think that would be catastrophic. The only thing we'll announce new is our fourth flavor. But not until our flavor factory is up and running. We've moved it from Indonesia (to DR), but our flavor factory will be on a different piece of property.
CW: Why do you think the flavored cigars are so popular?
KD: I can't figure it out. I started making Rum Runners 4 years ago and its always been one of the most popular things we make. No matter how hard we try to be a premium cigar maker, the people want my freakin' Rum Runners! And it's the easiest thing we have to make. The Rum Runners, Island Amaretto, and the West Indies Vanilla have just been hands down success stories. Other than the fact that we can't make enough of them. I think the new factory in the Dominican Republic will be the answer to that, once and for all.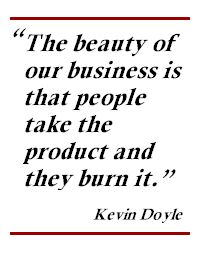 CW: You're basically consolidating all manufacturing in the Dominican Republic then?
KD: Everything. Our own factory, all our own people. Every aspect of what we make and sell will be ours for the first time in 3 years.
CW: But you don't grow wrapper?
KD: No, I can still get that cheaper than going through the expense of growing our own. It's just too difficult to control anything that far around the world.
CW: How are sales in Europe? Are they expanding as fast as in the U.S.?
KD: It's not the same growth pattern that we've experienced. But they are having a resurgence. Just like here, they are starting to have cigar events, the dinners, they are having the (cigar) shows. They like our products. We put the glass tubes in Europe about 6 months ago. And they are selling quite well. Europe is behind the times humidity wise. There's not a lot of venues there that know how to sell cigars that require a lot of humidification. It's pretty much a dry cigar market. So I think we'll do really well there.
CW: You seem to be very active on the Internet. Is that a big part of your marketing?
KD: Well, you know we don't sell anything over the internet.
CW: Yes, but you personally seem to be very involved.
KD: Now that's something I just got started with and I regret not doing it sooner. I'm very concerned about the company's reputation and image in the public. And I think that it's been tarnished for many reasons. I hear a lot of people saying the company's going out of business and it's just so far from the truth it's not even worth responding to. But on the other hand, since I got my WebTV, I've seen a lot of this rhetoric go away just by my mere presence. It's almost like they were hiding behind their computer. It's easy to say bad things as long nobody fights them back. As soon as I started fighting back and straightening things out, a lot of it went away. I'm going to stay very active on the Internet and participate as much as I can.
The part of the business I like is making the cigars. I like dealing with the tobacco, meeting the people and doing the marketing.
CW: Any plans to take orders on the Internet?
KD: No. We don't want to compete with our wholesalers and our retailers. We plan to revamp our entire Internet site and be more supportive of the retailers. So, I do have plans to be more present on the Internet but only in a manufacturing support role.
CW: And finally, we heard that you used to be an air traffic controller...
KD: A long time ago.
CW: Which has more pressure, being an air traffic controller or being the head of a public corporation?
KD: Without a doubt, unequivocally, being head of a company like this is far more stressful than any of the public service jobs. (laughs)
CW: Thank you for spending time with us.
KD: My pleasure.
---
Member Questions
Rick Traumann: How long has the company been making cigars?
KD: Caribbean Cigar has been making cigars since the fall of 1994.
Mike Mather: What is the outlook for Caribbean in 1998 and beyond?
KD: Management feels that it has corrected the woes of the organization. We feel confident in being a fairly decent sized player in the premium market. We look forward to assessing possible aquisition targets.
Howard Lolonheim (ex investor CCC Stock): How do you explain the loss of 4.5 million dollars last quarter? Is it true that CCC has debts in the $2 million range and has not paid for the last 6 months? How long is it going to be until you file for Chapter 11?
KD: Caribbean did not report a loss of 4.5 million last quarter. We will not file for chapter 11. We are reorganizing our corporate structure and eliminating all fat. We utilize a 3 million dollar line of credit that we have drawn approx. 1.8 million down on. As for it being past due for 6 months, that is incorrect.
Keith C. Drake: What is the current status of CIGR's legal issues? When do you expect them to be behind you, and what effect will that have on the stock price? Thanks!
KD: Caribbean's legal issues are limited to 6 class action law suits as a result of restating our 1st and 2nd quarters. They should be consolidated into one action and dealt with. The company has a 5 million dollar D&O policy. Once settled, I cannot comment on what we think it will do or not do to the stock price.
Brian Y. Scott: You've stated that you will be concentrating on four premium cigar lines -- Signature Collection, Calle Ocho, Free Cuba and Celestino Vega. You also mentioned selling off the remaining inventory of Morro Castle and the "old" Celestino Vega. I didn't see any mention of Havana Classico -- what are you doing (or what have you done) with this line?
KD: There is no more inventory of Morro Castle and "old" Celestino Vega. Havana Classico will become the new "Signature Collection" Limited Reserve Maduro along with a wrapper change from Mexican to Pennsylvania. Considerable stock of old style Havana Classico will remain in Caribbean's inventory for those who know to ask for it.
James Garcia: Kevin, your presence on the Internet has helped to set the record straight as to the many negative allegations that were being dished out. I was humbled by meeting you at your new Miami headquarters and making the rounds with you a few weeks back. Thank you for inviting me over and taking the time to let me observe the busy pass of your operations. By the way, the new Signature Collection blend is a more hardy medium bodied smoke and very enjoyable. Thanks for the Churchill from your private collection. I am unhappy to see that the Havana Classico and the Domino Park lines will be less focused on... since I really enjoy these cigars. You mentioned the Domino Park will still be made available. Will the Havana Classico still see the light of production? Wishing you continued Success.. James Garcia.
KD: James, thanks for your support. We've been living the motto "A bend in the road is not the end of the road, unless you fail to make the turn!" We are making the turn and look forward to a great comeback. The elusive Havana Classico will not fall by the wayside, however enter a sort of cult like existence. We will continue to make small un-announced caches of HC for those who know to ask for them.
CW: Thanks to Kevin Doyle for answering our questions.